Through competitive gaming, technology has been revolutionized. From the internal hardware of the computer to its peripherals, engineers have spent a lot of time optimizing all aspects of this system. Gamers benefit from peripherals by being able to control the game more accurately and play for longer periods. Most people outside the gaming community are not familiar with the best 60% Mechanical Keyboards, which have gained a massive market in the last few years. Various manufacturers have improved product functionality and developed different marketing strategies. Check our top picks
EDITOR'S CHOICE
Razer Huntsman Mini
Keyboard Description: Gaming
Color: Classic Black
Special Feature: Lighting
PREMIUM PICK
ANNE PRO 2, 60%
Keyboard Description: Gaming
Color: Black
Special Feature: Wireless
BUDGET PICK
DIERYA DK61E 60%
Keyboard Description: Gaming
Color: Black
Special Feature: Wireless
Rather than summarize each and every best 60% keyboard for gaming, we looked at each of them to help you make an informed decision. We evaluated each product's various aspects to help you make the best decision. With the 60 mechanical keyboard, you will enjoy portability, ergonomics, minimalism, and design. Some years ago, silent keyboards flooded the market as a form of innovation, but the gaming community mostly rejected them. Mechanical keyboards have a sturdy feel due to the travel time and feedback of the keys. As a first step, here are a few quick tips to help you choose a gaming keyboard:
Quick Shopping Tips
The keyboard has accent keys that can be replaced as well as aesthetics. Simply remove a key and replace it with a colour of your choice to change the appearance of your keyboard.
The main component of a mechanical keyboard is the switch. A tactile sound is produced when the switches are pressed, and this may reduce the travel time. It makes gaming more enjoyable.
A PS/2 keyboard is easier to detect by the BIOS and theoretically provides a better reply than a USB one. Be sure your hardware supports the PS/2 interface. PS/2 keyboards are popular among gamers and IT technicians alike.
The market has many types of keyboards with different layouts, including those with DIP switches. Users become accustomed to specific layouts and expect their new keyboards to have similar layouts. Keyboards with DIP switches allow users to switch layouts.
The RGB in keyboards has been enhanced to a point where certain switches can be pressed all at once to customize lighting. Both effects and colors can be changed for improved aesthetics.
There are programmable keys on modern keyboards. Each key has the capability of performing multiple functions simultaneously. The number 8 key can be programmed with the phrase "Hi, How are you?", for example. As you press 8, you will automatically see the words "Hi, How are you?" appearing on the keyboard.
Our Recommendations For Best 60% Keyboard
Best Premium 60 percent Keyboard – Ducky One 2 Mini
Best Flagship 60 percent Keyboard – Razer Huntsman Mini 60%
Best Overall 60 percent Keyboard – ANNE PRO 2
Best Attractive 60 percent Keyboard – DIERYA DK63 Wireless 60%
Best High-End 60 percent Keyboard – DIERYA DK61E
Best RGB 60 percent Keyboard – HUO JI E-Yooso Z-88 RGB
Best Budget 60 percent Keyboard – Redragon K552
Best Enthusiast 60 percent Keyboard – Royal Kludge RK61
1. Ducky One 2 Mini – Best Premium 60 percent Keyboard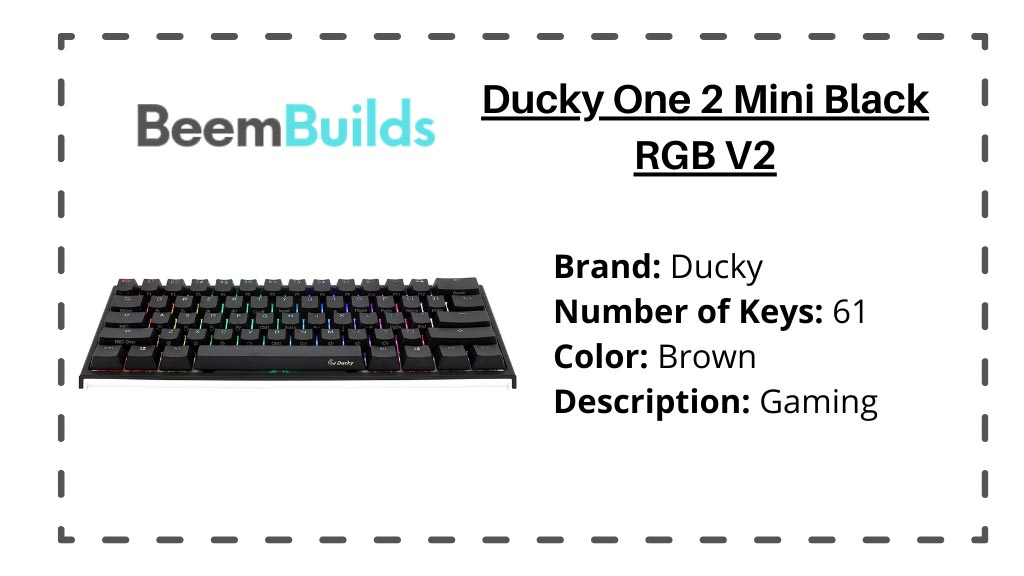 It's hard to deny that Ducky One 2 Mini is one of the best mechanical keyboards available today, regardless of the fact that it's a 60-key model. Among the gaming community, this Best 60% Mechanical Keyboard is highly regarded for its manufacturing quality. With stunning looks, replaceable keys, and a customizable RGB, it makes for the perfect desktop computer. You can customise it according to your taste with the keys included. Your keyboard experience will be enhanced by the HyperX Red switches, which have a tactile feel and fast response time.
There is no software for customizing macros or RGB on this keyboard, despite its many features. All you can customize is the physical keyboard keys. The loss of these features would be appreciated by someone with sufficient knowledge, since they enable offline tweaking, but you don't want to lose the manual while using this keyboard. USB ports have been criticized for being slightly inferior in manufacturing quality, but this keyboard works flawlessly.
In the old days, USB keyboards could not register multiple keys simultaneously, but that is no longer true with this keyboard's USB N-Key Rollover feature. 
Multi-key gaming allows you to press more than one key at a time, which is essential when playing. A set of keys can be pressed easily to program macros, which can be accomplished using a USB-C connection. DIP switches are also available to customize the keyboard's layout.
SPECIFICATIONS
Brand: Ducky | Connection Interface: USB 2.0 | Keycap Material: ABS or PBT | No. of Keys: 61 | Switches: HyperX Red | Lightning: Per-Key RGB | Weight: 2.2 lb. | Dimension: 11.5 x 4.25 x 1.5 inches
Pros
You can customize RGB effects

Programming macro keys offline

Cherry MX switches provide rattle-free operation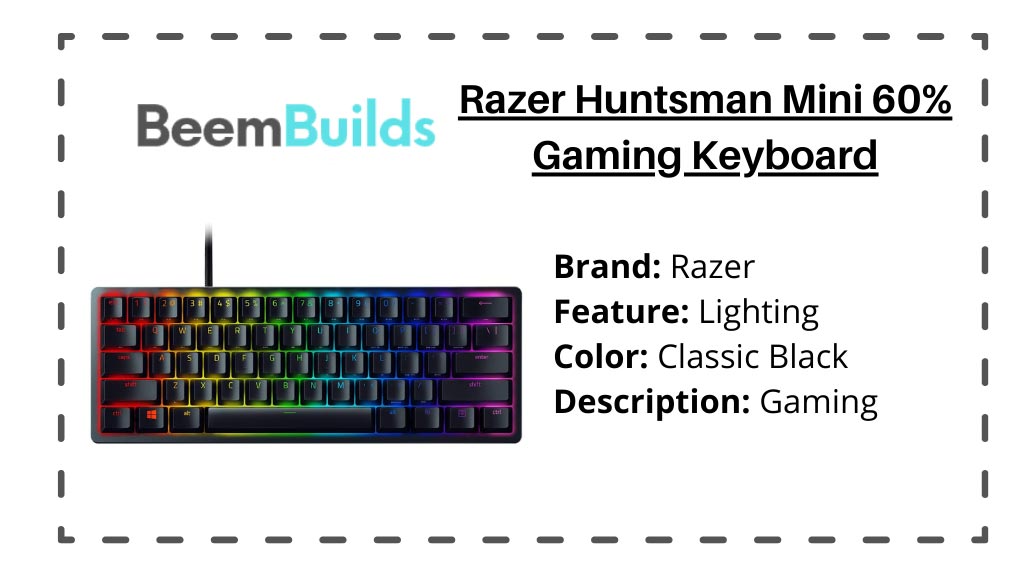 Razer Huntsman Mini 60% is the hottest gaming peripheral on the market. As they say, "For gamers by gamers," Razer products are designed specifically to improve gaming experiences. Even though Razer mice had a tactile feel similar to traditional mice, the earliest models were too loud. Two silicon strips are attached directly to a switch on Razer's Huntsman Mini 60%. This has improved the sound and made it more appealing.
Create macros and RGB patterns using your keyboard to personalize your keyboard experience, but the software for creating macros and RGB patterns depends on the computer you use. Unless you import your new PC's configuration, the data on your keyboard will be lost if you move it. At first, it is a bit difficult to understand how the Best 60% Mechanical Keyboard works, but you get used to it with time
They lubricate their springs to extend their life. Razer's products are renowned for their superb longevity. As soon as the key is inserted, it is registered via the cutting-edge optical switches in razer. 
This 1.5mm switch actuates at a distance 30% shorter than the other 1.5mm switches. I am pleased with the feedback, and the sound is excellent. Overall, the package is worth the cost. Aluminum is used for the keyboard and PBT is used for the keycaps.
SPECIFICATIONS
Brand: Razer | Connection Interface: USB Type-A | Keycap Material: Razer Doubleshot PBT | No. of Keys: 61 | Switches: Razer Clicky Optical | Lightning: Razer Chroma customizable backlighting with 16.8 million color options | Weight: 1.15 lb. | Dimension: 4.07 x 11.56 x 1.45 inches
Pros
Tactile Responses that are satisfactory

Optical switches with fast response time

Macro and RGB software is good
Cons
Macro storage is not available offline
3. ANNE PRO 2 – Best Overall 60 percent Keyboard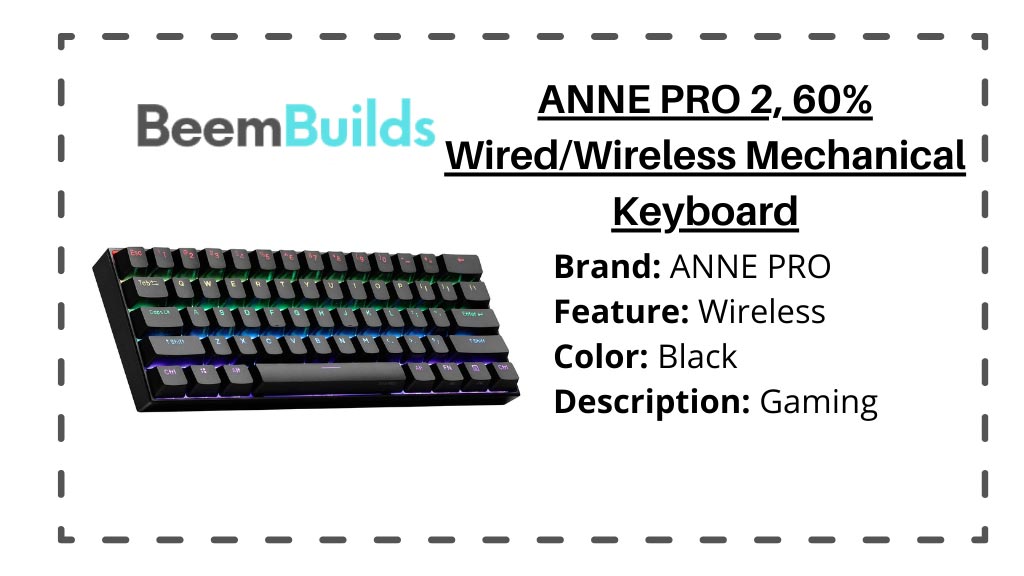 A mechanical keyboard with multiple connectivity options, Anne Pro 2 is a mechanical keyboard. Bluetooth 4.0 and USB Type-C provide wireless and wired connectivity, respectively. The keyboard can run for eight to four weeks, depending on brightness and LED power. It is equipped with NKRO/Anti-ghosting and low response times thanks to its USB-C connection. Multi-key registration is thus possible with this device.
This Best 60% Mechanical Keyboard has a bit of a slow Bluetooth connection, however it is not advertised as a major feature. It is merely an added feature that keeps the tabletop wireless. You cannot overlap the lighting effects, and the brightness is not very high. Although macros are cumbersome and time-consuming, they are useful for repeated words and actions.
The Anne Pro 2 is equipped with Gameron Brown switches with tactile movements. The peak activation point of the radial motion is 2mm, as opposed to the linear motion's 7mm. A weak claim in the most successful gamers was that factors such as key placement and activation points can increase competitive gaming success. A fraction of a second matters in competitive gaming.
SPECIFICATIONS
Brand: ANNE PRO | Connection Interface: USB Type-C+BT | Keycap Material: Doubleshot PBT | No. of Keys: 61 | Switches: Gateron Brown | Lightning: RGB 16 Million colours | Weight: 1.4 lb. | Dimension: 11.18 x 3.82 x 1.57 inches
Pros
RGB lightning with full color range

Customizable software that is user-friendly

Connectivity via Bluetooth wirelessly
Cons
Bluetooth 5 is not available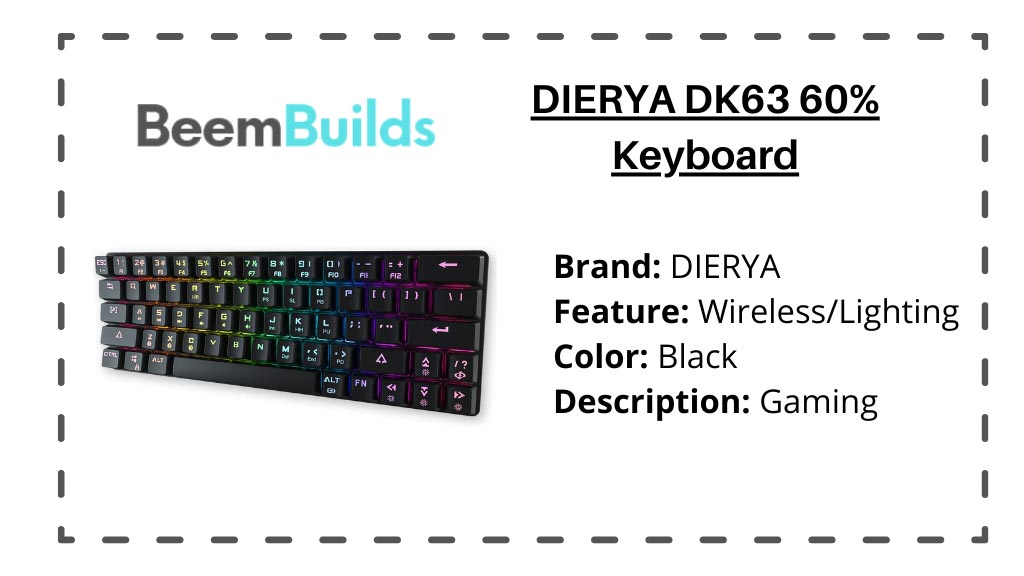 With the Dierya DK63 Wireless 60% keyboard, you get high-end performance at a much lower price point. It has a decent build quality and feels solid in the hand. Powered by a long-lasting 1900 mAh battery, the keyboard offers wireless connectivity. In addition to its excellent gripping mechanism, the keyboard has feet that can be popped up if needed. 
The keyboard indicates that it is charging by displaying a blue light below the spacebar. Regardless of the battery level, this light is always on. Since the keyboard's back is black, it absorbs light instead of reflecting it, which reduces brightness. In competitive gaming, you will notice significant improvements in response time with only seven colors and eight RGB effects in the RGB color palette.
These Best 60% Mechanical Keyboards are impossible to beat in terms of price. By placing the switches in the right places, there is almost no rattling. This is significantly better than its competitors. Easily replace the keys with PBTs with double shots to improve the overall feel. With this price, you can't go wrong. Brown switches provide tactile feedback. And, overall, it's a better keyboard than anything else on the market.
SPECIFICATIONS
Brand: DIERYA | Connection Interface: USB Type-C | Keycap Material: ASB with exclusive nano-coating technology | No. of Keys: 63 | Switches: Brown | Lightning: 8 RGB light effect | Weight: 1.54 lb. | Dimension: 13.31 x 5.51 x 1.81 inches
Pros
Compatibility with a wide range of devices

Tactile switches

A high-quality material is used to make the ASB keycaps
Cons
Layout does not have DIP switches
5. DIERYA DK61E – Best High-End 60 percent Keyboard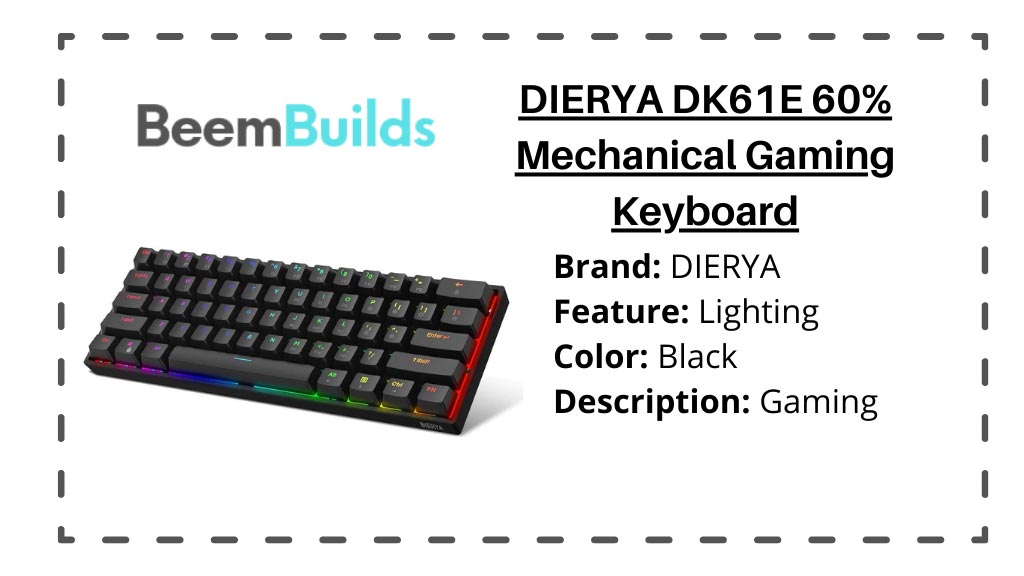 The DIERYA DK61E features a waterproof circuit board and the Best 60% Mechanical Keyboards. Playing video games could exhaust you. The spillage of water on keyboards has caused many live streams to fail. Liquid spills will never disrupt your gaming experience with this keyboard. It comes with the best keycaps available in the gaming industry, PBT Doubleshots.
There are supposed to be four red optical switches with linear action and relatively subtle sounds. This keyboard switch still sounds loud even though the original keycaps are Doubleshot PBT. There is no wireless connectivity on the keyboard, which means it always requires a wired connection. There are programmable macros on the keyboard, but there are no programmable RGBs.
There are many functions on the board that can be accessed using the FNX key without needing an additional key. With this keyboard, you can create macros offline. Both the mechanical switches and optical switches can be swapped out. If you have spare keyboards, you will never need to discard them. The keyboard is very cost-effective. Aside from the functional keys, the keyboard has 61 numeric keys.
SPECIFICATIONS
Brand: DIERYA | Connection Interface: Type C | Keycap Material: Doubleshot PBT | No. of Keys: 61 | Switches: Gateron Optical Red Switch | Lightning: RGB Backlight | Weight: 1.72 lb. | Dimension: 13.31 x 5.51 x 1.89 inches
Pros
Switches that can be swapped easily

Circuit boards that are weatherproof

Editing software that is easy to use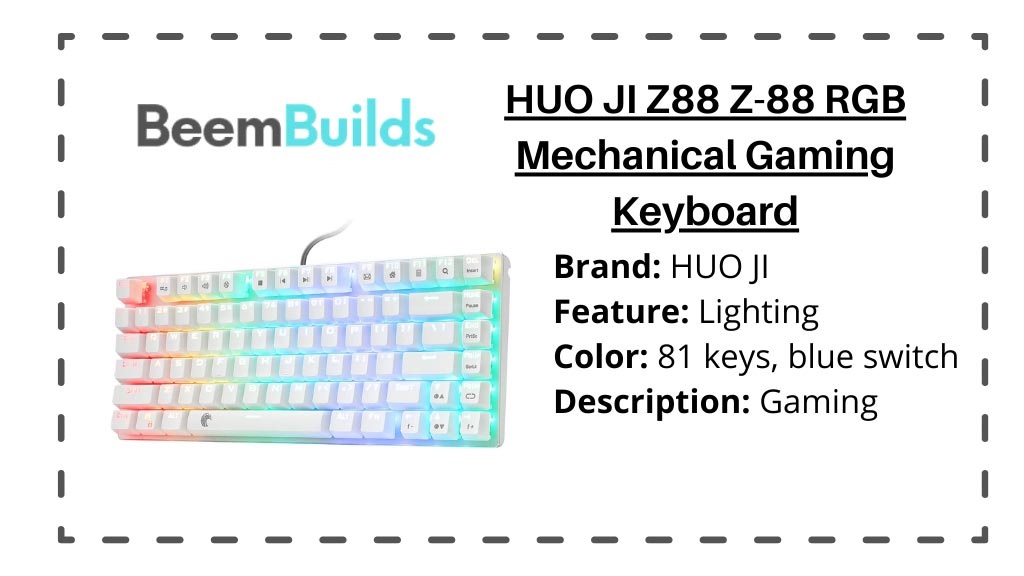 Plug and play, this Best 60% Mechanical Keyboard is compact, affordable, and requires no drivers. It is made of ABS, a high-quality material. It's mounted on a metal base and the letters are laser-etched. The 81 keys are compact, include N-key rollover, and allow for simultaneous pressing of multiple keys. The keyboard has no problem distinguishing multi-key signals, which most USB keyboards can't do.
The E-Yooso Z-88 RGB keyboard has an awkward position for a functional key despite its attractive appearance. Even the simplest functions like increasing or decreasing the volume require two hands. It would have been possible to reduce the keyboard size by removing the dedicated key column for page up and page down. Although the keycaps are low quality, Doubleshot PBT keycaps can easily replace them.
The device features the Gaote/Outemu hot-swappable Blue Switches, with a clicky response and a 60 * 15 gm actuation force. An easy keycap swap is possible with the included keycap puller. The individual keys are controlled by separate switches, enabling a faster response time and greater accuracy. The keys will last for fifty million clicks. In addition to the bicolored keycaps, the box has non-slip rudders that keep the keyboard firmly in place.
SPECIFICATIONS
Brand: HUO JI | Connection Interface: Micro-USB | Keycap Material: Metal base, high-quality ABS | No. of Keys: 81 | Switches: Blue | Lightning: RGB LED Backlit Chroma Dimmable | Weight: 1.6 lb. | Dimension: 12.2 x 4.84 x 1.4 inches
Pros
There are 10 different types of backlight

In the box are five extra switches

Lightning with a minimal design
7. Redragon K552 – Best Budget 60 percent Keyboard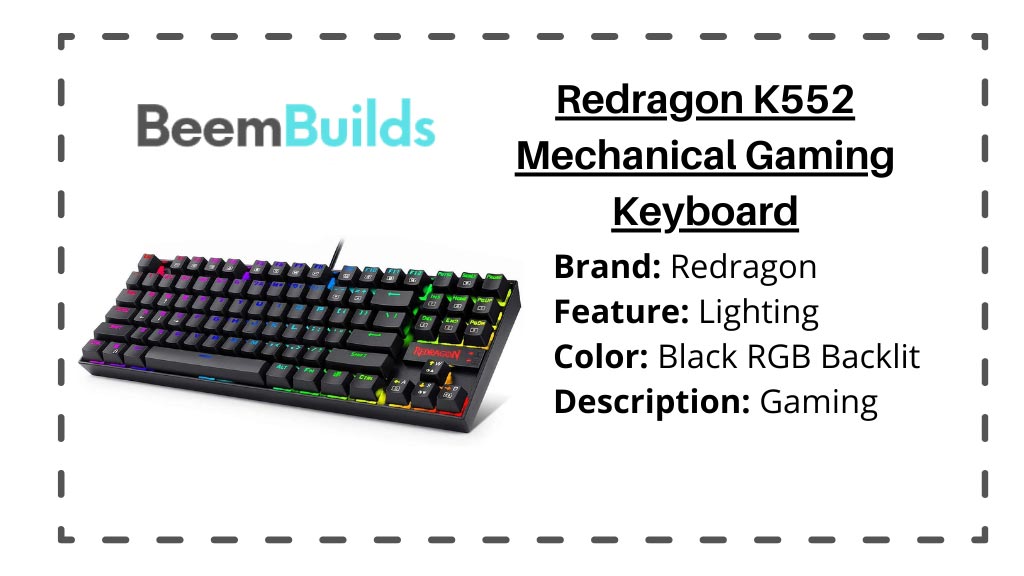 Redragon is slowly making its way into gaming communities. Currently, it targets the low price segment of the market with products that outperform all of its competition. 
Its products are appreciated by gamers for their price and performance. One of its most popular products is the Dragon K552. At this price point, the base is made from metal alloy, and the keycaps are made from ABS plastic.
A detachable cable is not provided with the Dragon K552 keyboard. Cables that are detachable last a long time and can be easily replaced during loads of traveling. Wire connections are fixed to the keyboard and can break when traveling, reducing portability. There is also no wireless connectivity. Considering the price, this is an excellent package. This Best 60% Mechanical Keyboard provides a decent typing sound, despite the absence of macro programming or DIP switches like the high-end models.
Thanks to the anti-ghosting feature, you can use all 87 keys without conflict. Featuring 12 multimedia keys and a gold-plated USB connector, this device is durable and works well for years to come. There are 18 different RGB lighting options that use 9 different colors and five brightness levels. Cherry blue switches are used for the mechanical switches.
SPECIFICATIONS
Brand: Redragon | Connection Interface: USB-A | Keycap Material: Alloy Metal-ABS | No. of Keys: 87 | Switches: Outemu Blue | Lightning: LED RGB Backlight | Weight: 1.98 lb. | Dimension: 13.94 x 4.86 x 1.46 inches
Pros
87 keys in a compact size

Keyboard that can withstand 50M keystrokes

Lighting modes with 18 RGB colors and 5 brightness levels
Cons
Cable that cannot be replaced
8. Royal Kludge RK61 – Best Enthusiast 60 percent Keyboard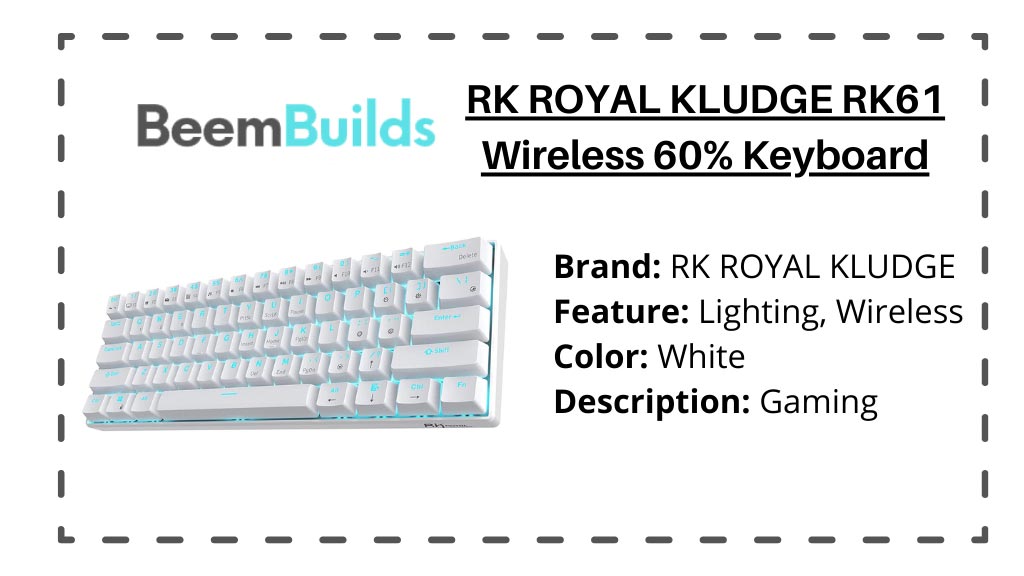 Royal Kludge RK61 is the ultimate keyboard for making click sounds. Take the standard IBM keyboards for instance, which produce a distinct, firm, and satisfying click sound. Users tend to have different preferences.
The click of the board might help you determine whether the key is properly registering to the PC as a gamer. Your tabletop will remain uncluttered with the compact design and minimalist layout.
Weight and size determine how portable the keyboard is, but it is slightly heavier than other keyboards. Keys can become shiny over time, but the material ensures that the keys function well for a long time. In addition, the RGB lighting is normal, with a battery capacity of 1450mAh.
Doubleshot ABS material is used for the keycaps of this keyboard. Despite the single light backlight, Royal Kludge RK61 offers 17 dynamic backlight modes, so the single color effect is not relevant. Multiple devices can be connected to the keyboard, including one USB and three Bluetooth devices. Despite the single light, the design is decent for people seeking simple, elegant looks.
SPECIFICATIONS
Brand: Royal Kludge | Connection Interface: BT+USB Type C | Keycap Material: Doubleshot ABS | No. of Keys: 61 | Switches: Blue | Lightning: LED Backlight | Weight: 1.72 lb.| Dimension: 11.5 x 4.02 x 1.54 inches
Pros
Keyboards with full-size keys

Connecting multiple devices

Implementation of layers is excellent
Frequently Asked Questions
Where can I find the Best 60% Mechanical Keyboards?
A mechanical switch keyboard with 60% key travel, the Ducky One 2 Mini is a beast. It is made of premium materials. The RGB effects, keycap quality, RGB brightness, and body material selection are of high quality. DIP switches allow the user to switch between layouts and macros can be programmed offline, so the keyboard remembers settings even while traveling.
What are the benefits of 60% keyboards?
In the market, there are 60 keyboard options to choose from, among which is a mechanical keyboard. The keyboards look stunning visually, take up little desk space, and offer an excellent key registration sound to ensure you keep typing and gaming. Stylish and functional, the Razer Huntsman Mini 60% is an example of classy looks without sacrificing performance.
How many keys are missing from a keyboard with 60 keys?
Reviewing some of the top keyboards is the focus of this article. When writing the reviews, we understood that the entire computer workforce and gamers were switching to the 60 keyboard even though it is missing the numeric pad. Like the DIERYA DK61E 60%, the functional keys are integrated into the number key.
Can you tell me how many keys a keyboard with 60 keys has?
There are a variety of key sizes and number of keys that can be found in keyboards. In the industry, standardization is happening, but 60 percent keyboards can have only so many keys. Royal Kludge RK61 has 61 standard-sized keys; you can reduce the size of the keys if you want to fit them more, but changing the keycaps will be difficult.
Conclusion
In this listing, we have included Best 60% Mechanical Keyboards with all the options that you may need, such as DIP switches, swappable switches, Bluetooth, dedicated wires, programmable macros, RGB lights, and offline programming.
A substantial chunk of the gaming community won't need most of the features that come with the keyboards, so it's up to you to select the ones you need. To understand each function's purpose and the effect it has on the keyboard's overall performance, we analyzed it in detail. In addition, we also wrote on some lower-end keyboards that are inexpensive but feature-limited.
We have listed products from lesser-known brands with the right quality if you like the feel of the mechanical switch but do not care about RGB or macros. You should choose the Ducky One 2 Mini if you are an exhibitionist because it has a wide variety of options you can play around with. For those who are strict minimalists, we recommend the Huo Ji E-Yooso keyboard we reviewed. Here is hoping you find the ideal keyboard you've ever been looking for.