Would you like to build your own Best Gaming PC Under $300? Here's an updated $350 PC building guide you can view to get started right away. Check it out!
There are many reasons why PC gaming is popular. The colossal library of games, unparalleled customizability, and ability to create stunning visuals are among the most compelling features, although there is also the price-tag that goes with it.
You may also love to read: Best Motherboards for Ryzen 7 5800X
But what if we told you that having your first PC gaming experience would only cost you $300?
Now let's take a look at the best $300 PC build right now.
GIGABYTE B450M DS3H V2
AMD Ryzen 3 3200G Processor
EVGA 450 BR (Non-Modular)
Patriot Viper Steel Series DDR4 8GB
Crucial BX500 240GB
Zalman S2 ATX Mid Tower
Best Gaming PC Under $300
Considering our budget for gaming, we chose an entry-level motherboard that provides the best performance at the best possible price. As well, MSI manufactures motherboards and offers tech support and after-sales services in case anyone needs help.
If you want to upgrade your motherboard at a later time, the Gigabyte B450M design supports the installation of other processors (M.2 Slot). It's a great place to start if you want a cheap build.
You may also love to read: Best Server Motherboards
The motherboard's RGB lighting is compatible with GIGABYTE RGB Fusion technology. This allows RGB lighting on your motherboard to be synchronized with RGB-compatible components.
Pros
Exceptional construction

RGB Fusion-compatible lighting

Ryzen's 1&2nd generation processors are supported by this motherboard

Dual-channel memory can be supported by four RAM slots and the B450 chipset

Max out the memory with two memory sticks

Power delivery system with 4+3 phases

This is a high-end model at an affordable price
Cons
Crossfire and SLI are not supported by these motherboards.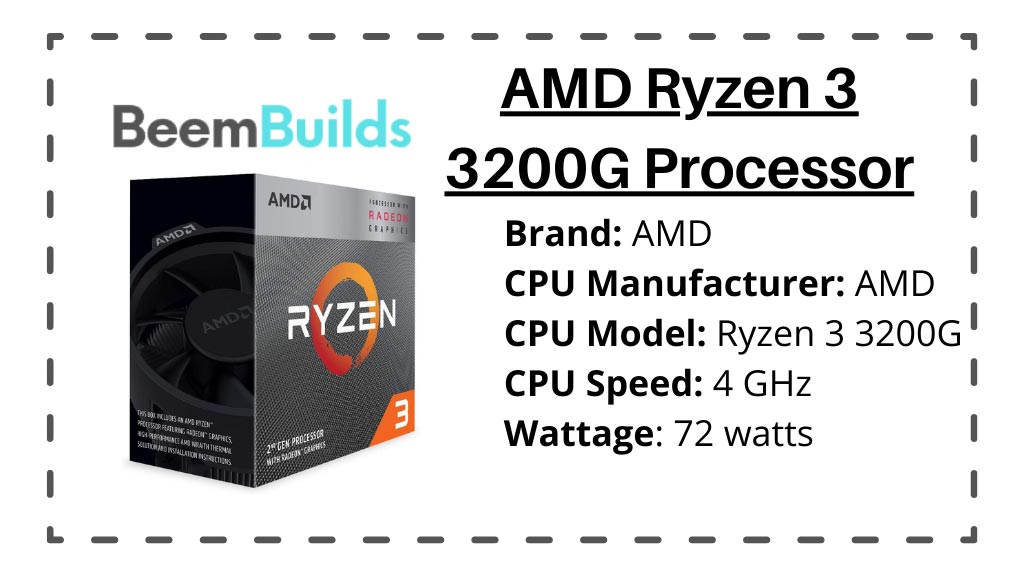 To power our graphics with a 300$ budget, AMD Ryzen 3 3200G Processor is a good and dependable choice. The graphics card features an integrated Vega 8 graphics chip, allowing you to play even low-intensive AAA games with up to 50fps on low to medium settings. In comparison with other processors in its price-point, the AMD Ryzen 3 3200G Processor is one of (if not the best) performing processors available.
In the gaming PC price bracket under $300, AMD Ryzen 3 3200G processor is one of the biggest competitors. It offers excellent value for money. It has a true quad-core architecture which allows for overclocking, so you get the best performance in terms of power and efficiency. The AMD Ryzen 3 3200G Processor is one of the best processors available in its price range, if not the best.
You may also love to read: Best GeForce RTX 3090 Graphics Cards
You might need to lower the settings of these budget graphic cards to get maximum performance from them, however. If you only play low-resolution in-depth games, you will likely only be able to play them at average frame rates. As a cost-saving option, you may also want to look into purchasing a second-hand Ryzen 3 3200G processor, since it will offer the same kind of performance. For any entry-level PC build, this is the best gaming PC under $300.
Pros
Good value for money

Smooth and impressive HD performance

It features integrated Vega 8 graphics, so you can play AAA games with 50+FPS on low or medium settings

The clock speed ranges from 3.6GHz to 4.0GHz

Ideal for entry-level PC builds
Cons
You can still increase performance by lowering the graphics settings even with integrated graphics.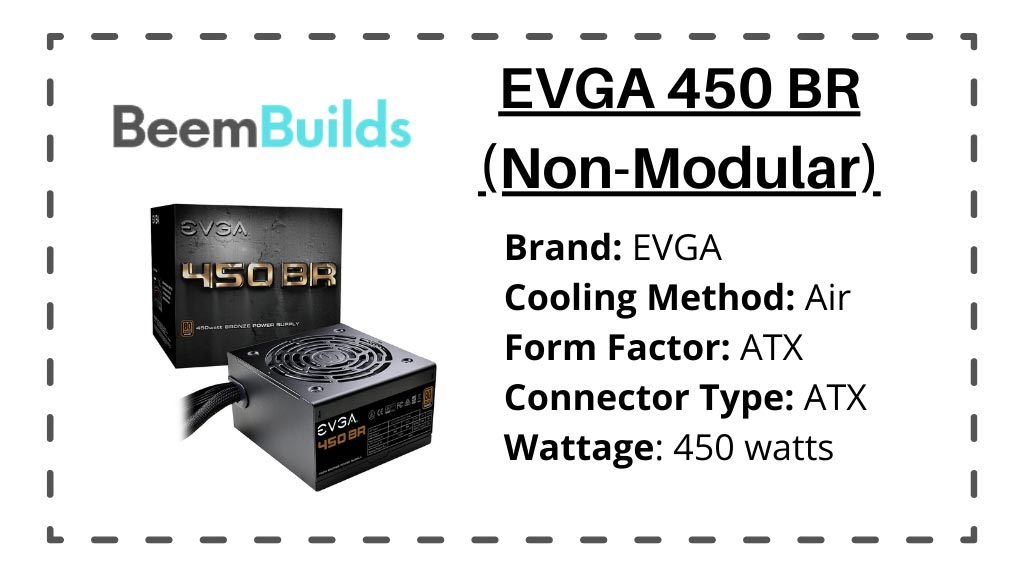 For long-term performance and efficiency, gaming computers should have a reliable power supply. EVGA's 450W power supply offers an incredible amount of power under the hood. With the excellent craftsmanship of the device and with our budget, we can only include basic modular features. The basic modularity of the device does not make it suitable for users who wish to run a dedicated graphics card. Overall, though, the EVGA 450 BR is a good choice. New builders will also find it easy to install. Maybe you should check it out.
With the EVGA 450, you'll save money compared to other companies. However, a low price doesn't necessarily translate into poor quality. As a result of its reputation for manufacturing powerful and durable GPUs and power supplies, the company has grown over time. Moreover, the component comes with a Bronze certified power supply unit (85%) for use under ordinary or high workloads.
As with this EVGA 450 BR, it is recommended to choose a power supply unit with an 80+ rating when choosing the best gaming PC under $300 because a faulty power supply can cause computer parts to malfunction. Additionally, the gaming PC includes a long-lasting fan that will run quietly, and it has an easy and convenient plug-and-play installation so that you can use it anywhere.
Pros
Protection at its best

Long-lasting, quiet cooling fan

Mobile installation

Warranty of three years
Cons
A dedicated Graphics Card should not be run with this power supply.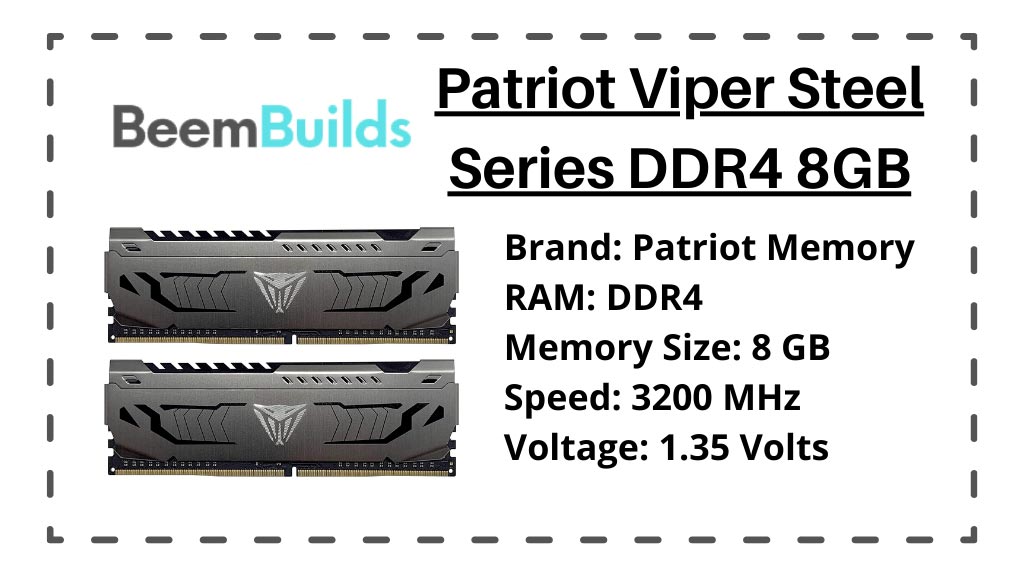 My goal was to pick Patriot Viper Steel Series DDR4 RAM and a motherboard that would be easy to upgrade in the future. Although the device has 8 GB of RAM, it won't be able to handle 4k gaming tasks.
You can upgrade to a 16GB or higher with the Patriot Viper Steel Series DDR4 RAM in the future. It's important to know that a GPU does not come with a VRAM, and it will utilize your system's RAM to slow down computer performance when you have an integrated graphics card.
You may also love to read: Best Ram for i7 11700k
As a tip, you could enhance the overall performance of your computer by purchasing additional RAM sticks. Although the Patriot Viper DDR4 RAM has a marginal drop in performance when used with a single stick, it is still quite reliable and comes at a very low price, which is important for this build since the price is a very important factor.
Pros
Exceptional performance at a reasonable price

Heat spreading aluminum

Suitable for basic multitasking

Module 17-17-17-39 is compatible with almost any H410 motherboard since it has 17-17-17-39 parameters

Lifetime warranty
Cons
Gaming performance is not suitable for 4k.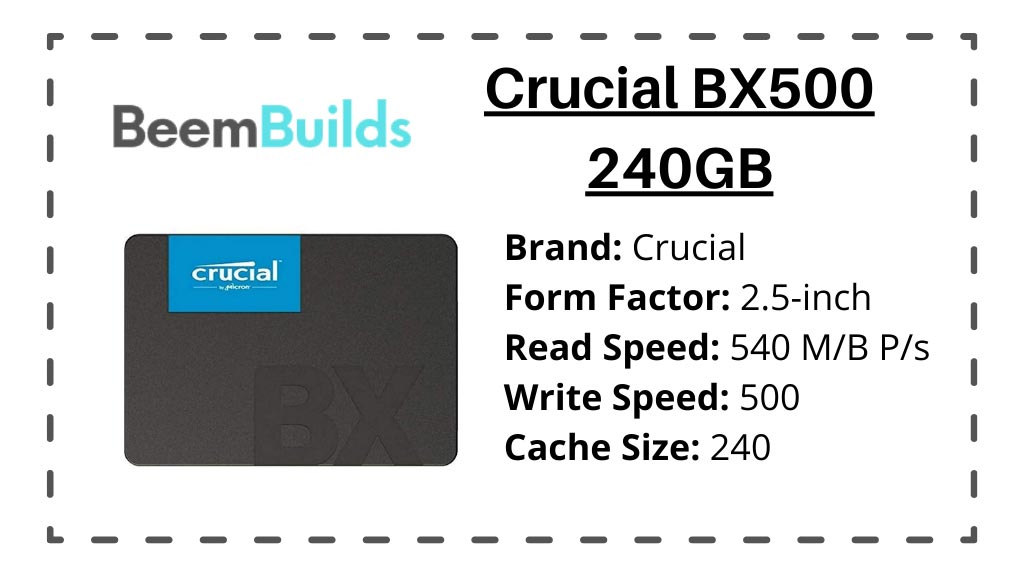 I found the storage costs much cheaper when I came up with the CPU than when I planned an upgrade. A smaller 240GB hard drive was the best choice based on pricing, but you can also go for an HDD if you want something less expensive. You will get the best performance from an SSD when compared to HDDs, which are usually cheaper with a wide range of prices.
You can store games and other media on it since it has a significant amount of storage space. It may not be as good as the more recent models, but it is based on the budget, so it will suffice for now. Additionally, the Crucial BX500 240GB has 300% faster reading and writing speeds than a regular hard drive, so there is nothing not to love.
Pros
3D NAND Micron

Efficient energy use

Overall improved responsiveness

Three-year limited warranty
Cons
Performance is low over time.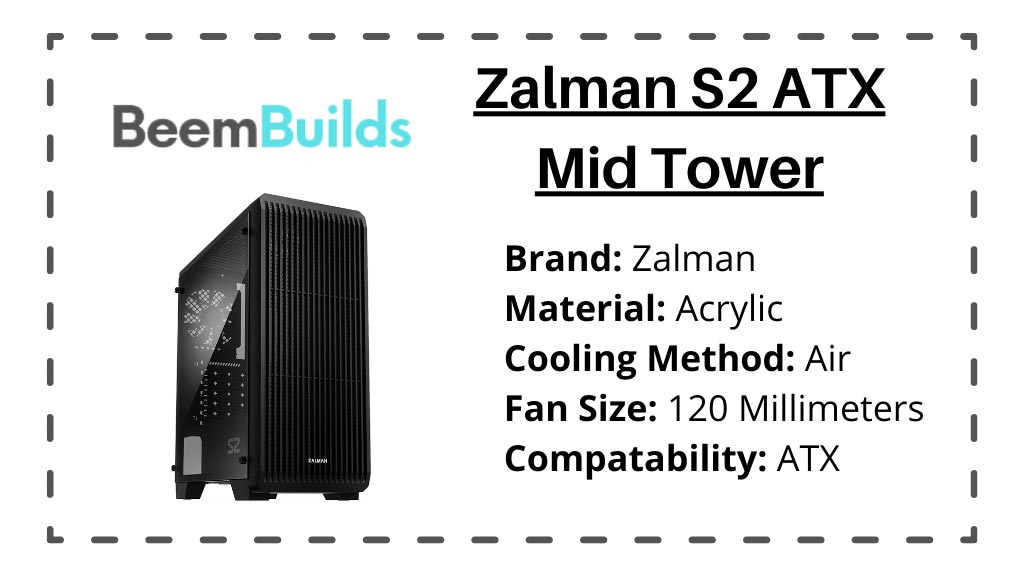 It's not the flashiest or most expensive ATX Mid Tower case, but there's a lot to love, mostly because it's so budget-friendly and offers so much, especially for newer PC gamers. With its airflow-powered cooling mechanism (via the front mechanism), as well as the silent 120mm fan installed at the factory, it has a very efficient cooling system.
Zalman ATX, Mid Tower Case, S2 is unique since it has a full Acrylic Sine Panel aluminum front panel and is compact and firm. Aside from the seven PCI slots plus magnetic filters at the bottom and top, you also get seven PCI Expansion slots in this Mid-tower case. Thank you for continuing to read. Please let me know in the comments if you have any problems building your PC with these components.
You may also love to read: Best LGA 1200 Motherboards
To go with the AMD processor, MSI motherboard, and AeroCool case, this build boasts a sexy glass panel aerodynamic design. Furthermore, since you are building your build, there is no need to worry about removing parts in the future and selling them on eBay. It is wonderful to be able to replace more powerful components when you have more money to spend. Please scroll to the bottom of this page, where you will find the refurbished pre-built PC that will suit individuals who are obese, lazy or technologically illiterate. Keep reading if none of the above describe you, because we're about to embark on an epic journey, and I promise to be more serious in our journey.
Pros
The case has excellent airflow

There are 7 PCI Expansion slots with bottom and top magnetic filters on the side panel, which will make a lot of PC gaming fans drool.

The power supply is hidden behind a glass panel

Silent 120mm fan for cooling system intake and exhaust control.

Dust filters are located on the top, bottom, and front of the device.

Cable management should be possible on the back wall and the outside cover of the unit.
Cons
There is also an advantage to thin metal
Closing Thoughts
So there you have it, our top gaming PC under $300 for right now. Our article will be updated for the best value regardless of economic conditions, even though we cannot guarantee that the price won't fluctuate.
Putting everything together is now the only thing left to do.
Whether you do it yourself or you hire a professional, it is worth the time and effort. Professionals aren't necessary, though. Building a PC can seem scary at first, but only when you get to the point where you actually have to do it.
The majority of people who try it once continue to come back to it time and time again constantly trying to upgrade "just one more little thing". As one of the most expensive and addictive hobby options, PC building has several reasons for its popularity.