The performance of desktop computers has increased tremendously in recent years. A desktop computer setup offers several advantages over consoles or laptops, including increased performance, a larger workspace and more powerful specifications, as well as an affordable price tag. In large part, how fast a computer performs is determined by its CPU. To use a motherboard with similar performance, you would need one that is specifically designed for a specific CPU range.
As of right now, Intel's 10th generation processors are the company's most advanced and powerful processors. If you plan on installing one of these CPUs in your next build, you'll need to find the best LGA 1200 motherboards. It's possible to use any Intel comet lake processor with the LGA 1200 socket, which was released last year. While purchasing a new motherboard, you will usually encounter the following factors:
Form Factor: Compatibility and performance are usually unaffected by the size of the motherboard. You should know your motherboard's form factor before purchasing a cabinet. The form factors of motherboards range from ATX to Micro ATX to Mini ITX to suit compact builds.
Chipset Type: 

You might already own an Intel 10th generation processor, or might be interested in getting one for your build since we're focusing on LGA 1200 motherboards. There are a few different types of chipsets designed for LGA 1200 that are suited to different processor series. You need a processor that is compatible with the chipset type of the motherboard.
Application: Before selecting a motherboard, keep in mind what you plan to do with your PC. As well as motherboards, there are many types of processors available to meet the needs of various applications such as gaming, content creation, and workstations.
Since there are so many different brands that provide several different models for each CPU, it can be quite difficult to find the perfect motherboard for your build. In addition, motherboards have many different factors, such as size, chipset type, expansion slots, and RAM capacity, which make the choice for a newcomer even more difficult. So, here are the best LGA 1200 motherboards you can buy today. Additionally, you can check out our list of the best LGA 1200 motherboards in our "Buying Guide".
Also read: Best Motherboards for Ryzen 9 5950X
Best LGA 1200  Motherboards 2023
ASUS Prime Z490-A LGA 1200 ATX Motherboard
MSI Z490-A PRO ProSeries ATX Motherboard
GIGABYTE Z490 Vision G
Gigabyte H410M S2H
ASROCK B460M PRO4 Motherboard
Best LGA 1200  Motherboards Reviews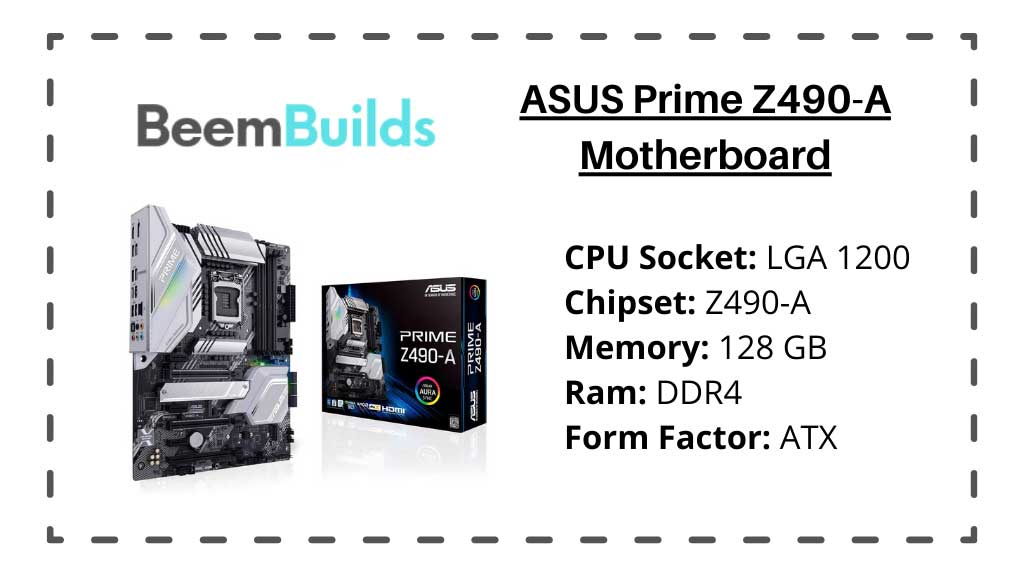 There are many of us who are familiar with Asus since it offers a range of high-end desktop PC components as well as its Prime series motherboards for heavier workloads.
We selected ASUS Prime Z490-A as the first choice among our list of Best LGA 1200 motherboards today since it is the most premium model. Besides supporting all series of Intel 10th generation processors, its Z490 chipset is also capable of overclocking them for even greater performance. ATX motherboard with 12+2 DrMOS stages, which enable the driver and MOSFETs to be integrated into a single package, to provide greater efficiency.
With high durability capacitors and alloy chokes, it is one of the most durable options available for stable power delivery. You can efficiently manage the temperature with its VRM and PCH heatsinks, as well as its hybrid fan connections using the Fan Xpert 4 utility, which will come in handy if you plan on overclocking this motherboard. There is a warranty coverage of three years on this motherboard and it supports up to 128 GB of RAM.
SPECIFICATIONS
Chipset: Intel Z490 | Form Factor: ATX | CPU support: Intel 10th Gen | Memory Speed: 4600 MHz | Supported RAM size: 128 GB DDR4 | Expansion slots: 2 x PCIe 3.0 x16
Pros
High-quality construction

Advanced chipsets

The warranty period is long
You may also love to read: Best Motherboards for Ryzen 9 5900X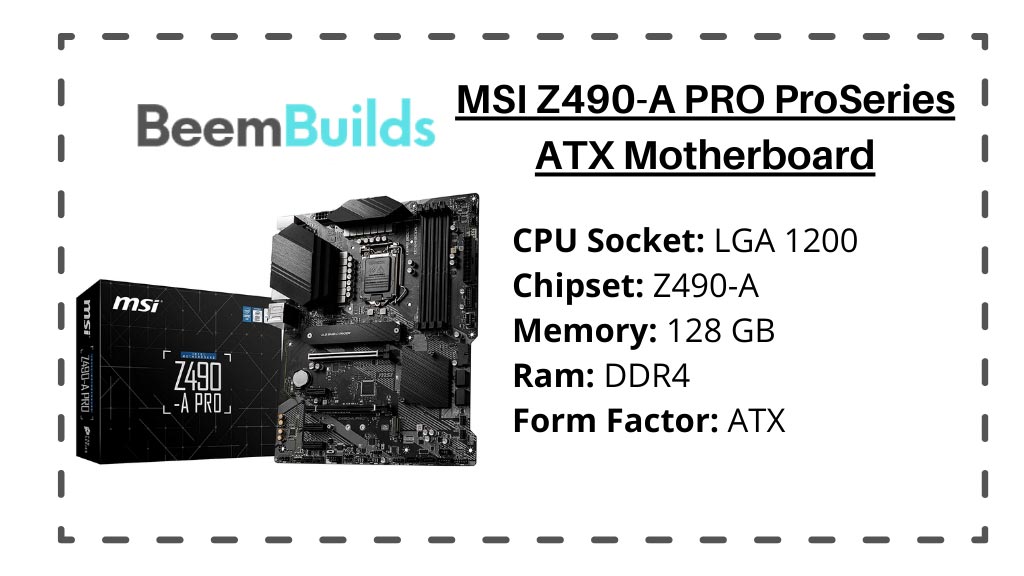 With the Z490 chipset type from MSI, you get the high-end features at an affordable price point. Its components are also highly capable, making it a popular option for intermediate builds.
As our 2nd choice, we have chosen the MSI Z490-A PRO ProSeries ATX Motherboard, since it offers a variety of exciting features within an affordable price range. It is possible to get your hands on a motherboard with the Z490 chipset for just a little bit more than the B series motherboard, and it will also support 128GB of RAM with dual-channel support. This unit is also one of the fastest drives on the market due to its Twin Turbo M.2 Shield Frozr slots.
This motherboard features core boost technology, which provides a balanced, stable current to the CPU to ensure it maintains high performance when overclocked. There are two LAN ports on the computer – 2.5 G and Gigabit – as well as WiFi 6 for wireless connectivity. Considering its price point, the warranty period is only 2 years.
SPECIFICATIONS
Chipset:

Intel Z490 |

Form Factor:

ATX |

CPU support:

Intel 10th Gen |

Memory Speed:

4800 MHz |

Supported RAM size:

128 GB DDR4 |

Expansion slots:

2 x PCIe 3.0 x16
Pros
A large number of USB ports are available

A relatively low price

Installing multiple storage drives is possible
Cons
There is a shorter warranty period
You may also love to read: Best Motherboards For i9 10900K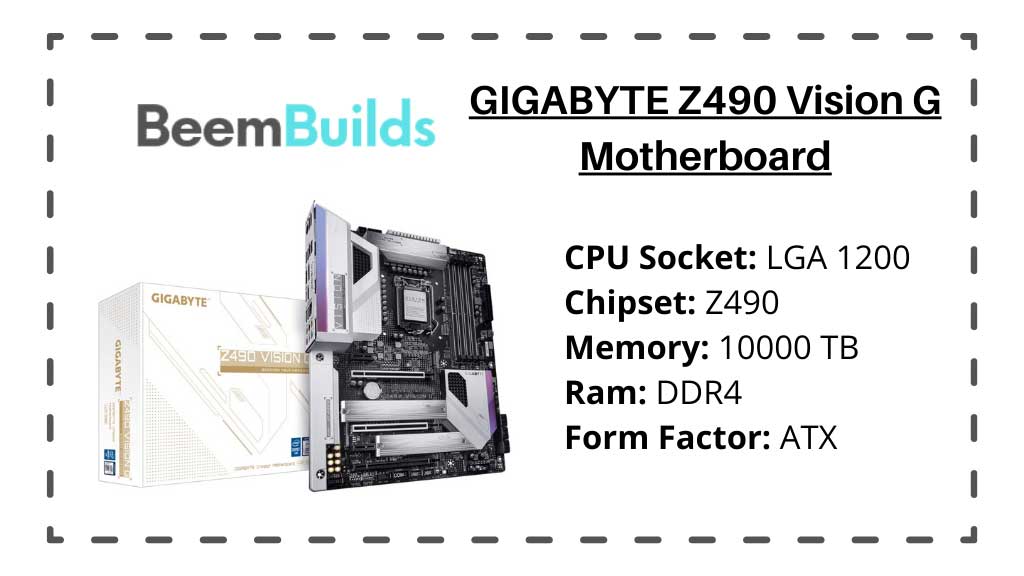 The next motherboard we will examine comes from one of the most popular brands, Gigabyte. In addition to being one of the premium picks in our list, it also comes with some great features and specifications.
Our third pick out of the best LGA 1200 motherboards is the GIGABYTE Z490 Vision G as it is one of the latest products from this batch. In order to address the unique issue of overheating that plagues most overclocking computers, GIGABYTE designed the Z490 Vision with an advanced thermal design. You will not have to be concerned about heating issues again with the new direct-touch surface and micro blocks. It is also compatible with dual-channel DDR4 RAM up to 128 GB, installed in unbuffered slots with Non-ECC.
In the event that you decide to upgrade your system in the future, the dual-mode M.2 design and multi graphics support on this motherboard will be very useful to you. 
With the 12 phase digital VRM here, you will be provided with the best performance and stability whether you are editing a video or playing an intense video game. From Gigabyte, the warranty period is 3 years, which is suitable for the price range.
SPECIFICATIONS
Chipset:

Intel Z490 |

Form Factor:

ATX |

CPU support:

Intel 10th Gen/Intel 11th Gen |

Memory Speed:

4400 MHz |

Supported RAM size:

128 GB DDR4 |

Expansion slots:

1 x PCIe 3.0 x16, 1 x PCIe 3.0 x16, 1 x PCIe 3.0 x16, 2 x PCI x1
Pros
Warranty periods are long

Slots for expansion available in multiple locations

The majority of heavy-duty LGA 1200 motherboards
Cons
A price tag that's quite expensive
You may also love to read: Best Server Motherboards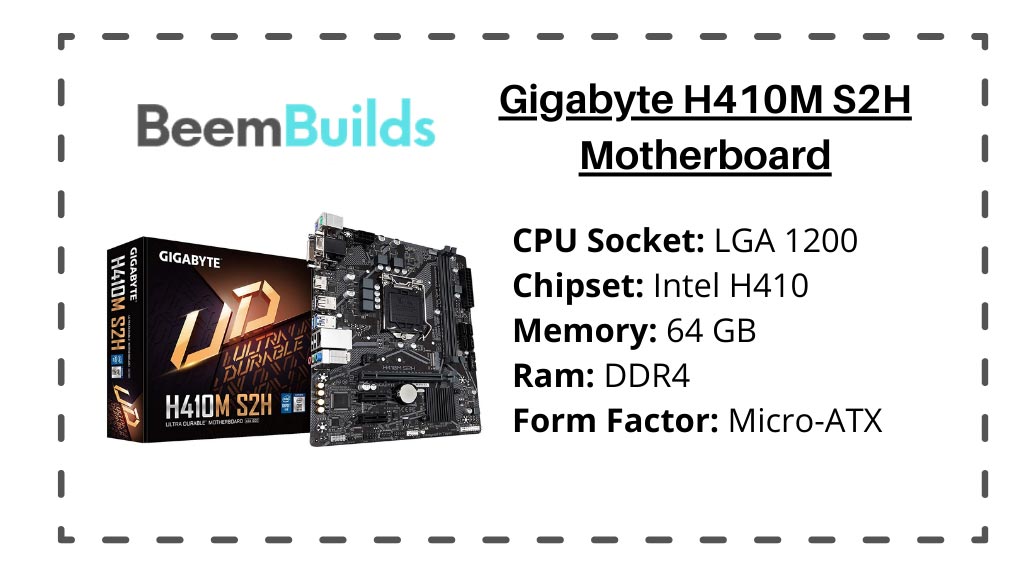 In addition to offering high-end desktop units, Gigabyte also offers an entry-level motherboard like the H series below at an excellent price.
On the Gigabyte H410M S2H you can install an Intel 10th generation processor since it is the cheapest LGA 1200 motherboard from our list. Thus, it's a good choice for a desktop system that's future-proof. It features a dual-channel, unbuffered, non-ECC DDR4 RAM slot with up to 64 GB of capacity, which will be adequate for most applications. As well as that, it features an M.2 drive slot which can accommodate a similar fast storage drive.
A bonus feature is that it has Gigabyte's proprietary Gaming LAN port, which allows you to adjust the bandwidth to your needs, making it an ideal choice for budget gaming computers. This motherboard uses the H410 chipset, which restricts processor performance and cannot be overclocked. However, it shouldn't make a difference to your regular desktop usage whether you're gaming or just browsing. With smart fan 5 technology, the cabinet fans are automated based on temperature sensors.
SPECIFICATIONS
Chipset:

Intel H4120 |

Form Factor:

Micro ATX |

CPU support:

Intel 10th Gen |

Memory Speed:

2933 MHz |

Supported RAM size:

64 GB DDR4 |

Expansion slots:

PCIe Gen3 x2
Pros
An entry-level motherboard

A cheaper price tag for Intel's 10th generation processor

Supports M.2 fast drives
You may also love to read: Best Motherboard for Ethereum Mining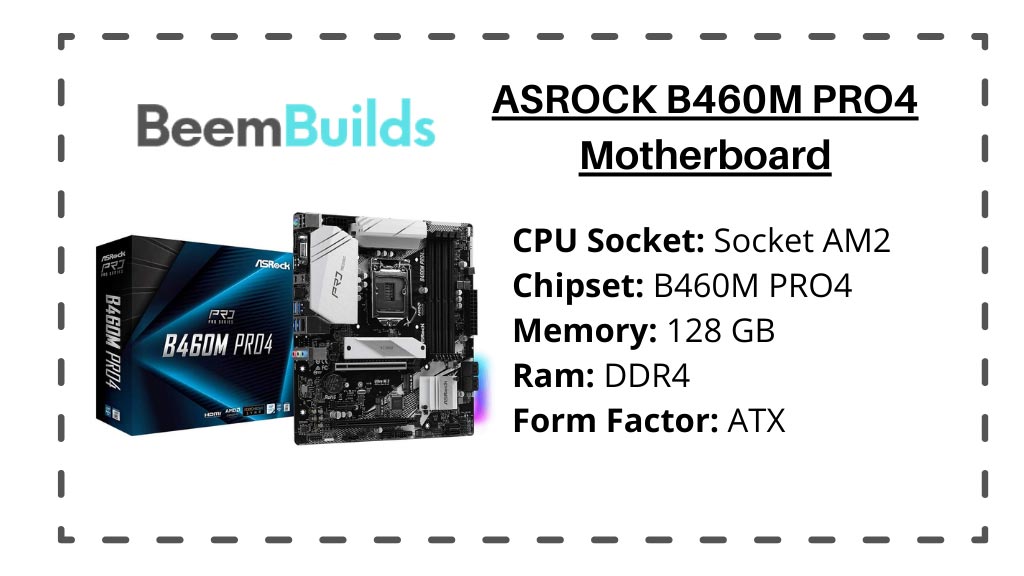 Asrock is a highly regarded brand and certainly offers you the best gaming-oriented motherboards on the market. You don't want to miss out on the Asrock LGA 1200 motherboard below so don't let it slip away.
For a gaming computer, we have chosen the perfect option. Featuring the B460M chipset, the ASROCK B460M PRO4 motherboard provides many high-end features that rival those found on motherboards from the Z series at a much lower price. In addition, it supports Intel's 10th generation processors without any problem because of its 9 power phase design. Furthermore, it offers you the option to use up to 128 GB of RAM, so it can be upgraded later if needed.
This motherboard is designed specifically for 10th generation Intel processors, but it also features AMD Quad CrossFireX technology that enables you to pair two AMD graphics cards together for improved performance. There are seven USB 3.2 Gen1 ports on the device, as well as 7.1 CH HD Audio I/O ports. Having a warranty period of three years makes this board suitable for long term use.
SPECIFICATIONS
Chipset:

Intel B460 |

Form Factor:

Micro ATX |

CPU support:

Intel 10th Gen |

Memory Speed:

2933 MHz |

Supported RAM size:

128 GB DDR4 |

Expansion slots:

2 PCIe 3.0 x16, 1 PCIe 3.0 x1
Pros
Connectivity options that are excellent

Synchronization in polychrome is available

RAM capacity is similar to that of high-end options
Cons
RAM speed can only be increased to a certain extent
You may also love to read: Best Motherboards for Ryzen 9 3900X
Buying Guide For The Best LGA 1200  Motherboards
Due to the current generation of games, older model CPUs can't perform as well as the current generation of computers. Regardless of how powerful your graphics card is, you will still need a CPU that is just as powerful in order to avoid bottleneck issues.
Buying a 10th generation Intel processor is the best option right now to avoid any problems. To use a LGA 1200 compatible motherboard, you will need one. Up to this point, you have read about the best LGA 1200 motherboards and their key features. Below, we have provided a buying guide to help you learn more about such motherboards in general.
Form Factor
A motherboard's form factor has no effect on any component of your configuration. Therefore, you have the option to choose the motherboard's form factor based on the cabinet you currently own.
Motherboards are classified according to their form factors, such as ATX, Micro ATX, and Mini ITX. Similar ratings appear with the cabinets as well, which describe its compatibility with the motherboard. The ATX size is generally best suited for high capacity motherboards, whereas the Micro ATX size is best suited for entry-level rigs.
Type of Chipset
In any system, the CPU is purchased first, because it determines how the system will be used. Once you have determined what CPU you want for your system, your next step is to choose a motherboard that can accommodate the CPU without any problems.
If you plan on installing a 10th gen Intel processor in your system, you do not necessarily need an LGA 1200 motherboard. In the future, however, you can upgrade the CPU without replacing the motherboard if you already have one.
RAM Compatibility
In addition to RAM, your desktop computer's speed and its usability with heavy applications are directly affected by its RAM. RAM has two major characteristics: speed and capacity, both of which are depending on the type of motherboard.
Even a content creator workstation with a RAM capacity of 128 GB is more than sufficient. You should also take note of the RAM speed supported. There are "MHz" units to indicate RAM speed. If you plan to use your RAM heavily, a higher speed will benefit you.
Expansion Slots
Now let's look at another important component of desktop computers, the graphics card, which plays a crucial role both in gaming and other graphically intensive applications. PCIe expansion slots are not just suitable for GPU cards; they can also support other PCIe-based external cards, including sound cards, capture cards, and LAN cards.
Additionally, if your motherboard gets damaged, you can install other cards in your system if you have an additional expansion slot in addition to the GPU.
Storage Drive Slots
Heavy users always have difficulty with storage capacity as it runs out pretty fast. Gamers will need much more space than 1 TB of hard drive storage in 2023, as current generation games can reach 100 GB in size or even more.
As a result, you may need to install additional storage drives into your systems, such as additional SATA SSDs or HDDs. Furthermore, M.2 drives can be installed on many motherboards to guarantee that your system's speed is maintained regardless of the size of its storage. A motherboard with LGA 1200 slots must therefore support multiple storage options.
USB Connectivity
Let's turn our attention to external storage devices now that we have finished discussing internal storage devices. Data can be transferred instantly between multiple devices using external storage devices. In this era of high data transfer rates of up to 10 Gbps, USB ports with high speeds are more than necessary.
Other USB powered devices, such as a mouse, keyboard, sound cards, decorative LEDs, etc., are essential on your computer, in addition to storage devices. As a result, you should have as many USB ports on your motherboard as possible.
BIOS Configuration
As well as Windows and any other operating system, motherboards have their own software, called the BIOS, which allows you to customize many important aspects of the motherboard without booting the whole machine. The BIOS has always been difficult for users to navigate. The BIOS can also be damaged if it's set up incorrectly.
But as new generations of motherboards are introduced, such as the LGA 1200, their BIOS modes are simplified, making them simpler to understand and update. In order to overclock your system, you will have to explore the BIOS section of the motherboard quite a bit. When purchasing the motherboard, remember that.
Conclusion
In addition to confirming compatibility with the various components in your system, a good motherboard also determines its functionality in future applications. Many PC enthusiasts and reviewers recommend Best LGA 1200 motherboards at this time.
Moreover, these motherboards are compatible with 10th generation Intel CPUs thanks to their wide variety of features. 
Here are several high-end LGA 1200 motherboards that we have described in detail, along with a helpful buying guide that helps you understand your options. We have provided recommendations for the top motherboards for a variety of applications below.
The gaming computer market is currently dominated by the most trending machines. ASROCK B460M PRO4 is an excellent option if you plan on building a gaming computer as well. As a result of the B460's low price and high performance, this motherboard offers the best of both worlds. For precise sound performance, this motherboard features two PCIe 3.0 x16 slots and one PCIe 3.0, as well as a 7.1 CH HD audio port.

For those looking for a desktop computer for their home, the Gigabyte H410M S2H may be a good option if your budget is tight. Among the entry-level options for Intel's 10th generation processors, this motherboard comes at an extremely affordable price tag. In addition to the micro ATX format, this product is offered in a compact form factor.

The most powerful option on our list is the ASUS Prime Z490-A, which we recommend as a last resort. It is recommended that you use this option for computers that are going to be used for heavy tasks such as video editing, gaming, or streaming. Due to its Z490 chipset type, it is able to support overclocked CPUs without any issues. Furthermore, it is a full-size ATX board for optimal heat dissipation.
You may also love to read: Best Motherboards for i9 9900k