A designer somewhere in the world comes up with a new idea that gets everyone spending again when you thought the innovation in Computer chassis had ended. We strive to provide unique and unconventional product reviews for our readers as technical experts. We thought you might enjoy learning about Best Horizontal PC Cases. Due to the advancements in technology, desktop computers are now essentials in every home. A horizontal computer is easier to construct and more visually pleasing in a room setting. You will be able to easily install high-end computer parts within the chassis due to its clean appearance and ample space. With our products, we are designing products that can be mounted on a rack and that can be used with servers. Check our top picks :
EDITOR'S CHOICE
Cooler Master HAF XB EVO
Brand: Cooler Master
Case Form Factor: Horizontal Full Size
Case Material: Steel + Polymer + mesh front bezel
PREMIUM PICK
SilverStone Technology GD09B
Brand: SilverStone Technology
Case Form Factor: Horizontal Mini ITX
Case Material: Plastic front panel
BUDGET PICK
Thermaltake Core P5 V2
Brand: Thermaltake
Case Form Factor: Mid Tower
Case Material: SGCC
PC cases that are horizontal may not essentially be limited to being set horizontally; some computer cases allow the user to set the chassis vertically or horizontally according to the need. We have primarily listed housings that are space-saving and provide high performance. On the other hand, we have some chassis specially designed to make your desktop footprint as small as possible. As part of our selection process, we looked for cases that have good airflow, adequate clearance for high-quality components, sturdy materials, added features, great connectivity, and ample space for cable management. Your friends and family want to see how cool your tech is. Let's start by telling you a few essential tips before shopping: We want you to have an item that looks top-notch and performs like a beast.
Quick Shopping Tips about Best Horizontal PC Cases:
Orientation: You should choose a PC case chassis that can be displayed vertically or horizontally on your desktop. Some chassis support either orientation, while others only support one, so make sure you choose the one you want.
Lightning: RGB lighting is an appealing value-added feature. The sync function is sometimes provided by the motherboard, but some are operated with a separate controller. Choose the one you can easily handle.
Form Factor: Every chassis has a form factor, and horizontal chassis are no different. A motherboard's size is determined by the size of the components you can install.
Clearances: Clearances for CPU, GPU, and power supply are essential, so you should first select the computer configuration before searching for clearances. You can check if components you already own fit within the case's clearance if you already own them.
Front Panel: Many users look for the latest generation of USB ports, headphone jacks, mics, power buttons, and reset buttons on the front panel of a horizontal PC case, so ensure that your horizontal PC case has all the desired features.
Best Horizontal PC Cases at a glance:
Best Overall Horizontal PC Case – Cooler Master HAF XB EVO
Best Runner-Up Horizontal PC Case – SilverStone Technology GD09B
Best Premium Horizontal Case – Thermaltake Core P5 V2
Best Slim Horizontal PC Case – Thermaltake Core G3
Best E-ATX Horizontal Case – SilverStone GD08
Best Budget Horizontal PC Case – Antec VSK2000
Best Horizontal Micro-ATX Case – SilverStone ML04
Best Horizontal Mini-ITX PC Case – Fractal Design Node 202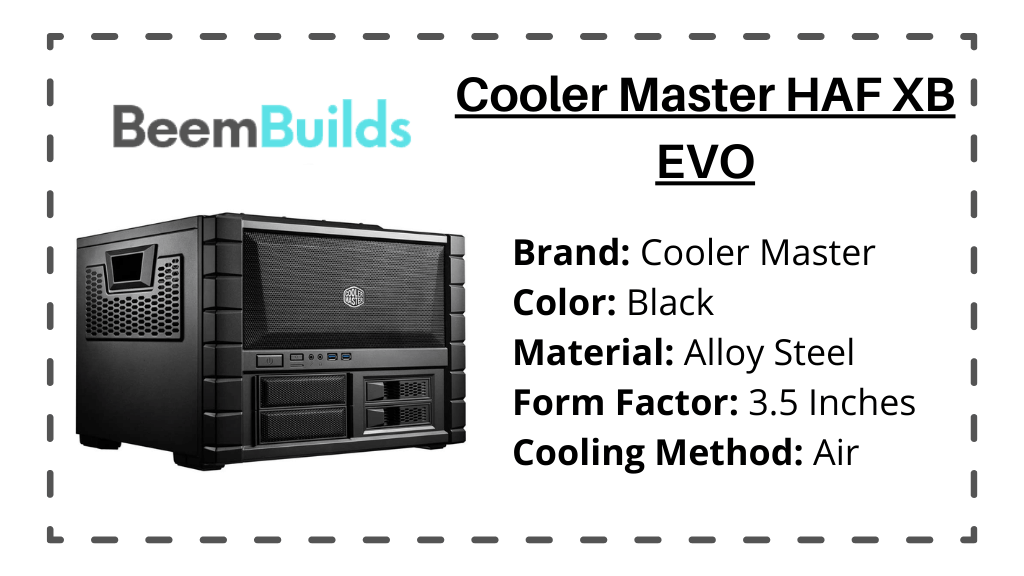 Gaming enthusiasts, overclocking enthusiasts, or just tech geeks who want a bench that can handle a lot of constant plugging and unplugging of hardware components will appreciate the Cooler Master HAF XB EVO. 
This case features a specially designed airflow for overclockers. A pair of 1200RPM, 17dBA XtraFlo fans are already preinstalled on the front. The back and the top of the CPU can be installed with two 120mm fans, or two 140mm fans can be installed on either side. For overclockers who are serious about overclocking, there is room for two 120mm fans.
A horizontal chassis does have its drawbacks despite its ease of handling, transporting, and assembling. There are no liquid reservoirs or 420mm radiators in this chassis, which is intended to overclock. It is not possible to install a distribution block due to limited space, and the package does not include RGB lighting. Although it is marketed as an alternative to a test bench, the motherboard tray and hot-swappable bay are fragile. As it's intended for GPUs and RAM tests, you won't be able to use it to replace motherboards often, since cable management would be difficult to manage.
Easy hardware upgrading is made possible with the removable motherboard tray and two storage drive dock bays. The chassis can accommodate the best GPU on the market, the 331mm Nvidia RTX 3090 Ti. Overall, we think this is the best chassis on the market. Through its horizontal design, the chassis eliminates GPU and PCIe card sagging. This guarantees long-term components and no damage due to creep. The latest gaming systems have significant clearance requirements for air-based CPU coolers. This chassis has 180mm clearance over the CPU to accommodate heat dissipators like the 165mm height Noctua NH-D15.
SPECIFICATIONS
Brand: Corsair | Case Form Factor: Mid Tower | Case Material: Steel + Tempered Glass | Motherboard Support: ATX, Micro-ATX, ITX | Drive Bay: Two 2.5'' & Two 3.5''
Pros
Pre-installed three case fans

Integrates a full-length power supply

Tempered glass that is precise and durable
Cons
A power supply for ATX is not included

Cable management is difficult
You may also love to read: Best RGB PC Cases
If you are looking for compact computing systems Best Horizontal PC Cases that can serve as a mid-range gaming PC or an entertainment system, Silverstone has a solution for you. GD09B by SilverStone Technology is the best runner-up horizontal PC case that ensures that all your hardware fits into a small area. With a GPU like Nvidia's RTX 3080, you can enjoy mesmerizing graphics with an optimal frame rate. Any cooler that is higher than the Noctua NHC14s will not fit, but you can fit a Noctua NHC14s with ease.
Despite its excellent home theater capabilities, this case is incompatible with high-end gaming PCs. This is due to not having enough room for liquid cooling radiators and enough clearance for an air-based high-end CPU cooler. Despite having only one 120mm fan, the case cannot satisfy the needs of gaming PCs today. This chassis has limited headroom if you would like to overclock it. A confined space can accommodate an ATX motherboard with seven+1 expansion slots. Cable management isn't easy in this case. Read More: Best Alternatives to the Dancase A4-SFX & Louqe Ghost S1
Filters have been included to prevent dust from entering. Using positive pressure, SilverStone has allowed dust and other potential contaminants to escape the chassis. As a result, maintenance is reduced and components are extended. A Type-C USB port is included on the front panel, which is essential for modern-day computer cases. The USB 3.0 port allows peripherals to be connected as well. GPUs have a separate ventilation system so that heat can be dissipated efficiently and the GPU may perform at OC levels.
SPECIFICATIONS
Brand: MUSETEX | Case Form Factor: Mid-Tower | Case Material: Tempered Glass + ABS + Steel chassis | Motherboard Support: E-ATX / ATX / Micro-ATX / Mini-ITX | Drive Bay: Three 2.5'' & Three 3.5" | GPU Clearance: 380 mm | CPU Clearance: 160 mm | PSU Clearance: 200 mm | RGB Fans: Six 120 mm | USB Version: 3.0 | Radiator Compatibility: 240 mm | Weight: 18 pounds | Dimensions: 17.13 x 8.07 x 17.16 inches
Pros
A total of six RGB fans are preinstalled

Music light that can be controlled remotely

Featuring tempered glass that is thick and translucent
Cons
SSD bays are not included

The front panel lacks a headphone jack
Thermaltake Core P5 V2 is designed for gamers, programmers, and professionals who wish to showcase their rigs without any hesitation exposing the internal components. Unlike horizontal PC cases, this case can also be orientated vertically. Once you tilt the case, you should be able to mount the GPU in either vertical or horizontal. With its exquisite beauty, this home is sure to mesmerize its owners and guests. A 5mm tempered glass side window is installed on the chassis in an open frame design. In our opinion, this is the best premium horizontal case.
Modders can find everything they need in this chassis, but it could be confusing for beginners. Instructions on the front of the chassis are difficult to understand. Beginners are recommended to watch YouTube videos. Type-C USB ports are becoming increasingly popular and will soon become essential. The horizontal PC case does not support the installation of optical drives if you still use them. Noise levels cannot be controlled by this design, and dust is an unavoidable side effect. Also Read: Best Smallest ATX Cases
The high-end components installed in this chassis will ensure that the latest games will not lag. As well as an amazing 480mm radiator with a liquid reservoir, it also has no restriction to airflow, so the GPU performs at its best when overclocked. Featuring four USB 3.0 ports and an HD audio output, the case provides fast data transfer. Home improvement parts like a wall-mountable chassis are useful for improving your home. With the ability to bend liquid tubes and place them as desired, the customization level is amazing.
SPECIFICATIONS
Brand: AeroCool | Case Form Factor: Mid Tower | Case Material: SPCC + ABS | Motherboard Support: ATX / Micro-ATX / Mini-ITX | Drive Bay: 2x Internal "2.5/3.5" & 4x Internal 2.5″
Pros
Hub with 10 ports and PWM features

Liquid cooling AIO solutions with enough space

Dual chambers provide excellent ventilation
Cons
The bottom fan is not present

It is a tight fit for ATX Motherboards
Options are always a good thing. Thermaltake Core G3 can be placed horizontally or vertically, depending on your preference. In this case, the slim ATX horizontal PC case looks a lot better horizontally since it offers a lot more space. A high air flow rate can be achieved over the components installed within the chassis thanks to the perforated sheets. This chassis can be customized with water cooling kits. The dust filters that come with the package make it easy to keep the case clean. There is a removable dust filter and a PCI-e riser cable with the chassis.
If you are thinking of buying a slim horizontal PC case, then this chassis would be ideal for you. Unfortunately, it does not have RGB lighting. As there is no dual chamber set up to hide cables behind rubber grommets, cable management is a little tricky. You will have to mount the GPU using a riser cable parallel to the motherboard as there is not enough room inside the box for the GPU to be mounted at a right angle. The liquid cooling and heat transfer for GPU are at a limit. Instead of glass, the windows are acrylic, making them scratch-prone.
For gamers who want to overclock their CPU or GPU, it's more attractive because of its 240mm radiator. Connectivity is made possible by four USB ports on the front panel and two HD audio jacks. On the chassis front, there are two 120mm fans pre-installed for maximum cooling. Among the most compact and flexible ATX cases on the market, this one offers the best performance. Your eye-catching hardware is allowed to fascinate your system due to the adequate-sized window. Taking our list of reviews into account, we believe this is the best slim horizontal PC case.
SPECIFICATIONS
Brand: ASUS | Case Form Factor: Mid Tower | Case Material: Aluminum + Alloy Steel | Motherboard Support: E-ATX / ATX / Micro-ATX / Mini-ITX | Drive Bay: 2 x Int x 2.5"/3.5" Combo Bay & 4 x Int x 2.5" Bay
Pros
Filters are easily removable

Handles made of cotton woven

Mounting three GPUs vertically or horizontally
Cons
No dampening

Handles that are impossible to use
You may also love to read: AMD Ryzen 7 2700X VS Ryzen 7 3700X
SilverStone has emphasized server capability in their design. The SilverStone GD08 PC case is a horizontal case with the capability of housing two processor-based server motherboards, i.e., the SSI-EEB and SSI-CEB. Professionals who want to edit video or perform graphics editing will find it a great choice. With a substantial space of 345mm, the expansion cards can accommodate the largest GPUs available today. All openings of the computer case come with removable case filters. A pair of hot-swappable 3.5″ external bays is an excellent deal at this price.
The Best Horizontal PC Cases is spacious and offers ample room for experimentation, but cable management can be challenging if the interior is cleaned up. This chassis is listed as SSI-EEB compatible, but it is still hard to install an SSI-EEB motherboard. A standard E-ATX motherboard can fit in it, but it is still tricky to fit an SSI-EEB motherboard. Despite its long-term durability and design, this product can be a bit pricey. We recommend this chassis if you're a streamer. Read More: Best Motherboards for Ryzen 9 3950X
A PC's front panel is made from brushed aluminum metal, which is extremely rigid. These panels are also used in data centers. RA02 handles are installed with four screws after removing the case feet and adding the RA02 handles. By keeping the chassis under positive pressure, dust does not accumulate over time and the PC runs reliably as it should. An essential attribute for creating a high-end PC is its ability to support 7+1 expansion cards and two USB 3.0 Type-A connectors. As well as being a small and reliable chassis, it's also one of the best E-ATX horizontal case you can find.
SPECIFICATIONS
Brand: Antec | Case Form Factor: Micro-ATX | Case Material: SPCC + Plastic | Motherboard Support: Micro-ATX / Mini-ITX | Drive Bay: Two 3.5″/2.5″ & Two 2.5″ | GPU Clearance: 360 mm | CPU Clearance: 160 mm | PSU Clearance: 170 mm | RGB Fans: One non-RGB fan | USB Version: 3.0 | Radiator Compatibility: 280 mm | Weight: 10.8 pounds | Dimensions: 8.27 x 16.54 x 15.83 inches
Pros
A sleek and modern aesthetic

The internal components are fully displayed

Easy installation with removable side panels
Cons
Handles not included

Screw-less mounting of the drive
6. Antec VSK2000 – Best Budget Horizontal PC Case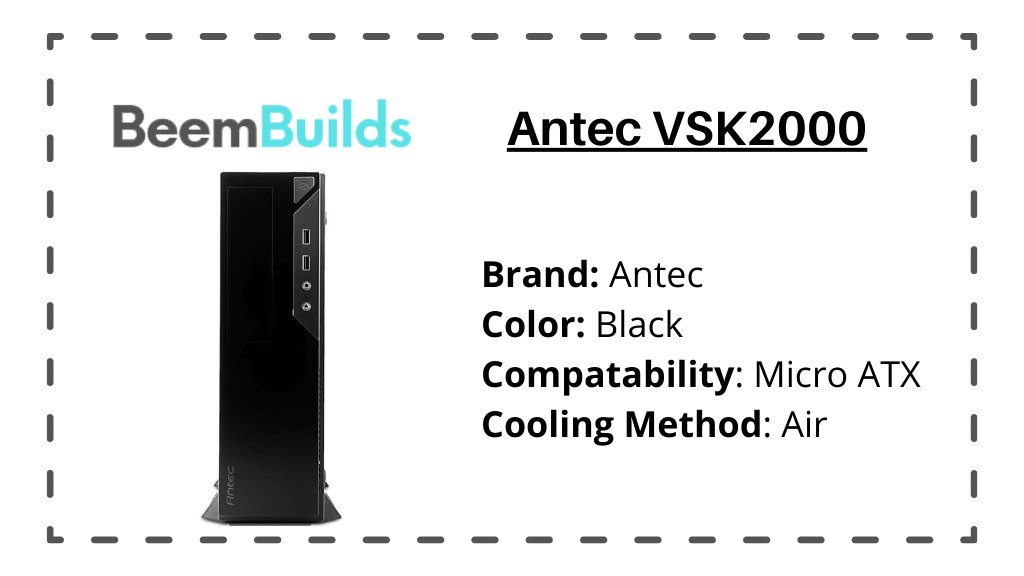 Its vertical and horizontal orientation options make it a noteworthy addition to the list. A vertical base is included with the chassis.
The Antec VSK2000 is the best budget horizontal PC case. With its compact design, it is ideal for working on the desk. Fast installation is made possible by a simple, tool-less design for ODD/HDD housing. Micro-ATX and Mini-ITX size motherboards can be supported by the computer to provide the bare essentials needed for productive work.
In a chassis with such tight quarters, a small footprint is an excellent deal, but there are some things you should keep in mind. TFX power supplies are a rare type of power supply that can be expensive to replace if damaged. Antec chose to use one. For this chassis, it would be foolish to use a motherboard that supports OC RAMs. Micro ATX motherboards and high profile rams do not fit because the clearance is too low. This forced some users to modify their cases. Additionally, there is no filter, so dust accumulates over time.
An optical drive is surprisingly found in this SFF PC case, a rarity for this form factor. Built to give the overall package a solid feel, the package has a clean build quality and rigid materials. The case has mildly pointed edges that would not cause a cut or cause bleeding. This horizontal PC case opens with just one button press. On the front, you'll find USB 3.0 support, which is among the latest technology. An HTPC can easily be set up in your living room with this chassis. Under the roof you can easily fit a low-profile CPU cooler.
SPECIFICATIONS
Brand: DarkFlash | Case Form Factor: Mid Tower | Case Material: Tempered Glass + Alloy Steel | Motherboard Support: ATX / Micro-ATX / ITX | Drive Bay: Two 3.5" and Two 2.5"
Pros
Seven PCI slots vertically

Tempered glass with three sides of high quality

Hardware clearances of major importance
Cons
Drive bays are not removable

Limited space for modular power supplies
You may also love to read: Best Thermal Paste for PS3
7. SilverStone ML04 – Best Horizontal Micro-ATX Case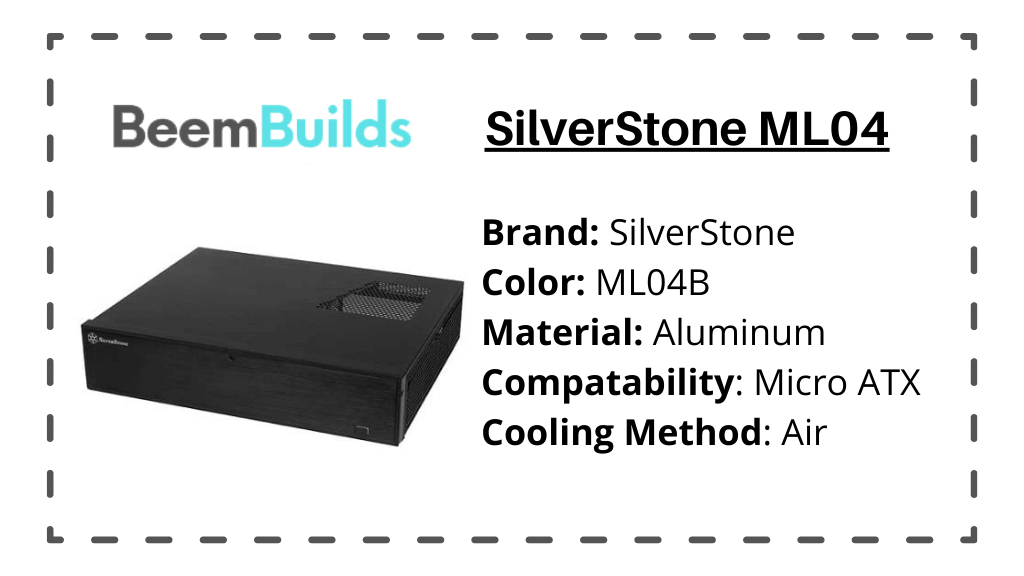 All of SilverStone's products have a specific aesthetic touch. For example, the aluminum front doors have a brushed metal look. ML04 is another case that this company offers that is both functional and horizontal. This case can be used for a small tabletop or for office tasks. This is the best horizontal micro-ATX case. With enough power, you can use it as an HTPC that keeps your home theater running smoothly. Micro-ATX motherboards fit in the chassis.
A CPU cooler such as the Noctua NH-L9i will be necessary because the clearance is so small. The coolers are an additional cost since some processors come with them preinstalled and tend to have a higher profile. 
SilverStone had to make tight adjustments for SFF components, which lowers the GPU clearance. Many users have complained about the light indicator on the front of the unit being too bright for a room setup, and sometimes not being adjustable. Even though the PS2 (ATX) supplies can be used, the wires can be a bit tricky to handle. Also Read: Best Cheap Gaming PC Build under $300
Normally, chassis do not feature USB Type-C connections, which are essential for modern peripherals, but this chassis includes Type-A and Type-C connections, in addition to HD audio jacks. Support for four 80mm fans is possible with this form factor. Kids have an easier time around the house since the front door and power button can be locked to prevent operations. Bright LED lights have the option to be dimmed as well. Magnetic dust protection is built into the chassis.
SPECIFICATIONS
Brand: Corsair | Case Form Factor: Super-Tower | Case Material: Steel+ Aluminum+Tempered Glass | Motherboard Support: Two Motherboard E-ATX with Mini-ITX | Drive Bay: (x6) 2.5in (x5) 3.5in | GPU Clearance: 400 mm | CPU Clearance: 180 mm | PSU Clearance: 225 mm | RGB Fans: ?? | USB Version: 3.1 | Radiator Compatibility: 420 mm | Weight: 65 pounds | Dimensions: 27.3 x 12.1 x 27.4 inches

Pros
Design with three chambers

Connectivity for the future

Mounts up to 18 fans and 4 radiators
Cons
There is no preinstalled fan

Costly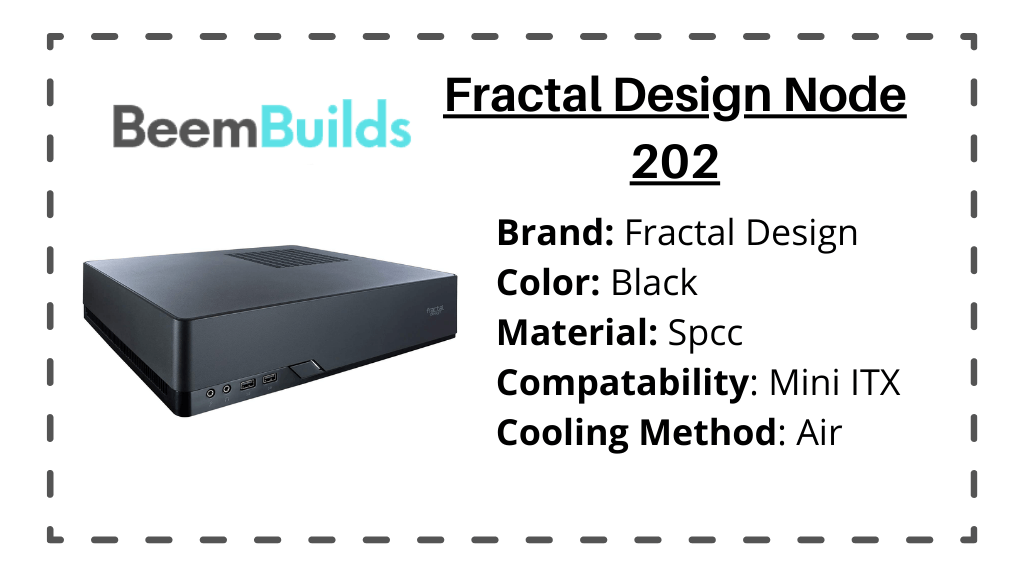 Known for its aesthetically pleasing computer PC cases, Fractal stands out from the crowd. It offers reasonable prices and solid construction. As a horizontal Mini-ITX PC Case, Node 202 from Fractal Design does not disappoint. A mid-range gaming PC can be built with ease by adding PCIe 3.0 riser cards to the chassis. In addition, it provides sufficient airflow for the components to exhaust their heat. Horizontal or vertical installation is possible. We recommend vertical installation.
No RGB is present on the chassis, and there is no window to see the hardware inside. Instead of buying RGB components, choose functional components that are cheaper. Some people dislike the horizontal logo, but we don't think it matters for this review since it's meant to be horizontal. A dismantling of the chassis is required to access the filters.
Two USB 3.0 ports are present, and the dust filters are positioned strategically to keep dust from accumulating. For a small gaming PC, the price is fair. Heat is isolated within two chambers of the dual-chamber chassis, keeping other components cool. When operating a computer, it is helpful if the GPU or CPU creates heat between them. Additionally, fractal provides premium cable management, making cable management relatively simple.
SPECIFICATIONS
Brand: IN WIN | Case Form Factor: Mini ITX Tower | Case Material: SECC + Tempered Glass | Motherboard Support: Mini-ITX | Drive Bay: 2 x 2.5″
Pros
PSU 650W included

Stylish and compact

Mobile charging and a microphone are both included
Cons
No space to install a HDD

Installing is tricky for beginners
You may also love to read: Best GTX 1070 Ti Graphics Cards
Conclusion
Your gaming station, battle station, or workplace's aesthetics are largely influenced by the chassis. Furthermore, Best Horizontal PC Cases can offer overpowering performance in addition to creating a clean and minimalistic look.
As long as you are not an extreme user and don't put your system under intense processing load, you can choose a compact chassis that is suitable for HTPCs. For easy cable management and efficient heat transfer, gamers should choose a larger chassis with dual chambers. Avoiding dust accumulation is also crucial. Certain chassis feature positive pressure that helps prevent dust accumulation.
When you live in a dusty environment, you should find a chassis with filters that can be easily replaced. To ensure Type-C connectivity for peripherals, you need to ensure your chassis provides this type of connectivity. Data transfer speeds can also be improved by USB 3.0, so having this port on the front panel makes data transfer easier and faster. Various chassis are equipped with HD audio jacks for high-end sound. User requirements determine which features are available. We hope you will install the smart PC you found if you found the product you were looking for.
FAQs
Who makes Best Horizontal PC Cases?
A case for ATX motherboards. On the top is the motherboard (MicroATX), and on the rear is the panel for the peripheral connectors, and on the top are the USB ports.
How do you refer to a large PC case?
PC cases can be divided into two main categories: Full Towers and Extended ATX (E-ATX) cases.
What are the advantages and disadvantages of horizontal PC cases?
Portable PC cases have a number of significant advantages, including portability. Hardware can easily be installed and removed from horizontal cases. The case needs to be horizontally placed on a level table without unplugging everything, as with vertical cases. Since it's already horizontal, you have no need to do anything. Hence, it takes less than a minute for the best horizontal PC case to replace the graphics card.