Are you looking for Best RGB PC Cases? In computer hardware, we see lighting effects that use the combination of Red, Green, and Blue colors, called RGB. Since Corsair and Razer introduced lightning to their motherboards in 2015, Lightning has grown in popularity. The demand in gaming PCs grew from being a value addition to being essential since then, as all the computer manufacturers turned toward making their computers aesthetically pleasing. Computer chassis is the component most desired to be RGB. RGB chassis come in a wide variety of options, including unique options that can be chosen according to their needs. The top products will be reviewed, including those made from high-technology manufacturing and those that fit your budget. Check our top picks:
EDITOR'S CHOICE
Corsair iCUE 220T RGB Tempered Glass
Brand: Corsair
Case Form Factor: Mid Tower
Case Material: Steel + Tempered Glass
PREMIUM PICK
MUSETEX Phantom 907
Brand: MUSETEX
Case Form Factor: Mid-Tower
Case Material: Tempered Glass + ABS + Steel chassis
BUDGET PICK
AeroCool Klaw
Brand: AeroCool
Case Form Factor: Mid Tower
Case Material: SPCC + ABS
Best RGB PC Cases are basically about aesthetics, but having a lot of space for high-end GPUs, air-based CPU coolers, liquid cooling reservoirs, large radiators, and other large pieces of hardware would be excellent additions. From a form factor perspective, we have selected chassis ranging from Mid Tower to Mini ITX. With a compact design with RGB, you can enjoy some entertainment or choose a midrange gaming PC with a small form factor to handle most tasks. Everything depends on your needs. RGB can also be divided into different types, some of which use only one color and are static, while others use several colors and come with sophisticated controls. The following tips will help newcomers to PC building find the best PC case for their needs:
Quick Shopping Tips about Best RGB PC Cases:
RGB Lighting: A number of chassis include RGB fans and RGB lighting strips pre-installed. Lightning controllers are available in certain RGB cases, whereas motherboard controllers are implemented in others. You can choose between static and dynamic RGB, so make sure you match the type to your needs.
Motherboard Support: There are different forms of RGB PC cases, and depending on their form, they support different sizes of motherboards. Before purchasing a chassis, be sure to check the size of your motherboard.
Chassis Design: Various chassis are available; some are designed to provide high airflow while others are designed to provide liquid cooling. While others keep their hardware subtle and closed, others display their hardware entirely with glass.
Drive Bay: If you are a content creator, you would need a lot of storage space. There are two sizes of storage devices, 2.5″ and 3.5″. Your storage device should be compatible with the chassis's drive bays.
Best RGB PC Cases at a glance:
Overall Best RGB PC Cases – Corsair iCUE 220T RGB Tempered Glass
Runner-Up Best RGB PC Case – MUSETEX Phantom 907
Best Budget RGB PC Case – AeroCool Klaw
Best High-End RGB Case – Asus ROG Strix Helios GX601
Best RGB Micro ATX Case – Antec Dapper Dark Phantom DP301M
Worth Considering RGB Case – darkFlash Phantom DR12
Best Premium Case for RGB Fans – Corsair Obsidian Series 1000D
Best RGB Mini-ITX Case – InWin A1 Plus
This is one of the RGB PC Cases from Corsair are the on the market. CORSAIR iCUE, which lets you control RGB across the entire range of Corsair products that support iCUE, is designed for superior aesthetics and reasonable control. A Corsair lighting node core is already preinstalled in the Corsair iCUE 220T RGB Tempered Glass chassis. Both fans and lighting can be controlled simultaneously via the controller. Each SP120 RGB PRO FAN has eight LEDs that can be individually controlled with the iCUE module included in the chassis.
First-time PC builders may find the cable management a bit challenging. Since the clearance between the PSU and HDD cage is only a few inches, you will have a difficult time managing the cables if you plan to use a large PSU. Since Corsair wanted a compact, but good airflow design, a 140mm power supply would fit just fine. 3.5″ drive bay will be inaccessible if a 360mm radiator is installed. While the pre-installed fans come with RGB lighting, they tend to be noisy when operating in aggressive mode. You may also love to read: Best Smallest ATX Cases
As this is a compact ATX case, make sure to check the component sizes before purchasing. Airflow and filtration are essential features. Airflow is essential for keeping the components cool. The RGB case incorporates removable dust filters on the floor, the top, and the front to ensure a clean environment. Cleaning and replacing them is easy. A high-quality sheet metal sheet made from perforated steel ensures a long life span and good airflow, reducing the need for fans and thus reducing static pressure.
SPECIFICATIONS
Brand: Corsair | Case Form Factor: Mid Tower | Case Material: Steel + Tempered Glass | Motherboard Support: ATX, Micro-ATX, ITX | Drive Bay: Two 2.5'' & Two 3.5''
Pros
Pre-installed three case fans

Integrates a full-length power supply

Tempered glass that is precise and durable
Cons
A power supply for ATX is not included

Cable management is difficult
Mustex builds some of the best chassis on the market that are attractive and affordable. You can't ask for anything more from a fan that activates with your voice and has a remote control in an RGB case that features everything you need. Three beautiful RGB fans are visible from the inside of the computer due to its honeycomb-structured front panel and glass front panel. The front panel of the device also features two USB 2.0 and one USB 3.0 port. MUSETEX is without doubt a budget-friendly, high-performance computer chassis. Material costs are kept low with MUSETEX. Comparable to high-end RGB PC cases, the side panels are thin. 
In addition to the dust filter on top, the fans are designed to exhaust, not to intake air. Adding rubber grommets would have been great, but the holes for cables also work. Fans and RGB with the motherboard cannot be programmed, so you are reliant on manual manipulation of the remote. Read About: Best Alternatives to the Dancase A4-SFX & Louqe Ghost S1
Black sheet metal is used to make the chassis of the MUSETEX Phantom 907, as well as the bare bones. There are three lighting modes available for the RGB lighting: symphony, horse racing, and static. The user can choose between them via the remote control. With the computer case, you can use any motherboard size, including E-ATX, ATX, Micro-ATX, and Mini-ITX. A mid-tower chassis can accommodate the maximum number of 3.5″ HDDs and 2.5″ SSDs. Runner-up for Best RGB PC Cases in a budget and best RGB case on a budget.
SPECIFICATIONS
Brand: MUSETEX | Case Form Factor: Mid-Tower | Case Material: Tempered Glass + ABS + Steel chassis | Motherboard Support: E-ATX / ATX / Micro-ATX / Mini-ITX | Drive Bay: Three 2.5'' & Three 3.5" | GPU Clearance: 380 mm | CPU Clearance: 160 mm | PSU Clearance: 200 mm | RGB Fans: Six 120 mm | USB Version: 3.0 | Radiator Compatibility: 240 mm | Weight: 18 pounds | Dimensions: 17.13 x 8.07 x 17.16 inches
Pros
A total of six RGB fans are preinstalled

Music light that can be controlled remotely

Featuring tempered glass that is thick and translucent
Cons
SSD bays are not included

The front panel lacks a headphone jack
3. AeroCool Klaw – Best Budget RGB PC Case

AeroCool Klaw is one of the best RGB cases if you're looking for a subtle lighting design. It has a D-shaped chassis. Two triangular mesh intakes are located on the front panel on both sides. Upon completion, the assembly appears black with glass side panels. SPCC sheets are high-end cold-rolled carbon steel sheets, and high-quality ABS plastics are used in the manufacturing process. The PC case has one 120mm RGB fan mounted on the back, and it has two 120mm addressable subtle RGB fans mounted on the top.
Despite its black appearance, the chassis' legs are chrome and do not match the dark color scheme of the RGB PC case. It doesn't have screwless or thumb screw options for the PCI slots at the back. As the chassis falls into the budget category, it has a slightly thinner sheet metal layer. A few USB 3.0 ports would have been nice. Despite the absence of the reset button, the RGB button is a useful addition. Read About: GTX 970 SLI Vs GTX 1070
Anyone walking in will be able to see the RGB ring because it is bright enough. The RGB strips on the front make it stand out. Using a 10-port hub with PWM capabilities, all RGB on the chassis can be addressed. MSI Mystic Light Synchronizer and ASUS Aura Sync can be used to sync your RGBs with your motherboard. It provides a place for all the unutilized cabling that is cluttering the chassis to be shoved into a PSU shroud on the bottom of the chassis. Definitely the best budget RGB PC case on the market.
SPECIFICATIONS
Brand: AeroCool | Case Form Factor: Mid Tower | Case Material: SPCC + ABS | Motherboard Support: ATX / Micro-ATX / Mini-ITX | Drive Bay: 2x Internal "2.5/3.5" & 4x Internal 2.5″
Pros
Hub with 10 ports and PWM features

Liquid cooling AIO solutions with enough space

Dual chambers provide excellent ventilation
Cons
The bottom fan is not present

It is a tight fit for ATX Motherboards
This chassis is perfect for those who want to own/buy the latest generation peripherals and are into all the latest technology. Featuring premium materials and the latest technology, it is of the highest quality. 
The Asus brand is well known around the world, and its products are popular. One of ASUS's best High-End cases, the ROG Strix Helios GX601 features RGB lighting effects. A renowned logo appears on the front of the chassis, and the ROG style is a trademark. You can select your preferred effect from twelve options and create a chassis that stands out from the rest. The Asus RGB controller is widely regarded as one of the best on the market. Featuring four USB 3.1 Type-A Gen 1 ports, a Type-C Gen 2 port, and LED & fan control buttons, the front panel is outstanding.
Quality comes with a price, but this chassis is capable of supporting all your hardware requirements. Carrying it with one hand is not possible due to the 39.6 lb chassis and the hard carry handles. The handles are unique in their design. The 3.5″ HDD can only fit in two drive bays, but most users are now opting for 2.5″ or M.2 SSDs, so the total space for other hardware is greater. Although it is an RGB case, it only includes non-RGB fans despite being highly expensive.
In this case, you can install a 420mm AIO liquid cooling radiator. The reservoir has sufficient room. On the fan mounting brackets, you can fit up to 11 fans. This computer comes with excellent cable management, as well as a multifunction cover that includes brackets to support the graphics card. It has an easy-to-carry handle that makes transporting 110lbs safe. Space is enough for nine different devices to be stored. All of the entrances have dust filters that are easy to clean. For aesthetic purposes, your aesthetic product is made of full tempered glass.
SPECIFICATIONS
Brand: ASUS | Case Form Factor: Mid Tower | Case Material: Aluminum + Alloy Steel | Motherboard Support: E-ATX / ATX / Micro-ATX / Mini-ITX | Drive Bay: 2 x Int x 2.5"/3.5" Combo Bay & 4 x Int x 2.5" Bay
Pros
Filters are easily removable

Handles made of cotton woven

Mounting three GPUs vertically or horizontally
Cons
No dampening

Handles that are impossible to use
You may also love to read: AMD Ryzen 7 2700X VS Ryzen 7 3700X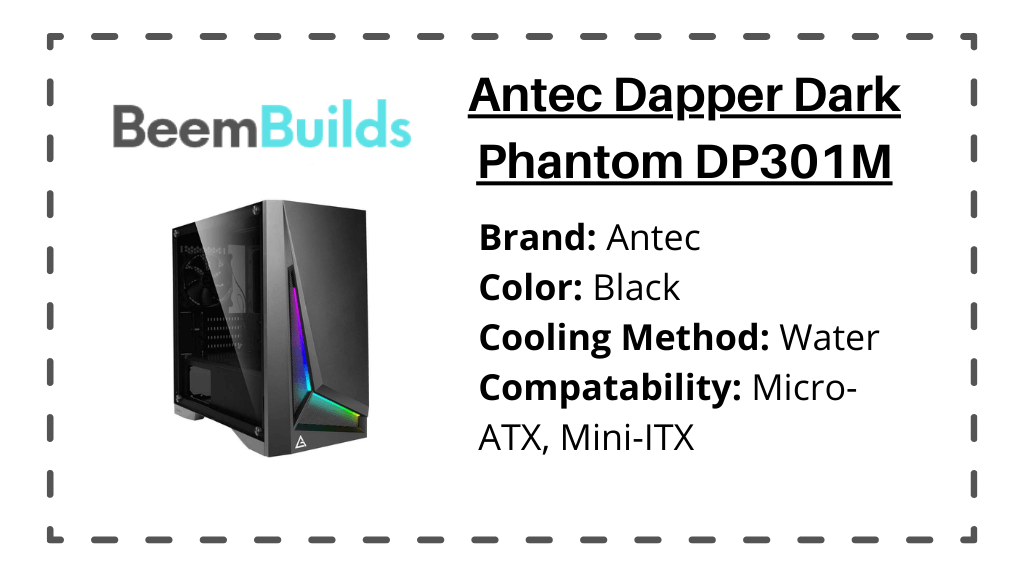 There are a number of top ATX compatible chassis available, and many gamers would opt for a smaller-sized computer. Furthermore, Micro-ATX motherboards have a limited number of expansion slots. If you are not a power user, Micro-ATX motherboards and chassis are your best bet. cool-looking case, the Dapper Dark Phantom DP301M from Antec. There is a beautiful RGB display on the front panel, which looks like something from a sci-fi flick. As the first thing that the person entering your room notices, your computer's tempered glass side panel makes your computer eye-catching.
As for the chassis, it is stunning, and the material is excellent considering its price point. However, there are certain things that could have made it more valuable. The package doesn't include the thumbscrews. It is difficult to tighten the tool-less bay fasteners, which causes vibrations. There is one SSD mount on the motherboard tray that must be removed to be changed or replaced. Cable management would have been improved with rubber grommets. Since there are no cable management holes on the motherboard, its eight-pin power supply cable is visible at the front. The rear end of the case has only one 120mm, but it does not have RGB lighting. Read About: GTX 980 Ti VS GTX 1070
Taking off the tempered side panel is simple, and the groove design makes it easy to remove the glass without damaging it. Your case can be opened more often. Graphix cards, air-cooled CPUs, and power supplies can be installed with significant clearance. There is a perforated bottom, which allows enough air to reach and cool the essential hardware. On the front panel you'll find a microphone jack, a headphone jack, and two USB 2.0 ports. In addition to power, reset, and LED control buttons on the front panel.
SPECIFICATIONS
Brand: Antec | Case Form Factor: Micro-ATX | Case Material: SPCC + Plastic | Motherboard Support: Micro-ATX / Mini-ITX | Drive Bay: Two 3.5″/2.5″ & Two 2.5″ | GPU Clearance: 360 mm | CPU Clearance: 160 mm | PSU Clearance: 170 mm | RGB Fans: One non-RGB fan | USB Version: 3.0 | Radiator Compatibility: 280 mm | Weight: 10.8 pounds | Dimensions: 8.27 x 16.54 x 15.83 inches
Pros
A sleek and modern aesthetic

The internal components are fully displayed

Easy installation with removable side panels
Cons
Handles not included

Screw-less mounting of the drive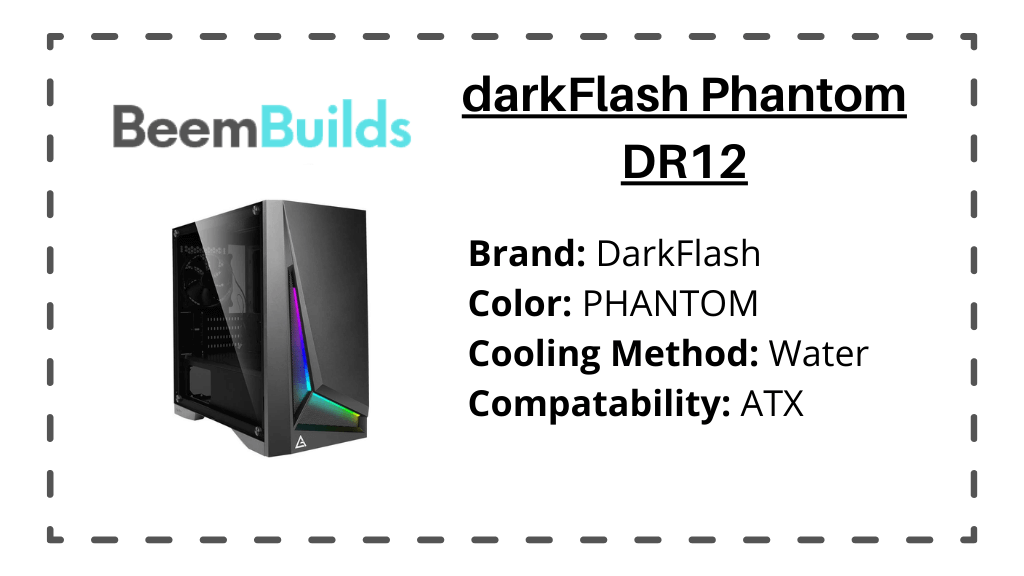 If you have no reason to hide anything inside your chassis, and all of your components speak of performance, looks, and style, then you simply can't go wrong with this chassis. A full tempered glass front panel is included. I find it hard to comprehend that six fans are preinstalled at this price. The front of this motherboard has four 120mm RGB fans, while the rear has two 120mm fans for the best cooling possible for gaming and content creation.
DarkFlash Phantom DR12 chassis is a great chassis, but you need to keep a few things in mind before purchasing it. You can't achieve the minimalist look you desire because the drive bay isn't removable. A modular component cannot fit in the PSU clearance. There is also no rubber guard on the cable holes, and the fan wiring looks unclean since there is no rubber guard. For your assembled rig to look better, the fan wiring needs to be redone. You may also love to read: NZXT S340 VS S340 Elite
In PC cases with liquid cooling, the chassis can accommodate a 280mm radiator. A 174mm air-based CPU cooler can also be installed with the CPU clearance. A 375 mm clearance of this case allows it to accommodate RTX 3090 GPUs with the longest length. Additionally, two USB 2.0 ports and two USB 3.0 ports can be found on the Front panel. On the front panel, you'll find the RGB control, power, and reset buttons. A Best RGB PC Cases that is worthy of consideration for those with beast gaming components is this chassis.
SPECIFICATIONS
Brand: DarkFlash | Case Form Factor: Mid Tower | Case Material: Tempered Glass + Alloy Steel | Motherboard Support: ATX / Micro-ATX / ITX | Drive Bay: Two 3.5" and Two 2.5"
Pros
Seven PCI slots vertically

Tempered glass with three sides of high quality

Hardware clearances of major importance
Cons
Drive bays are not removable

Limited space for modular power supplies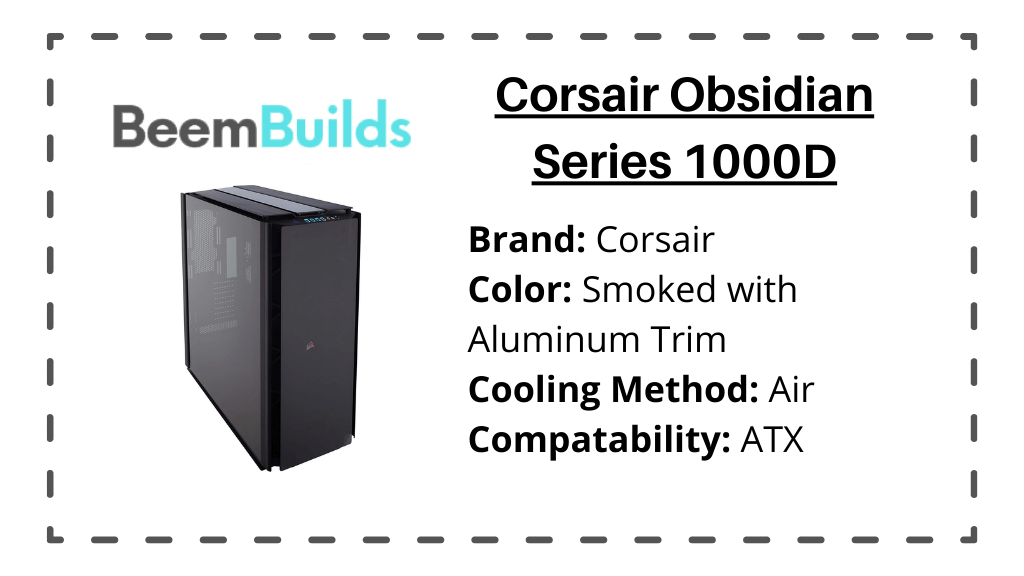 There are several categories of chassis; some are budget-friendly, while others are designed for high-end computers. You might want to take a look at the Corsair 1000D Obsidian Series if you're searching for something different. An enthusiast edition is included with this case. It is the best RGB PC case on the market. The beast combines a full-sized E-ATX board with a Mini-ITX board. On one motherboard, you can stream games to the other motherboard, and on the other motherboard, you can play high-end AAA games. RGB fans can be easily installed on the chassis thanks to slidable trays. Using the rotatable GPU bracket, graphics cards can be mounted vertically or horizontally in the chassis.
Gaming professionals or online streamers will not be disappointed with this chassis. A combined desktop with two desktops is very useful, but the chassis can be expensive. RGB fans in the box would have been ideal. AIO liquid solutions and RGB strips are not included. AIO liquid solutions and RGB strips are not included. Though the case is huge, two 480mm radiators cannot fit, which means overclockers are required. Two reservoirs cannot be installed either. Read About: Best CPU Coolers For i7 8700k
The chassis comes with Corsair Commander Pro Control, a software package that enables full control of the fans and RGBs attached to it. A small chamber and doors are located on the rear of the chassis, which are designed for cable management. Building a PC with this chassis does not require any cable management skills. You can mount five 3.5" drives and eight SSD drives on the same door. Front and side tempered glass doors are made with premium hinges, as well as front tempered glass and sides tempered glass. 
It provides long-term performance and ease of use. For connectivity, the front panel provides two Type-C USB 3.1 and four USB 3.0 ports with RGB lighting. There are two power buttons: one on the top for the primary motherboard, and another on the back for the secondary motherboard.
SPECIFICATIONS
Brand: Corsair | Case Form Factor: Super-Tower | Case Material: Steel+ Aluminum+Tempered Glass | Motherboard Support: Two Motherboard E-ATX with Mini-ITX | Drive Bay: (x6) 2.5in (x5) 3.5in | GPU Clearance: 400 mm | CPU Clearance: 180 mm | PSU Clearance: 225 mm | RGB Fans: ?? | USB Version: 3.1 | Radiator Compatibility: 420 mm | Weight: 65 pounds | Dimensions: 27.3 x 12.1 x 27.4 inches

Pros
Design with three chambers

Connectivity for the future

Mounts up to 18 fans and 4 radiators
Cons
There is no preinstalled fan

Costly
8. InWin A1 Plus – Best RGB Mini-ITX Case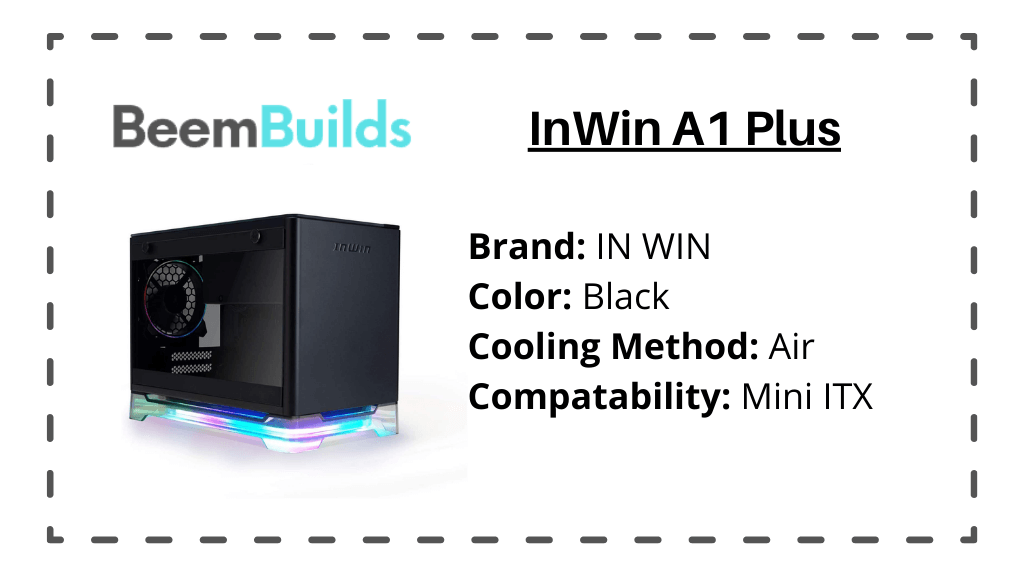 The best RGB Mini-ITX case is InWin A1 Plus. In spite of its small size, the chassis includes a 650W 80 Plus Gold power supply. There is a Wireless Qi charger on the top panel. The package includes two Sirius Loop ASL120 120mm RGB case fans for a rather reasonable price. The mesmerizing look of the chassis would make anyone want one, regardless of the economic feasibility. With RGB lighting incorporated in such a unique way, you are sure to catch everyone's eye. Tinted transparent material ensures that RGB lightning is visible to the user through the tinted transparent stand.
Getting the components into the chassis is challenging because of its compact design, but the square shape helps. A new power supply requires getting rid of the shroud, which is screwed to the PSU. The wireless charger could have had a higher power output but, as long as it works, most users won't be bothered by it. Fingerprints can be seen on the acrylic top of the chassis. Zip ties would have improved cable management but are not necessary. You may also love to read: Best 60% Mechanical Keyboards
In addition, the case is well insulated and maintains a controlled temperature level for the hardware, and the PSU is powerful enough to support two GPUs. A 160 mm CPU cooler can be easily installed thanks to its square design. A ring light is built into the Sirius Loop ARGB, which looks incredible through the tinted tempered glass of the side panel. The chassis is designed with an attractive honeycomb structure on one side. All materials and manufacturing methods are of the highest quality.
SPECIFICATIONS
Brand: IN WIN | Case Form Factor: Mini ITX Tower | Case Material: SECC + Tempered Glass | Motherboard Support: Mini-ITX | Drive Bay: 2 x 2.5″
Pros
PSU 650W included

Stylish and compact

Mobile charging and a microphone are both included
Cons
No space to install a HDD

Installing is tricky for beginners
Conclusion
It is impossible to decide on the right chassis based on its size or a particular con if it comes in different sizes and shapes. After reading through our review, if you still feel confused, then list out your requirements. Identify the features essential to the PC case from the list of Best RGB PC Cases, then note which PC case includes them.
In this case, we would like some RGB effects that don't compromise performance or durability, nor do we want to waste money. Consequently, you have to choose a comprehensive PC Case with RGB after careful consideration. Our reviews will help you make an informed decision. You can make a better decision after reading our reviews. Establishing a budget will also help you make an informed decision. You might end up with an incomplete build if you choose the most expensive chassis.
Building a gaming rig or content creation PC should never begin with choosing a chassis. You'll save time this way. Corsair Obsidian Series 1000D is one of the best Cheap RGB PC cases to have if you are an avid streamer, as it includes all the components you need to set up a gaming PC that will stream smoothly without lags and glitches. The InWin A1 Plus is an excellent choice if you are looking for a smart portable gaming PC. While choosing the best RGB case might seem overwhelming, it's a smart choice that helps you become a future-proof owner and save money in the long term.
FAQs
What is the Best RGB PC Cases?
It has three built-in fans and the option of adding more. The AeroCool Klaw is a fantastic PC case for gamers. This system will keep your laptop very cool, thanks to its effective fans and vents. Multitaskers and gamers alike can take their activities to new heights with the strong chassis. All of this is available at a reasonable price, and the RGB lighting enhances the aesthetics of the case.
How does an RGB PC case work?
In addition to their attractive appearance, RGB cases now come with a lot of features and are even more fascinating than before. With RGB PC cases, you can spice up your system's appearance with lighting that adds a new dimension. These cases feature attractive designs, sophisticated features, and innovative functionality. Choose the Corsair Obsidian Series 1000D, a product you can trust, if you don't have the time to investigate and compare.