Each couple of years, NVIDIA releases a new graphics card, making older ones obsolete.
Although high-end graphics cards from previous generations are still widely used, many people still prefer them. Thus, we'll be talking about the GTX 980 Ti VS GTX 1070, two of the most popular graphics cards available in the market today.
| | GTX 980 Ti | GTX 1070 | Difference |
| --- | --- | --- | --- |
| | NVIDIA GeForce GTX 980 Ti | NVIDIA GeForce GTX 1070 | |
| Price | $ 619.0 | $ 329.0 | 290 (47%) |
| Year | 2015 | 2016 | 1 (0%) |
| Maximum Recorded Temperature | 83C | 80C | 3 (4%) |
| Max Fan Noise | 53dB | 48.2dB | 4.8 (9%) |
| Recommended Power Supply | 600W | 500W | 100 (17%) |
| Benchmark CPU | Intel Core i7-4790K @ 4.00GHz ($306.99) | Intel Core i7-6700K @ 4.00GHz ($334.99) | |
| CPU Impact on FPS | +0.0 FPS | +0.0 FPS | 0 (0%) |
| CPU Impact on FPS % | 0.0% | 0.0% | 0 (0%) |
| Benchmark Quality Settings | Ultra Quality Settings | Ultra Quality Settings | |
| Average 1080p Performance | 84.5 FPS | 93.6 FPS | 9.1 (11%) |
| Average 1440p Performance | 62.1 FPS | 68.5 FPS | 6.4 (10%) |
| (Ultrawide) Average 1440p Performance | 53.0 FPS | 58.4 FPS | 5.4 (10%) |
| Average 4K Performance | 37.0 FPS | 40.6 FPS | 3.6 (10%) |
| Memory | 6 GB | 8 GB | 2 (33%) |
| 1080p Cost Per Frame | $ 7.7 | $ 4.3 | 3.4 (44%) |
| 1440p Cost Per Frame | $ 10.5 | $ 5.8 | 4.7 (45%) |
| (Ultrawide) 1440p Cost Per Frame | $ 12.3 | $ 6.8 | 5.5 (45%) |
| 4K Cost Per Frame | $ 17.5 | $ 9.8 | 7.7 (44%) |
| Variant | NVIDIA GeForce GTX 980 Ti | NVIDIA GeForce GTX 1070 | |
| Overall Combination Score  | 64/100 | 83/100 | 19 (30%) |
Comparison of GTX 980 Ti VS GTX 1070
Structure:
In order to understand these graphics cards better, let's look at their architecture in more detail. It belongs to the 1000-series graphics cards along with the RTX 2000 graphics cards. Graphics cards from the 1000 series were powered by the Pascal architecture, which proved to be an improvement over graphics cards from the 900 series. So, the GTX 1070 performed similarly to the GTX 980 Ti, but the more powerful models, such as the GTX 1080 and GTX 1080 Ti, performed better.
Meanwhile, GTX 980 Ti is part of the Maxwell 2.0-based 900-series. It is the generation's top graphics card. Nowadays, the amount of VRAM is not as impressive as it was with Kepler and Maxwell 1.0. Here is a comparison between the two.
There are a lot of areas where the GeForce GTX 980 Ti seems to lead the GeForce GTX 1070 except for clock rate, so that's where things get interesting. A major improvement in the performance of the 1000-series graphics cards was NVIDIA GPU Boost 3.0, which enabled real-time core clock rates of around 2000 MHz. Many hardware components are controlled by core clocks. Essentially, clocks affect shader processors, render output units, and texture mapping units. Faster clocks make these components run faster. 
In the chart, we see that the GTX 980 Ti operates at a clock speed of 1000 MHz, while the GTX 1070 operates at just over 1500 MHz.
Furthermore, the difference in real-time clock is even greater. In spite of its wider memory bus of 384 bits, the GTX 980 Ti has significantly less VRAM than its counterpart, GTX 1070. In addition, the GTX 1070 supports an improved compression technique, Delta Color Compression, which minimizes the difference between the memory of the two graphics cards. In terms of efficiency, the GTX 980 Ti has 28-nanometer lithography, while the GTX 1070 has 16-nanometer lithography. Due to this, the GTX 1070 is far more energy-efficient than the GTX 980 Ti, with a power consumption almost 100 Watts lower than the latter.
You may also love to read: PSU Hierarchy
The GTX 1070 has some good features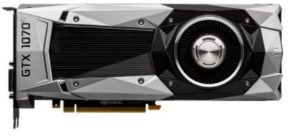 Games with better support

Raytracing can be used in games

Thermals are lower

Power requirements are lower

Accessible at any time

Variants with a pleasing aesthetic

VRAM is greater than GTX 980 Ti
The GTX 980 Ti has some good features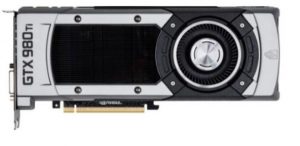 The use of Aster in memory-intensive applications

GTX 1070 is much more expensive

There are some antique and rare variants of this game
The differences between the GTX 980 Ti and the GTX 1070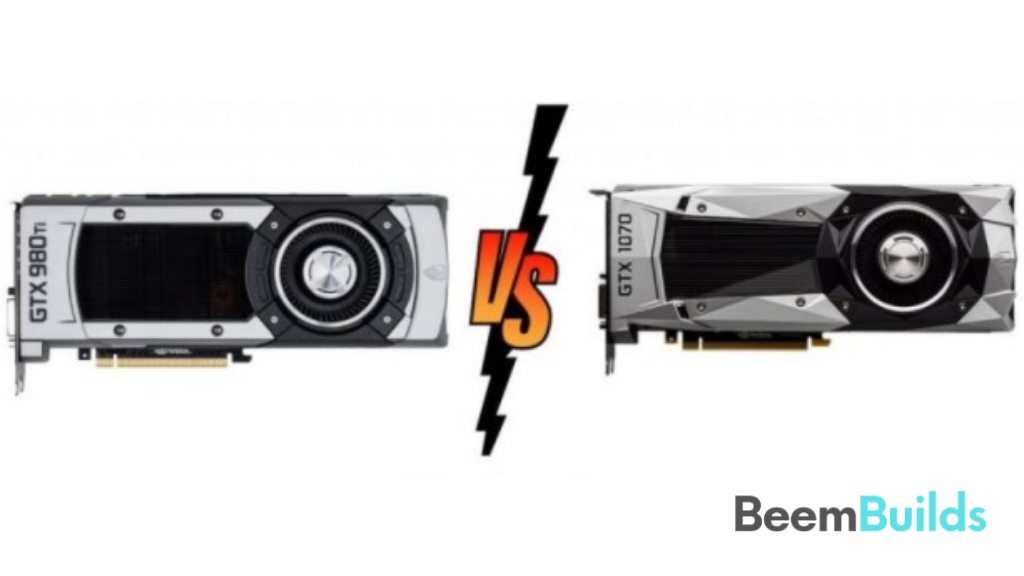 Several factors will determine which graphics card wins this contest. Let's look at these.
Support for Drivers
There is often an underestimation of driver support, and it is a mistake to do so since they are so important. Because companies focus on their newest hardware, older hardware is left behind. Graphics cards are controlled by drivers. The GTX 1070 and GTX 980 Ti follow the same principle in terms of graphics cards. Both graphics cards beat each other in a variety of games in the initial stages of competition between GTX 980 Ti and GTX 1070. The performance gap however widened as new games were released.
As a result, DirectX 12 titles are more likely to run smoothly, since Pascal was better suited for the new technology. Due to NVIDIA's dedication to optimizing the Pascal drivers, this phenomenon is easily noticeable even in DX11 games. The midrange 900-series graphics cards have become better over time than high-end graphics cards in the 700-series, including GTX 700-series graphics cards.
GPUs like the GTX 1050 Ti, even though they were two or more generations older, began to match the performance of flagship GPUs from the 700 series. Because more new games are released, the greater the performance gap between a GTX 1070 and a 1080. Therefore, if you want to be future-proof, you should purchase a GTX 1070. It performed more like GTX 1060 than GTX 1070, for example, in games like Forza Horizon 4.
Difference between VRAMs
Above, you might have noticed that GTX 980 Ti comes with 6GB of GDDR5 memory, and GTX 1070 has 8GB of GDDR5. There are now a number of games that use over 6 GB of VRAM, so the 2 GB difference is significant in gaming. Texture quality is the most important factor in determining how much VRAM is used by graphics cards, as it holds all of the data that the graphics card is processing. In AAA games, the latest textures are very high-resolution, exceeding the VRAM limit of 6GB, resulting in stuttering. By lowering the quality of the texture, stuttering can be prevented, but lowering the settings, especially textures, can be unsettling for some people.
Because both cards are rather expensive, if you want to play games with the highest texture resolution, you would be better off purchasing a GTX 1070. Your large monitor may make this more noticeable than others. 
Ones as large as 32 inches or even 27 inches are available. It is extremely difficult to enjoy this game on the big screen because of the low-resolution textures. On the other hand, since you probably can't see much difference between Ultra and Very High texture quality on a 22-inch or 24-inch monitor, you should definitely consider the GTX 980 Ti instead.
Performance in Memory
In applications that heavily rely on memory performance, the GeForce GTX 980 Ti may outperform the GTX 1070 since it has faster memory than its predecessor. There is a 336.6 GB/s difference between the GTX 980 Ti and the GTX 1070 when it comes to memory bandwidth. While it has 2 GB less VRAM than the GTX 980 Ti and a slower clock rate, the GTX 980 Ti has faster memory. For this, you will also need to consider the graphics card's bus width.
Memory clock speed, memory bus width, and memory type all have a direct effect on graphics card memory performance. There is no difference in the graphics card memory type, i.e., GDDR5, but there is a difference in the clock rate and bus width. In spite of the GTX 1070's faster memory clock, its bus width is far wider than that of the GTX 980 Ti, resulting in a performance difference of over 30 percent. Delta Color Compression makes GTX 1070's performance superior to GTX 980 Ti. Delta Color Compression still competes with GTX 980 Ti for memory performance despite being a newer generation.
A comparison of GTX 980 Ti and GTX 1070
| Specifications | GeForce GTX 1070 | GeForce GTX 980 Ti |
| --- | --- | --- |
| Architecture | Pascal | Maxwell 2.0 |
| GPU Chip | GP104-200-A1 | GM200-310-A1 |
| Process Size | 16 nm | 28 nm |
| Base Clock | 1506 MHz | 1000 MHz |
| Boost Clock | 1683 MHz | 1076 MHz |
| Memory Clock | 2002 MHz | 1753 MHz |
| Memory Size | 8 GB | 6 GB |
| Memory Type | GDDR5 | GDDR5 |
| Memory Bus | 256-bit | 384-bit |
| Bandwidth | 256.3 GB/s | 336.6 GB/s |
| Shader Processing Units | 1920 | 2816 |
| Texture Mapping Units | 120 | 176 |
| Render Output Units | 64 | 96 |
| Streaming Multiprocessors | 15 | 22 |
| TDP | 150 Watts | 250 Watts |
| | | |
Because the GTX 1070 is a newer graphics card, its variants have a better look and technology than the GTX 980 Ti. ASUS, GIGABYTE, and MSI are a few manufacturers that redesigned their graphics cards. There were also other improvements, such as improved fans that resulted in less noise and better cooling. As a result, GTX 1070s have better cooling than GTX 980 Tis.
Moreover, some GTX 980 Ti cards from the previous generation were extremely powerful and, as such, are now considered antiques. 
The EVGA GTX 980 Ti Kingpin is one example of this type of graphics card, which is available only in flagship models. For GTX 980 Ti, you will have a greater chance of finding a graphics card with an impressive cooling solution or customizations than for GTX 1070.
There are several small-sized variants of GTX 1070 available, including ZOTAC's GTX 1070 Mini and MSI's GTX 1070 Aero, which are well suited to small cases. There are a number of small-sized variants of GTX 1070 available because GTX 1070 is a mid-range to high-end graphics card. The GTX 980 Ti isn't available in a small form factor, however. It is therefore better to choose a GTX 1070, which has many small variants, if you have a small case and want to update your old graphics card.
Requirements in terms of power
The power consumption of GTX 980 Ti and GTX 1070 differs greatly. GPUs with higher thermal design power (TDP) are more powerful, while GPUs with lower thermal design power (TDP) are less powerful. In other words, your GPU needs 100 watts more power to run GTX 980 Ti. It is probably fine to run a GTX 1070 with a 500 Watt power supply or close to it; however, it is likely that you won't be able to run GTX 980 Ti due to its real-time power consumption exceeding 300 Watts. Other components cannot be run on the PC.
However, if your power supply can handle at least 600 Watts, you should have no problem running a GTX 980 Ti at full load. There are two 8-pin PCIe power connectors required by GTX 980 Ti, so ensure that your PSU has sufficient connectors. While a GTX 1070 is typically powered by a single 8-pin power connector, some high-end versions require two 8-pin connectors. Despite the fact that both graphics cards require two 8-pin power connectors, GTX 980 Ti has significantly higher power requirements.
Controlling the temperature
The different TDPs of these two graphics cards will result in different amounts of heat being released, so be sure to look closely at the temperatures of your graphics card. 
If you are using a relatively small PC case with little airflow, then GTX 1070 would be the best choice since it won't cause as much heat as GTX 980 Ti, while GTX 980 Ti can significantly raise the ambient temperature inside the system after a short period of time, which might cause low performance, unwanted shutdowns, or crashes.
For full tower or mid-tower cases, however, you shouldn't be concerned about the temperature because they can easily handle GPUs with 300 Watt TDP. However, make sure you use an adequate number of fans, as only a big case might not work properly with GTX 980 Ti. If you still want to buy the GTX 980 Ti and you have a small case, you might want to consider getting the blower variant since it removes the heat directly from the system. Blower variants have the disadvantage of running at relatively higher temperatures and having lower clock speeds than higher-end open-air variants. In addition, you can reduce the life of the graphics card by running it continuously at high temperatures, i.e., around 85 degrees.
However, imagine living in an area with temperatures between 10 and 20 degrees Celsius. Then you should not be concerned about the temperature since even with the blower variant, you should be running it around 70 degrees F. An open-air graphics card can be easily overclocked to mitigate the difference between high-end blower and open-air graphics cards.
Support for Virtual Reality
It's true that both cards can run most VR applications at the same frame rate; however, the GTX 1070 has a better raw performance in VR.
A major improvement in the 1000-series graphics cards was Virtual Reality, and a major difference was MultiProjection, i.e., Simultaneous MultiProjection. In SMP-supported content, the GTX 1000-series performs almost twice as well.
Nonetheless, that is a separate topic for which there is not much SMP content available. Even so, GTX 1070 still seems to be the best option when it comes to future releases, which is why GTX 980 Ti is not a good choice if you want to explore VR gaming in depth.
Raytracing features in DirectX
RayTracing, a feature that was prominent in DirectX RayTracing (DXR)-enabled RTX 2000-series graphics cards, is also included. These features were not supported by NVIDIA GTX 1600-series graphics cards. As of mid-2019, NVIDIA released drivers that support DXR on graphics cards from the 1600- and 1000-series. As a result, NVIDIA GTX 1070 or other Pascal graphics cards could enable RayTracing in games. However, old generation cards such as the GTX 980 Ti would not be able to use these features, Despite the fact that the two graphics cards will perform similarly.
RayTracing is far superior to the performance of RTX graphics cards, so most people will never use this feature, as they prefer higher frame rates. Moreover, they supported only Ray Tracing but not DLSS (Deep Learning Super Sampling) for eliminating aliasing in games, which was supposed to be exclusive to RTX (Deep Learning Super Sampling) graphics cards. As a result, deep learning in real-time cannot be done with any Pascal graphics card, and DLSS cannot be done without dedicated RT cores. In order to take advantage of the RayTracing effects of RTX graphics cards while playing games, you should consider buying GTX 1070.
Compute capabilities of NVIDIA
Developers working with image processing, machine learning, and other forms of artificial intelligence are turning to the GTX 980 Ti and GTX 1070. GTX 1070 offers one of GTX 980 Ti's biggest advantages, namely the ability to support NVIDIA Compute Capability 6.1, while GTX 980 Ti only supports Compute Capability 5.2. With the GTX 1070, you will have access to development features that are not available to the GTX 980 Ti, and your development tools will be compatible with the GTX 1070.
These features will be of interest to AI and machine learning professionals. 
NVIDIA Compute Capability 7.5 is the maximum on the RTX 2000-series graphics cards, but there are many libraries that only work with NVIDIA graphics cards. You would get better machine learning performance with graphics cards with dedicated Tensor cores. Still, GTX 1070 is an excellent alternative to those graphics cards if you cannot afford them.
Support for overclocking
The GTX 980 Ti lost all its appeal as the fastest gaming graphics card as soon as the Pascal-series cards were released. As well as offering similar performance in games, the GTX 1070 was much more efficient. GTX 980 Ti had an exciting feature, however. It was difficult for it to beat GTX 1070 with its stock clock speeds, which was due to its low clock speeds. However, these graphics cards had high overclocking potential, By overclocking a GTX 980 Ti properly, one could achieve over 1400 MHz of real-time clocks and up to 1500 MHz if they are lucky.
Due to the real-time clocks of GTX 980 Ti hovering around 1150-1200 MHz, this made a huge difference in performance. The overclocked GTX 980 Ti performed better than the GTX 1070 because it was overclocked. As you might guess, this could also be done with the GTX 1070, but the process is not very similar. Overclocking on the GTX 1070 didn't make much difference because its base clock was around 1500 MHz.
As a result of the GTX 1070's real-time clock rate, which hovers between 1900 and 2000 MHz, GPU Boost 3.0 is also applied. The GTX 1070 will not be able to tolerate speed increases of more than 100 or 150 MHz and will crash the drivers. When it comes to overclocking, the GTX 980 Ti is clearly the winner, and it performs at least as well as the GTX 1070.
Price
The main difference between GTX 1070 and GTX 980 Ti is their prices. Its MSRP was $649, making it the most expensive single graphics card at the time it was released. 
Compared with the GTX Titan Maxwell, this graphics card was only second in price. Compared to the GTX 1070, this card had an MSRP of $449 when it was released with the GTX 1000 series. Both cards have vastly different MSRPs, with GTX 980 Ti being significantly more expensive than GTX 1070.
The GTX 980 Ti's price dropped after the GTX 1000-series graphics cards were introduced. The GTX 980 Ti is not worth the money, not to mention that it is nearly impossible to find. Nevertheless, used graphics cards have changed in price for the past two years, although the GTX 1070 is more expensive than the GTX 980 Ti. If you're looking for a graphics card that's cheap and can play relatively old games, the GTX 980 Ti is the perfect choice.
Similarities between GTX 980 Ti and GTX 1070
Following our discussion of the differences between the two graphics cards, let's take a look at the similarities and discover why you shouldn't choose one over the other.
APIs for graphics
The latest graphical APIs, such as Vulkan and DirectX12, are compatible with older generation graphics cards, despite widespread misconceptions.
Neither this or the GTX 1070 supports DX12 or Vulkan, so this is very misleading information. Older graphics cards like the GTX 680 now support DX12. Because GTX 980 Ti does not support games as well as GTX 1070, you should give preference to GTX 1070.
There is a separate discussion about the GTX 1070 being better than the GTX 980 Ti based on the most recent APIs.
Version PCI Express
Even though PCIe 4.0 has been released, almost all graphics cards still support PCIe 3.0. For example, the GTX 980 Ti and GTX 1070 support PCIe 3.0. In addition to supporting PCIe 3.0 and x16, both graphics cards are compatible with older PCIe lines like 2.0.
The GTX 1070 has a higher memory bandwidth, so it won't be bottlenecked by the system when compared to the GTX 980 Ti, which will easily oversaturate PCIe 2.0.
ShadowPlay from NVIDIA
In addition to supporting most NVIDIA graphics cards, NVIDIA ShadowPlay lets you record gameplay efficiently. ShadowPlay isn't supported by GTX 1000-series graphics cards, as was assumed initially. As it turns out, neither the GTX 980 Ti nor GTX 1070 support ShadowPlay, an application that allows for recording of any
Support for multiple GPUs
Especially in computing applications, multiple graphics cards are often required. Despite this, performance is not that great on either the GTX 980 Ti or GTX 1070, and there is a tendency for micro stutters. In addition, many games do not support SLI in any way.
The NVIDIA G-Sync feature
Game tearing is prevented by NVIDIA G-SYNC. G-SYNC's functionality requires both the graphics card and monitor to be G-SYNC capable. G-SYNC is supported by both the GTX 980 Ti and the GTX 1070, so you can buy either one of these graphics cards if you want.
Also read: Is NVIDIA G-SYNC Worth It?
Input/output ports
Multi-monitor setups require plenty of I/O ports. Fortunately, both graphics cards have a DVI-D port, HDMI port, and three DP ports. There may be variants that offer 2 HDMI ports and 2 DP ports as well; these are the GTX 1070 and 980 Ti, respectively.
Conclusion
In the following article, we explained why you should consider buying either the GTX 1070 or GTX 980 Ti based on various factors. 
The GTX 1070 provides a more convenient gaming experience, efficient operation, low thermals, and elegant aesthetics than the GTX 980 Ti.
On the other hand, GTX 980 Ti proved faster in applications that use a lot of memory, is cheaper than GTX 1070, has better overclocking support, and supports nearly every AAA game that has been released up to now.
In the case of the GTX 1070, if you have sufficient budget, you ought to consider buying it, since it is more future-proof and readily available than the GTX 980 Ti, while the GTX 980 Ti offers a slightly better value for those with limited budgets.
Frequently Asked Questions
How is the GTX 980ti performing right now?
Sure! Nevertheless, it's no longer able to run the latest AAA games on a 1440p screen at high settings like it once did. Despite this, it enables 1080p gaming at high settings and provides good FPS.
What are the differences between a GTX 1070 and GTX 1660?
In general, GTX 1660 comes out on top. GTX 1070 is much slower. As well as this, its frame rate during gaming is higher and its power consumption is lower.
How good is a GTX 980 in 2019?
Definitely! While GTX 980 cannot deliver the same immersive experience as GTX 1660 or 1060, it can provide 1080p resolution on high settings for new AAA titles.
Comparing a 980ti to what?
Compared to a GTX 1070 or 1660ti overclocked at 1440 MHz, the GTX 980ti was nearly as fast as a RTX 2060. In addition, it defeated AMD's Vega 56 by 6%, indicating that it's one of the best graphics cards out there.