When it comes to color, graphics cards tend to be black. Nonetheless, there are some Best white graphics cards in 2023 on the market that are equally powerful and aesthetically pleasing.
There was a shortage of white graphics cards, which carried a premium since they were considered exotic. You may want to check to see if the graphics card you are considering comes in a white version. Today, graphics cards from Nvidia are much more affordable, at least if you need one. A chipocalypse makes it difficult to compete with the MSRP of the RTX 3000 and RX 6000 models. Get ready for high prices and stocks that disappear faster than a crew of the Starship Enterprise is beamed to the surface if you still want a white GPU. Introducing Nvidia RTX 3000 graphics cards, the best white graphics cards today.
We have also compiled a list of the best white motherboards if you're looking to go all-white
For maximum frame rates in 2023, you'll need the best white graphics cards. The lack of white-themed graphics cards on the market has led to an increase in demand for these GPUs, and many people are considering buying them. There are fewer white graphics cards than mainstream graphics cards, which are typically high-end models from NVIDIA. Tier-2 companies manufactured the majority of the white-colored graphics cards. In the current generation of NVIDIA graphics cards, mainstream companies, ASUS, and other companies are also producing white-themed graphics cards. Prices for these cards are a bit higher than for other models. The following are the five best white graphics cards you should consider.
Quick Shopping Tips:
Customers were looking to enhance the appearance of their PCs by purchasing a white GPU. Graphic cards have several features that are essential to running games at a fast speed despite color. Our team has conducted an extensive research and identified several features every high-end GPU should have. These include:
VRAM: In addition to enhancing the graphics quality, video RAM also increases the GPU's ability to handle workloads. If you intend to use the graphics card for gaming, make sure it has at least 4GB of VRAM. Depending on the quality of graphics you want, you may need more memory.
Form Factor: A tech-savvy gamer will recommend that you check the form factor. When purchasing a card, make sure it will fit properly into your PC case. Additionally, a GPU with a precise form factor will also improve the appearance of your system. You do not have to buy an expensive graphics card.
Brand: A large number of high-end gaming users preferred a particular brand of hardware component. Computer components made by AMD and NVIDIA are among the most popular on the market. Each brand specializes in a particular feature, while others specialize in something else. Depending on your needs, check the GPU of these brands.
Cooling Capability: In the long run, your graphics card's cooling capacity determines its performance. The cooling capacity of a GPU determines its performance. The card should be capable of handling the heat that will generate during gaming due to increased temperatures.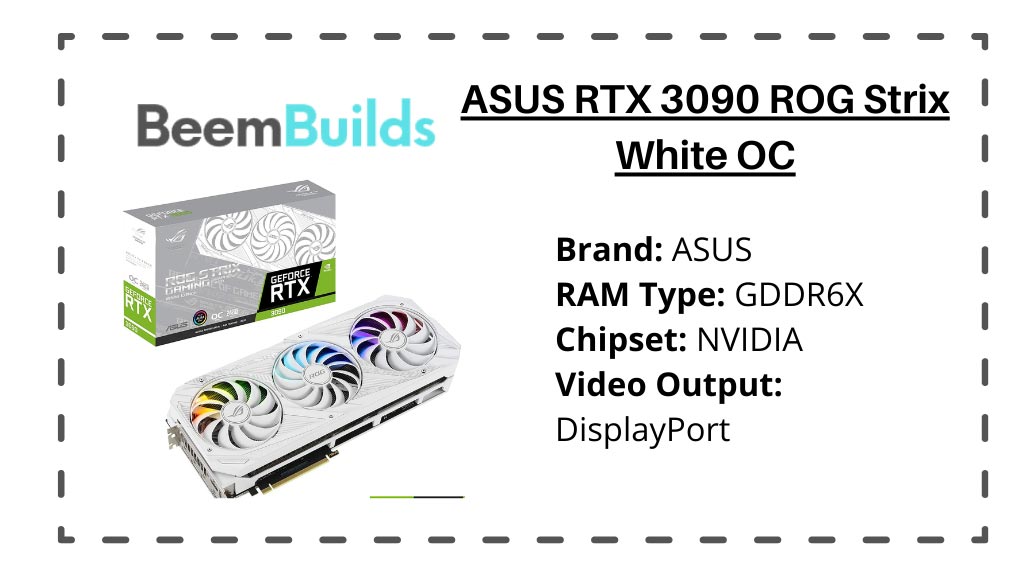 This list's best performing and most attractive white GPU is the ASUS ROG Strix RTX 3090 Gaming White OC. The default boost clock is 165Mhz slower, while this one is 1860MHz. The design is also very appealing. We have to admit that Asus has done a great job with their latest ROG Strix graphics card design, and the white GPU model looks even better than the already impressive black one.
Also read: Best GTX 1080 Graphics Cards
This card sports just enough RGB implementation to keep it from being overkill. Additionally, the brilliant RGB implementation underneath the cooling fans begs owners to use the card vertically. When overclocked, it can reach up to about 2000MHz, and it's quite quiet under load. It's a pretty good processor. Among the other RTX 3090 white GPUs, the Galax RTX 3090 HOF stands out for its over-the-top design. Gamery design is exemplified by the stark contrast between the plain white card and the crazy LCD on the side. The design is almost cool despite being bad.
SPECIFICATIONS
MEMORY: 24 GB GDDR6X | BASE CLOCK: 1395 MHz | BOOST CLOCK: 1860 MHz | OUTPUTS: 3× DisplayPort 2× HDMI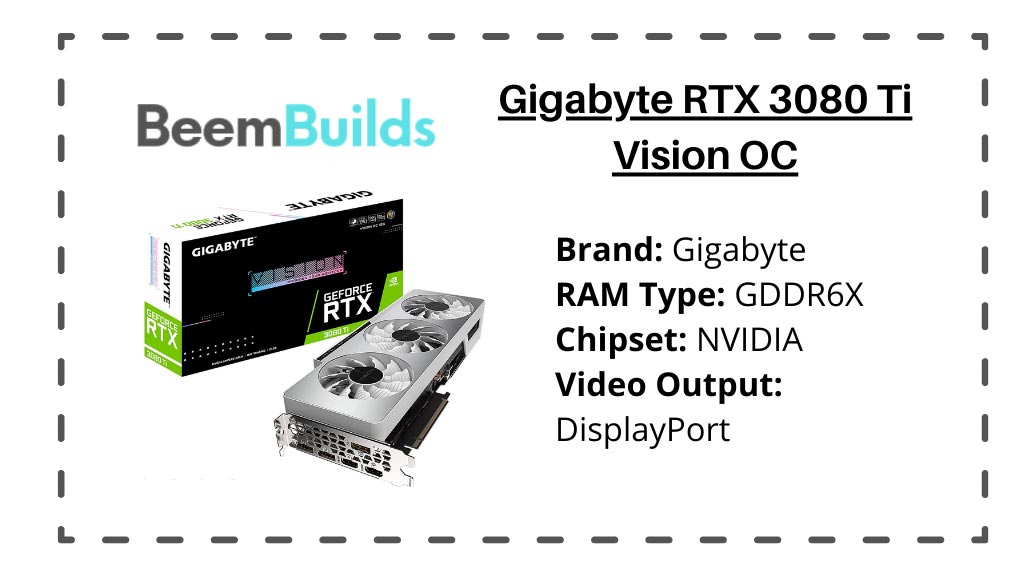 Our pick for the newly released RTX 3080 Ti is the Gigabyte RTX 3080 Ti Vision OC. Gigabyte's ROG Strix does not have a white GPU (yet), so Asus missed out. In the beginning, the graphics card looks good, with a minimalistic fan shroud, an elegant looking graphics card side, and a beautiful backplate with an industrial design. Our favorite part of the design is the backplate and side (look at it, it's fantastic), so we don't have any issues with the front.
A performance boost was made by Gigabyte for the graphics card. The factory OC (referring to 1665MHz as a reference frequency) is increased by only 45MHz just to make the company name look more impressive. The thermals of the RTX 3080 graphics card are not known, but you should be fine since it runs reasonably cool. As a result, watch the 3080 Vision memory temperatures since it tends to get toasty when mining. In addition to the RTX 3080 Ti version of the Galax Metal Master, we would also like to draw your attention to the RTX 3080 TI version of the Galax Metal Master.
Also read: Best Graphics Card for AMD FX 6300
SPECIFICATIONS
MEMORY: 12 GB GDDR6X | BASE CLOCK: 1365 MHz | BOOST CLOCK: 1710 MHz | OUTPUTS: 3× DisplayPort 2× HDMI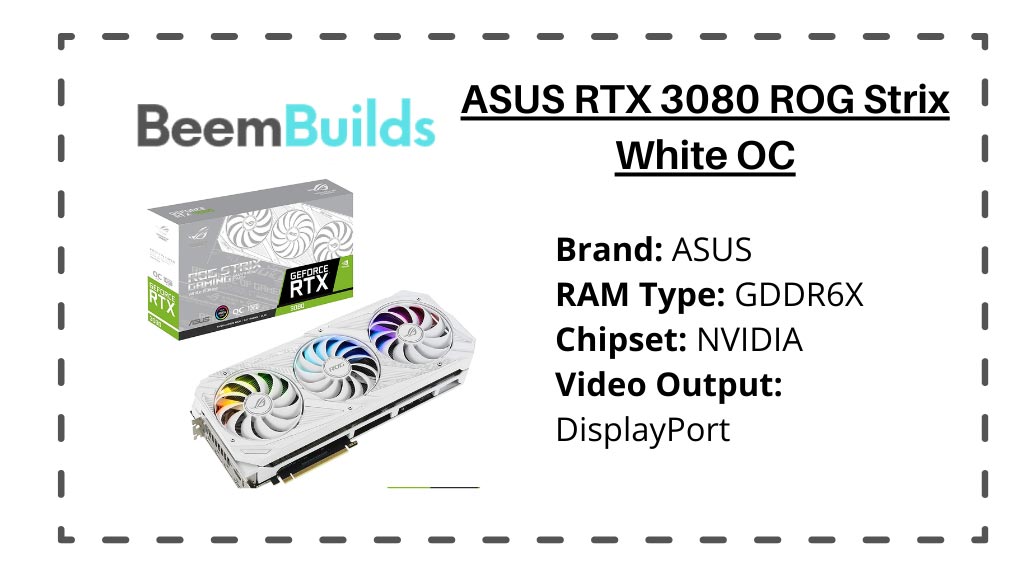 Once again, the winner is the ROG Strix White OC. In this case, the RTX 3080 is the winner. There are a few RTX 3080 models that are better than the ROG Strix. Also, RTX 3090 models are better than the ROG Strix. Besides the awesome design, the ROG Strix White has one of the best RGB implementations on the market, and it sits perfectly vertically within a case.
A boost clock of 1905MHz results in 195MHz performance increase over a reference boost clock of 1064MHz. Depending on the game, the RTX 3080 FE is up to 10 percent faster than this graphics card. Despite the extreme factory overclock, the card remains cool and quiet under load. The maximum speed is 2000MHz. The ROG White is the best-looking white GPU out of the AIB graphics cards for the RTX 3080. Try the GALAX RTX 3080 Metal Master if you're looking for something more subtle. Here's another smooth-looking white RTX 3080, but this time, it doesn't have RGB.
Also read: Best GPU For Ryzen 5 2600 & 2600X
SPECIFICATIONS
MEMORY: 10 GB GDDR6 | BASE CLOCK: 1440 MHz | BOOST CLOCK: 1905 MHz | OUTPUTS: 3× DisplayPort 2× HDMI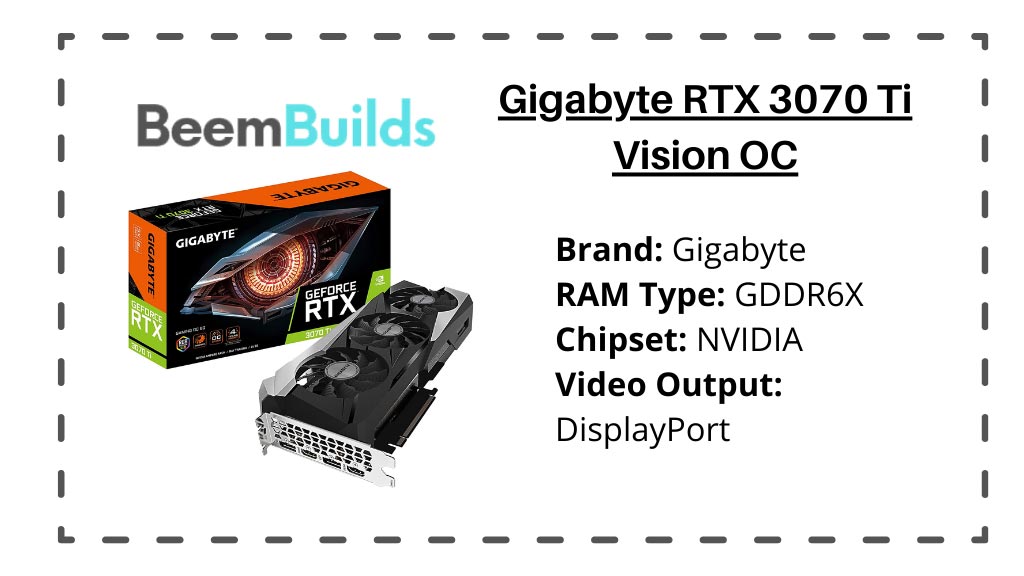 There aren't that many RTX 3070 Ti AIB models available right now since it is the most recent graphics card on the list. Gigabyte's RTX 3070 Ti Vision OC is the prettiest white GPU we know about. It has a slight factory overclock (1800MHz instead of 1770MHz) and it should stay cool under load. Just remember that the RTX 3070 Ti comes with GDDR6X memory, which is faster and hotter.
If Gigabyte chooses to use the bottom of barrel thermal pads again, GDDR6X could cause thermal throttles. The Galax RTX 3070 Ti EX White would be our top choice if we had to pick an alternative. Despite its stunning appearance, this graphics card may be worse for GDDR6X thermal performance than the Vision OC thanks to its two fans and poor thermal pads.
SPECIFICATIONS
MEMORY: 8 GB GDDR6X | BASE CLOCK: 1580 MHz | BOOST CLOCK: 1830 MHz | OUTPUTS: 2× DisplayPort 1.4a 2× HDMI 2.1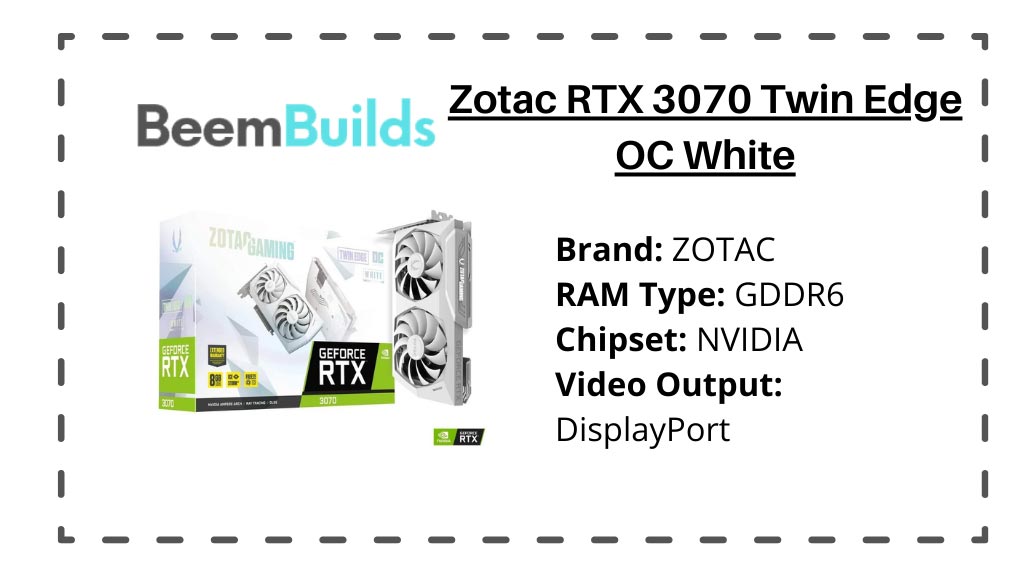 The Zotac Gaming GeForce RTX 3070 Twin Edge OC White comes with a low-quality cooling setup, but we couldn't resist including it. The delicate white design makes it a joy to look at. The graphics card doesn't have any unnecessary details, and the fan shroud has a few edges and angles that make it look nice without being excessive. I also love the backplate, which is stunning.
Also read: Best GPU for Ryzen 5 3400G
If you don't live in a hot climate, you should be fine with thermals. This card reaches 70 degrees Celsius when loaded. In situations where the ambient temperature is close to or above 30 °C, only two fans may not be enough. Nonetheless, the card isn't much of an overclocker, and it is on the louder side. In the RTX 3070 alternative market, we've got the ROG Strix RTX 3070 Gaming White, the Gigabyte RTX 3070 Vision, and the GALAX RTX 3070 Metal Master.
SPECIFICATIONS
MEMORY: 8 GB GDDR6 | BASE CLOCK: 1500 MHz | BOOST CLOCK: 1755 MHz | OUTPUTS: 3× DisplayPort 1× HDMI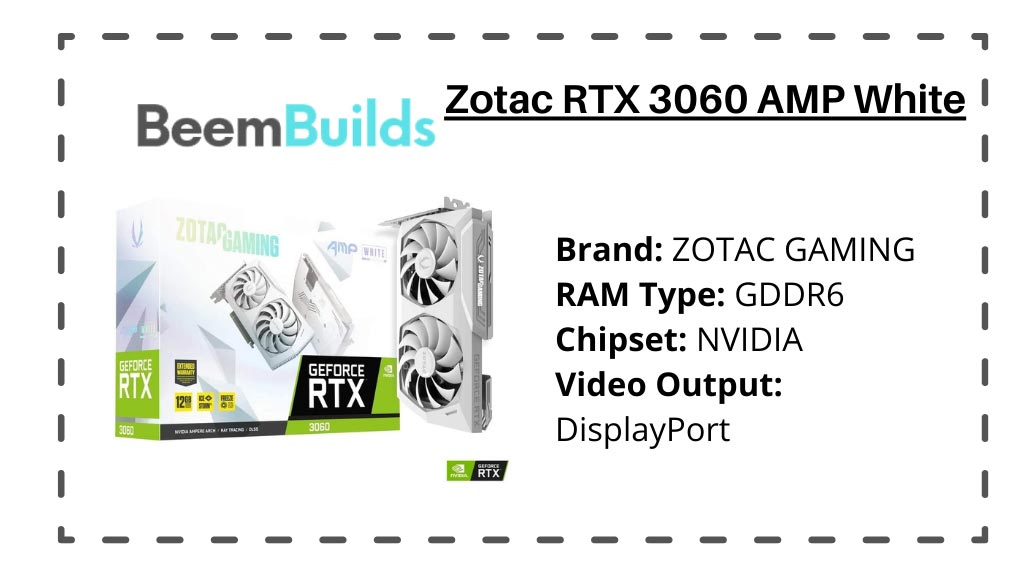 There is no RTX 3060 Ti in our list. Since you can't find the 3060 Ti anywhere, it looks like a flimsy launch. Due to excellent yields for the GA104 die, Nvidia was able to use it for the 3060 Ti as well as the 3070, where the latter made use of dies with too many inactive cores to be used for it. Check out the RTX 3060. I again recommend the Zotac AMP White as the best white RTX 3060. While the dual-fan setup is less powerful than that of the RTX 3070, it is more than capable of cooling the RTX 3060.
In terms of boost clocks, which are 90MHz higher than reference clocks, this is obvious. Furthermore, the graphics card only reaches 63 °C when under load. It also indicates that the 2-fan cooling system is sufficient for the RTX 3060, since this is seven degrees lower than the same cooling solution on the RTX 3070. A RTX 3080 AMP White will also have a much lower temperature if placed in a case that accommodates the ITX graphics cards, compared to the RTX 3070 AMP White.
Also read: Best Graphics Cards for VR
Alternatives include the Gigabyte RTX 3060 Vision OC, which looks nice but has an overkill cooling setup using three fans. If you can find the Vision OC RTX 3060 AMP White for a price similar to the RTX 3060 AMP White, that's a better deal. Galax also makes the RTX 3060 Starlight MAX, which is much harder to find than the Zotac and Gigabyte models, which are already hard to find.
SPECIFICATIONS
MEMORY: 12 GB GDDR6 | BASE CLOCK: 1320 MHz | BOOST CLOCK: 1867 MHz | OUTPUTS: 3× DisplayPort 1× HDMI
You may also love to read Best GPU For Ryzen 5 2600 & 2600X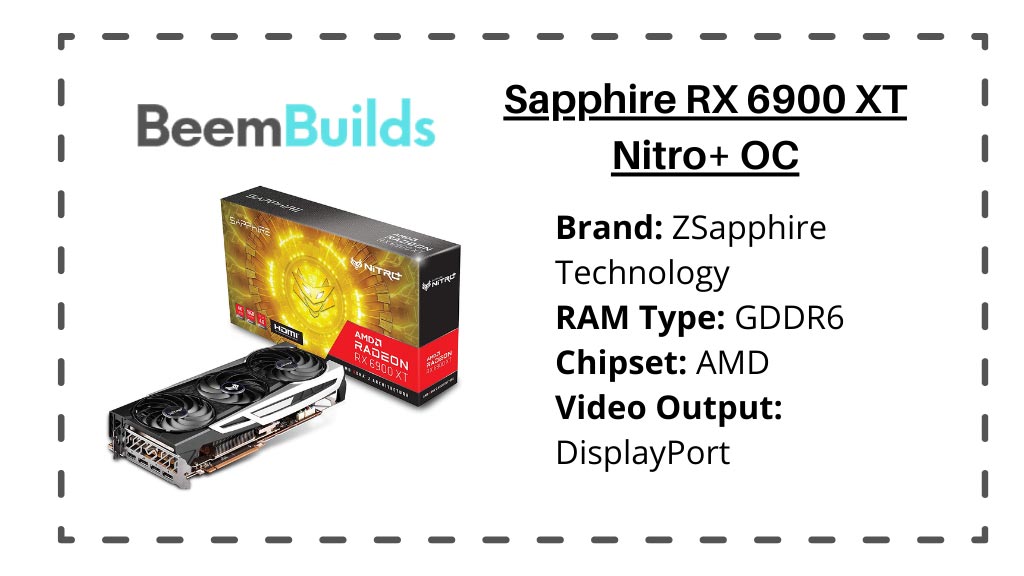 AMD has a much worse problem with white graphics cards. The RX 6900 XT you have is not all-white. The closest thing to a white design is Sapphire Nitro+ RX 6900 XT OC. With a silvery-white backplate, it has a black and silver design. The sides have white details. The RX 6900 XT is not the best but it is currently the closest you can get to a white one.
No firm thermal numbers are available, but since Sapphire always delivers when it comes to performance, we expect the graphics card to run without a hitch. AMD OCs its reference boost clock by 35MHz, which is a modest OC. I am not certain whether this card can be considered a white model.
SPECIFICATIONS
MEMORY: 16 GB GDDR6 | BASE CLOCK: 2050 MHz | BOOST CLOCK: 2285 MHz | OUTPUTS: 3× DisplayPort 1× HDMI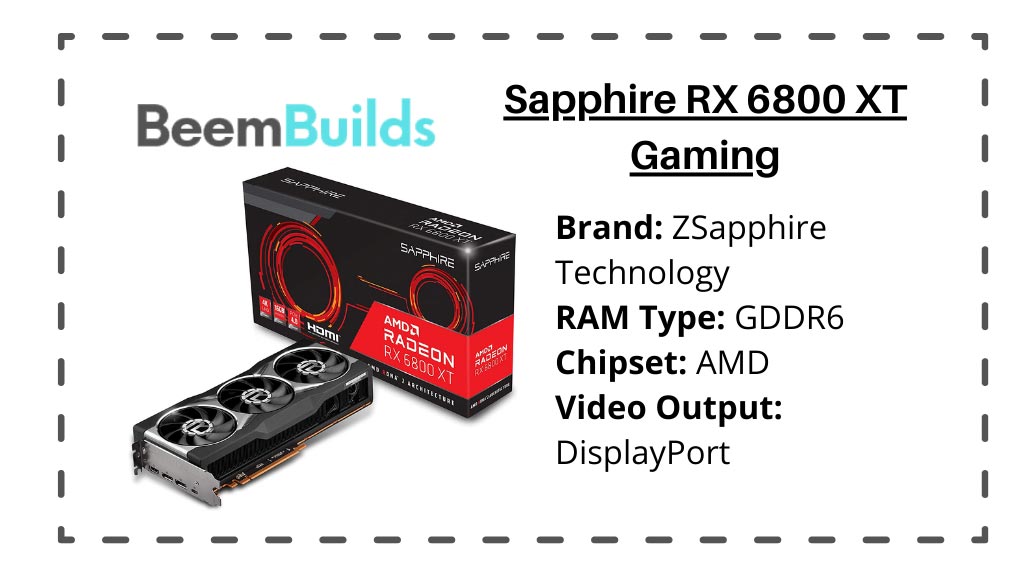 However, ASRock still doesn't have a white RX 6800 XT, despite showing their Sub Zero graphics card at CES. We have decided on Sapphire Radeon RX 6800 XT Sakura due to the lack of better options. We guess it's a waifu GPU, and yes, it smells like a perfume that can last for a few years. Despite the card's relatively low price, the thermal performance should be pretty good. Even though it is a white GPU, it features an all-white PCB.
SPECIFICATIONS
MEMORY: 16 GB GDDR6 | BASE CLOCK: 1825 MHz | BOOST CLOCK: 2250 MHz | OUTPUTS: 2× DisplayPort 1× HDMI
For RX 6800 graphics cards, the situation is even worse when it comes to white models. Sapphire Nitro+ is a better option. The details of this card are dark and almost ash-like rather than the white details of the RX 6900 XT.
According to the specifications, the card comes with a factory overclock of 85MHz, which boosts the boost clock to 2190MHz. Another overclocking of about 2390MHz is possible, and that is a great result. However, the thermal performance is not great. However, the card's coolers only spin about 1,050RPM when the card is fully loaded. As a result, it is utterly silent. In addition, you will get noticeably lower thermals with a custom fan curve without sacrificing the quiet performance of the graphics card.
SPECIFICATIONS
MEMORY: 16 GB GDDR6 | BASE CLOCK: 1850 MHz | BOOST CLOCK: 2190 MHz | OUTPUTS: 3× DisplayPort 1× HDMI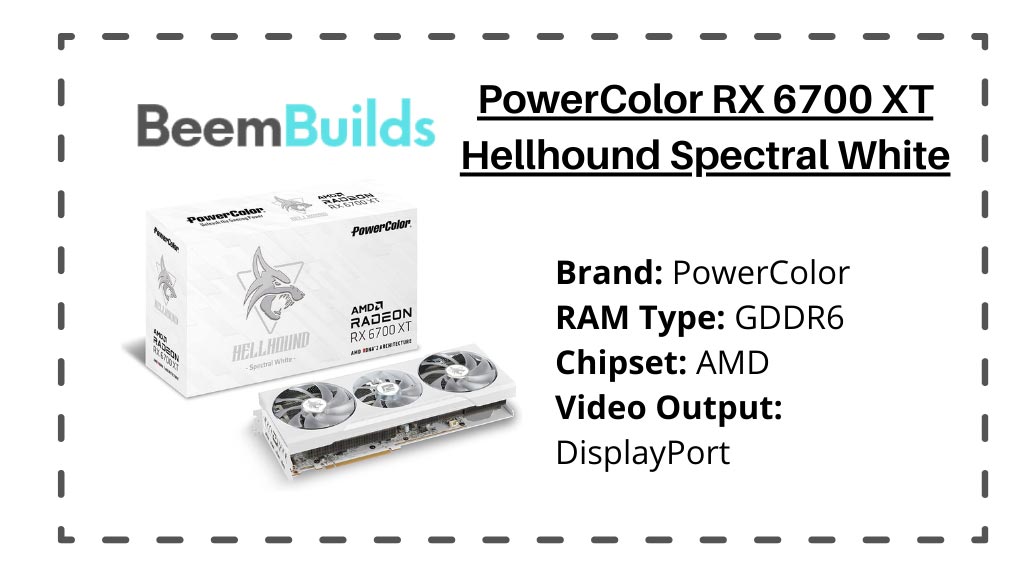 The RX 6700 XT is your best bet if you want a white AMD GPU. Instead, you can always pick up a waifu GPU that's scented. Whatever tickles your fancy, we're cool with it. As a result, we believe it is one of the best white graphics cards we have ever seen. Even if you do not like RGB, this is one of the best white GPUs available right now. With all-white colors and transparent cooling fans, the minimalist design works well. And the white PCB completes the picture. Beautiful design.
Also read: Best GTX 970 Graphics Cards
Boost clock for the card is 2581MHz, which can be clocked up to 2725MHz when overclocked. That's pretty good. In terms of thermal performance, this card excels. With the GPU edge temperature at 56 degrees Celsius and the hotspot temperature at 71 degrees Celsius, it is the coolest RX 6700 XT on the market. I am equally impressed by the noise levels, especially when we consider the incredible thermal performance. 
The Hellhound RX 6700 XT Spectral White makes the list of best RX 6700 XTs right now in all aspects.
SPECIFICATIONS
MEMORY: 12 GB GDDR6 | BASE CLOCK: 2321 MHz | BOOST CLOCK: 2581 MHz | OUTPUTS: 3× DisplayPort 1× HDMI
11. Yeston RX 5700 XT Game Master – Best white AMD RX 5700 XT graphics card
There aren't many white AMD cards out there. There are only a few options to choose from, of which the Hellhound RX 6700 XT Spectral White is the most notable. Those who are searching for AMD cards with a white design are even worse off. A card like the Yeston RX 5700 XT Game Master, with its pink and white tones, is excellent-looking. I highly recommend this card if you love flowers. Furthermore, the backplate is not covered in a waifu, which contributes to its appeal. The thing is, the card is nearly impossible to locate, so good luck finding one.
SPECIFICATIONS
MEMORY: 8 GB GDDR6 | BASE CLOCK: 1605 MHz | BOOST CLOCK: 1905 MHz | OUTPUTS: 3× DisplayPort 1× HDMI
12. ASUS GTX 1060 OC White – Best white NVidia GTX 1060 graphics card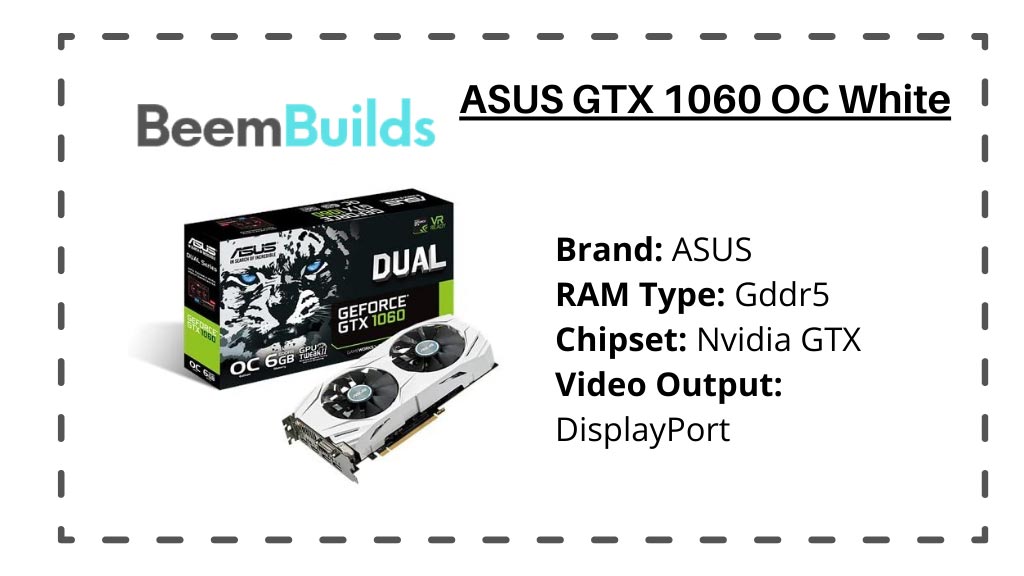 An older GTX card with an all-white design is relatively easy to find, since older NVidia graphics cards were just as popular as the latest ones. For those looking for a GPU in these challenging times, we recommend the ASUS GeForce GTX 1060 OC White. The performance of this card is on par with that of the other GTX 1060 6GB models. Those annoying black cooling fans and less than ideal thermal performance are the only downsides. The card would be perfect if the fans were white. A GTX 1060 won't cut it if you play games at 1440p resolution. If you can find one, we recommend that you buy the Gigabyte RTX 2060 Gaming OC Pro White.
SPECIFICATIONS
MEMORY: 6 GB GDDR5 | BASE CLOCK: 1594 MHz | BOOST CLOCK: 1809 MHz | OUTPUTS: 2× DisplayPort 2× HDMI
Frequently Asked Questions
What are the Best white GPUs?
There are a number of white GPUs that are in high demand, the most popular being the DUAL GTX 1060 and GeForce RTX 2070.
What is the best GPU for 2023?
Of course, Nvidia is the leader in 2023 when it comes to GPUs. Nvidia GeForce RTX 3060 Ti could be the best GPU of 2023.
What is the best budget for GPU 2023?
The ASUS DUAL GTX 1060 is regarded as the best budget GPU for 2023. This GPU offers great performance at an affordable price.
What is the best GPU for the 5600x?
A powerful CPU like the Ryzen 5 5600x requires a GPU that keeps up with it. There are several great GPUs for 5600x. As examples, there is the EVGA RTX 3070 XC3 Gaming, the ASUS RTX 3080 TUF Gaming, and the Sapphire RX 6800 XT Nitro+.