Interested in purchasing a Best GTX 1070 Ti Graphics Cards? Avoid wasting money by buying the best GTX 1070 Ti graphics card. Check out this list. With the GTX 1070 Ti, Nvidia has released an upgraded version of the GTX 1070, which is higher performing, but also more expensive. Check our top picks :
EDITOR'S CHOICE
MSI Gaming GeForce GTX 1070 Ti
Brand: MSI
VRAM: 8 GB
Base Clock: 1607 MHz
PREMIUM PICK
EVGA GeForce GTX 1070 Ti SC
Brand: EVGA
VRAM:8 GB
Base Clock: 1607+ MHz
BUDGET PICK
ASUS ROG Strix GeForce GTX 1070 Ti
Brand: ASUS
VRAM: 8 GB
Base Clock: 1683 MHz
The original GTX 1080 used to perform equally as well as the RTX 2070, but the RTX 2070, with its increased performance, renders its value a bit hazy. When it comes to 1440p and 4K gaming, the GTX 1070 Ti is an excellent option if you don't need the latest and greatest. Listed below are the best GTX 1070 Ti models in the market right now. Our website also contains more interesting articles about GPUs.
Quick Shopping Tips:
Due to recent advancements in technology, picking a graphics card has become much more complicated than before. We're always searching for the latest upgrades in various components in our line of work. We have compiled some factors to take into consideration before buying the best GTX 1070 Ti after doing extensive research.
Connectivity: Also important is the connectivity of the graphics card with other components, as well as with the CPU. Various types of ports allow GPUs and displays to communicate with each other nowadays, such as HDMI and DVI. Ensure your graphics card comes with the ports you need and the resolution and refresh rate it will support.
Cooling System: The use of a graphics card means a gaming PC gets hotter than before. That's why cooling systems are so important. Be sure to check the cooling system of a graphic card before purchasing it. Liquid cooling and air cooling are the most common cooling systems. One or three fans are typically used in air cooling systems.
Performance: Several high-end gamers prefer to build their own PCs from scratch. The highest possible performance can be achieved by using their own components. Graphics cards are the foundation of most gaming systems since they enhance the gaming experience while reducing load times.
Physical Size: The physical size and dimensions of a graphics card affect its compatibility with a system. If a graphics card has more cooling fans, it will be bigger. You should determine the size of the PC case in which the card will be installed. In addition, reducing the size of the graphics card reduces the overall size of the motherboard, improving the aesthetics and overall appearance of the rig.
Best GTX 1070 Ti Graphics Cards at a Glance:
Best Overall GTX 1070 ti – MSI Gaming GeForce GTX 1070 Ti
Best High-End GTX 1070 ti – EVGA GeForce GTX 1070 Ti SC
Best Premium GTX 1070 ti – ASUS ROG Strix GeForce GTX 1070 Ti
Best Budget GTX 1070 ti – ASUS GeForce GTX 1070 Ti
The Best GTX 1070 Ti Graphics Cards You Can Buy Today:
In the usual MSI Red and Black, Nvidia integrates its Geforce series. The 1070Ti has just 128 Cuda Cores, compared to the 1080, which has 2560. As GTX 1070's younger sibling series GPU, MSI's 1070 Ti Gaming with Twin Frozer VI offers 512 more CPU cores than its younger sibling series GPU. On the other hand, unlike the GTX 1080, the GTX 1070 Ti has a slight cut and clasp, making it look more like the GTX 1080 than the GTX 1070.
MSI's GTX 1070Ti Gaming Twin Frozer VI is equipped with 2432 Cuda Cores and 8GB of GDDR5 but no GDDR5X, unlike the GTX 1080's. The GTX 1080 uses GDDR5X which runs at 10GHz whereas the GDDR5 runs at 8GHz. However, in tests, the GDDR5X hasn't provided the greater cards with more than a few bits of bus width. MSI's GTX 1070 Ti Gaming Twin Frozer VI transfers memory data at 256.3GB/s, while the GTX 1080 is capable of 320.3GB/s. GP104-300-A1, which still uses a 16nm FinFET process and is based on the 314mm2 chip footprint of the MSI GTX 1070Ti Gaming Twin Frozer VI, is available as a variant with the GTX 1070Ti Gaming Twin Frozer VI. Read more about : Best White GPU
In addition to the cooler and quieter fans, MSI's board also dissipates heat more effectively than NVIDIA's Founder's Edition. During low-profile gaming and video streaming, these fans will cease activity altogether when not needed, bringing about quiet activity. The card also features a vented metal backplate designed to keep the card cool from the top while protecting it from bumps and scratches. MSI included an added 6-pin power connector with its Founder's Edition 1070 Ti to accommodate the additional force needed for overclocking, and, of course, to accommodate exponentially more fans and LED illumination. As a result, it is the best GTX 1070 Ti.
SPECIFICATIONS
Brand: MSI | VRAM: 8 GB | Base Clock: 1607 MHz | Boost Clock: 1683 MHz | Power Consumption: 180W | Power Supply: 500W
Pros
Clock boost that works well and is good for the clock

Illuminating LEDs with RGB colors

Antenna

Components of premium quality
Cons
Consumes more energy

Sized larger

Inexpensive
A total of four GeForce GTX 1070 Ti models were released by EVGA at the release of the 1070 Ti. The 1070 Ti Founders Edition was released by NVIDIA. Overclocking is another of EVGA's major selling points, primarily with its Precision XOC utility and its GTX 1070 Ti explicit overclock auto scan. This is the Best GTX 1070 Ti Graphics Card in EVGA's FTW lineup, thanks to its integrated iCX temperature sensor and superior cooling. With its design and performance, it is so expensive on launch at $469 (as compared to its competitors who have better performance personas and prices).
In addition to the NVIDIA default GPU frequency of 1506 MHz, the EVGA GTX 1070 SuperClocked can overclock to 1595 MHz right out of the box. The performance of other GPU vendors is much higher. RAM remained neat and defaulted. EVGA fans love this variant even though it has locked memory clocks and is expensive. EVGA GeForce GTX 1070 Ti Super Clocked does not include analog VGA signals in the DVI output.
In fact, EVGA ACX 3.0 incorporates exciting new features to the award-winning EVGA ACX cooling innovation. Heat pipes are expanded, copper contact zones provide cooler activity, and the fan bend has been upgraded to produce a much quieter game. As expected, ACX 3.0 coolers feature streamlined blade shapes, double metal balls, and a low force engine that conveys more wind current with less force, resulting in more GPU power. It offers RGB illumination on the front of the card, not the singleton light offered by Zotac's GTX 1070 Ti.
SPECIFICATIONS
Brand: EVGA | VRAM:8 GB | Base Clock: 1607+ MHz | Boost Clock: 1683+ MHz | Power Consumption: 217W | Power Supply: 500W
Pros
Components and design that meet aviation standards

Illumination with LEDs

There are two larger fans and a larger heatsink

Antenna
Cons
Overclocking has no effect

Expensive compared to competitors

No easy access to the market
Also read: Best GPU for Ryzen 5 3400G
With the same size, same features, and with the same GPU embedded within the aftermarket cooler and plate, the ASUS ROG Strix GeForce GTX 1070 Ti is the best premium GPU of the GTX 1070 Ti series. Asus' top-notch segments and the tremendous LED cooling assembly make this the most expensive of the 1070 Ti GPU models, at $499 MSRP. A similar price is also offered by the Zotac AMP! Extreme.
Competitors like Amp have equivalent variants! It is not just EVGA's Hybrid GTX 1070 Ti, but also the Extreme GTX 1070 Ti, the Gigabyte Aorus GTX 1070 Ti, the MSI Trident X GTX 1070 Ti, MSI Sea Hawk GTX 1070 Ti, and MSI Lightning GTX 1070 Ti., and the Kingpin GTX 1070 Ti from EVGA. Thanks to a giant cooler and MaxContact heatspreader, it will relieve much pressure, and its RGB lighting will make it look great as well.
If you want to use ROG Strix to its fullest, you should utilize the software provided by Asus. LED impacts can be observed and overclocked with Aura for LEDs and GPU Tweak for GPUs. There are several options for controlling the lighting in the Aura LED application, which is clear and easy to use.
SPECIFICATIONS
Brand: ASUS | VRAM: 8 GB | Base Clock: 1683 MHz | Boost Clock: 1759 MHz | Power Consumption: 200W-299W | Power Supply: 500W
Pros
Components of superior quality

Lighting with RGB LEDs

A bigger heatsink and three bigger fans

Backplate illuminating in RGB
Cons
Weightier

Increased power consumption

Having a bigger size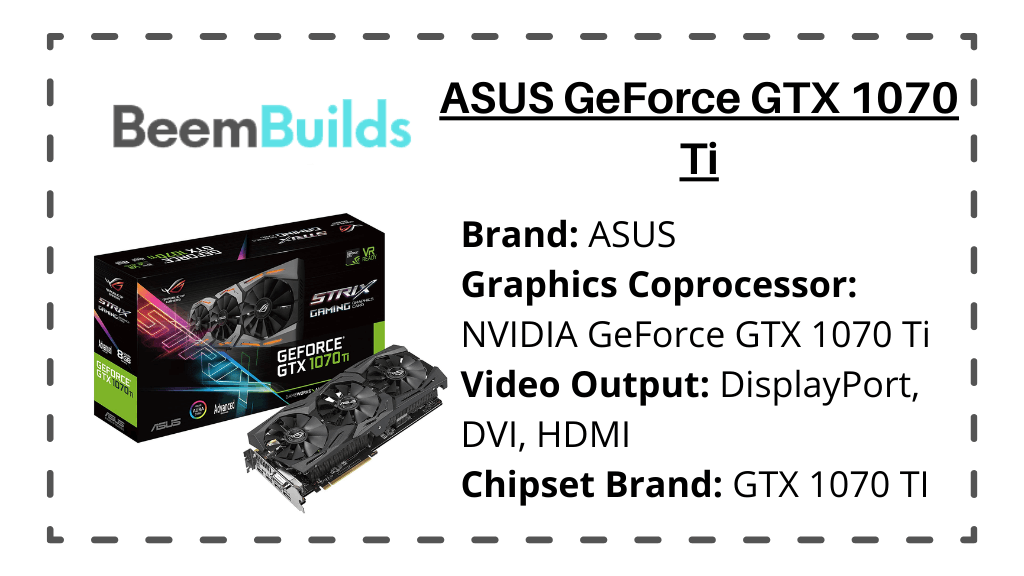 As an alternative to NVIDIA's reference design it incorporates ASUS' Turbo blower-type cooler and dispenses with any extra building beyond the NVIDIA reference design. It has been adapted uniquely from the GTX 1070 silicon (GP-104) so it offers higher edges than ASUS' other custom products. It's one of the best budget GTX 1070 Ti. ASUS STRIX is equipped with features like Aura Sync RGB lighting and a triple-fan setup to reduce temperatures significantly.
We ought to start seriously contemplating the possibility that AMD's Vega graphics cards will launch with custom partner structures before custom versions of AMD's Vega graphics cards hit retail. Although reasonable, AIB partners will appreciate the ease with which they can reuse NVIDIA's specifically created for AMD Vega than to build a new one from scratch. Powered by Pascal, it has a Turbo Clock of 1683 MHz, 8 GB of GDDR5 256-bit memory, and 2432 CUDA cores.
With Super Alloy Power II components and parts of aviation grade, the highly innovative assembling represents premium quality. While there is no backplate on the back, it feels spikey and appears to be a component of a pre-built PC most likely. Observing performance has never been easier than with GPU Tweak II, which allows clock speeds up to 1683 MHz at the click of a button! An illuminated logo plate and a dual metal roller blower, such as those found on the MSI Sea Hawk variant, make each one unique and ideal for SLI configurations, as well as for any chassis with limited or congested airflow. In general, it's one of the Best GTX 1070 Ti Graphics Cards.
SPECIFICATIONS
Brand: ASUS | VRAM: 8 GB | Base Clock: 1645 MHz | Boost Clock: 1759 MHz | Power Consumption: 180W | Power Supply: 500W
Pros
Components of superior quality

The top side is illuminated by RGB LEDs

Good potential for overclocking

Sync support for Aura
Cons
Weighty

Size is bigger

Backplate not present
Also Read about : Best GPU For Ryzen 5 2600 & 2600X
Final Word
This concludes today's comparisons. This list of Best GTX 1070 Ti Graphics Cards has been compiled to be as comprehensive as possible, including cards to suit a variety of budgets and builds. There are some differences between some of the offerings, so you can pick and choose what best fits your needs.
FAQs
What is the best GTX 1070 Ti?
A powerful GTX 1070Ti graphics card like the Asus ROG Strix can be counted among the best GTZ 1070ti cards available.
Do you think a GTX 1070 will still be good in 2023?
Yes! At 1080p, GTX 1070 provides 60+ frames per second at many AAA titles. There are other better options, such as the 1660ti, which offers almost as good performance as the 1070 at a lower price.
What is the best GPU in 2023?
Any GPU enthusiast worth his or her salt will recommend you wait for the RTX 3000 series, which is about to be released. As far as graphics cards go, the RTX 2080ti is the best at the moment, since it is the most powerful device in the market today.
What are the advantages of RTX 2060 over GTX 1070?
Yes! With two times the performance of a GTX 1070, what's the reason not to use it? These two graphics cards are two generations apart.