Updated: AMD Ryzen 5000 series processors can be used with motherboards with the B550 and X570 chipsets.
In the past year, AMD has seemingly halted the production of its latest B550 chipset motherboard several times, but now it is finally in the works. We thought it was time to examine the differences between the B550 and the X570 now that B550s are hitting retail shelves.
As a fact-based comparison article, we'll examine the B550's advantages in comparison to the X570 by comparing its specifications number-by-number.
Furthermore, we will answer some of the most commonly asked questions about the B550 motherboard and discuss how it might affect your gaming experience.
You can also read Best Motherboards for Ryzen 7 3700X
So with all this in mind, let's jump right in!
SPECIFICATIONS
Brand: ASUS | Ram: DIMM | Processors: AMD 3rd Generation Ryzen | Chipset: X570-F | Form Factor: ATX
Pros
A beautiful aesthetic

Features Auro Sync RGB

Assists ASUS' five-way optimization tuning

SupremeFX S1220A codec provides great audio
SPECIFICATIONS
Brand: ASUS| Ram: DDR4 | Processors: Supports 3rd Gen AMD AM4 Ryzen / Future AMD Ryzen Processors | Chipset: B550 | Form Factor: ATX
Pros
It's a pretty good deal

Using the latest generation of technology and building quality

A beautiful aesthetic

Overclocking potential is good
B550 Vs X570
Our first task is to understand what a B550 motherboard is. As a result, it is essentially a motherboard with AMD's latest chipset, a means of connecting the microprocessor to the rest of the board. Each motherboard can be classified according to its chipset, which brings with it its own set of advantages and disadvantages. Among the many benefits of a B550 motherboard that we will discuss in more detail shortly is the fact that it is compatible with Zen 3 CPUs (AMD 5000 series) with a quick BIOS update at launch. It will take until January for B450 owners to get their updates and take advantage of the new CPUs. You can also check Best Motherboard for Ryzen 7 1700x
B550s have been surrounded by a lot of buzz and speculation, as with most motherboards that feature a new chipset. 
What are the differences between them and B450s? How will they differ from X570s? Is a B550 right for me? Questions like these have arisen since development began.
Now that we've done that, let's find out how a B550 works from a technical standpoint.
This article will focus on comparing the B550 and X570, but some of the slides will refer to older chipset models – including the B450, X470, and even B350.
Let's begin at the beginning.
Specifications
As you probably noticed, the two chipsets have a lot in common right off the bat. 
In both cases, the CPU graphics support is PCIe Gen 4 x16, and the USB 3.2 Gen2 support is X16 PCIe Gen 4 x16. In addition, they both share dual GPU capabilities as well – although this capability is vastly underutilized today.
However, there are few similarities beyond that. There are differences when it comes to general-purpose lanes, since the B550 only supports PCIe Gen 3. Compared to the B550, the X570 offers PCIe Gen 4 general purpose lanes, as well as PCIe Gen 4 CPU chipset uplinks – a feature that is not available in the B550. From a numerical perspective, there isn't a lot of difference between these two chipsets.
Also read: Best Motherboards for Ryzen 7 2700X
Compatibility
In terms of technical specs, the X570 and B550 are quite similar, but there is one area where they disagree: compatibility. AMD's B550 chipset enables excellent compatibility and support for Ryzen 3000 (and beyond) CPUs, enabling AMD to develop a board for the future.
However, the B550 is incompatible with older Gen 1 + 2 Ryzen processors, unlike the X570.
The B550 isn't what you need if you have a Ryzen 2000 series (or older). Ryzen's latest batch of APUs does not support B550s either, which makes matters even more confusing. While these APUs belong to the Ryzen 3000 series, they are not based on the Zen 2 architecture. B550s do not support the Zen+ architecture used by 3200G and 3400G.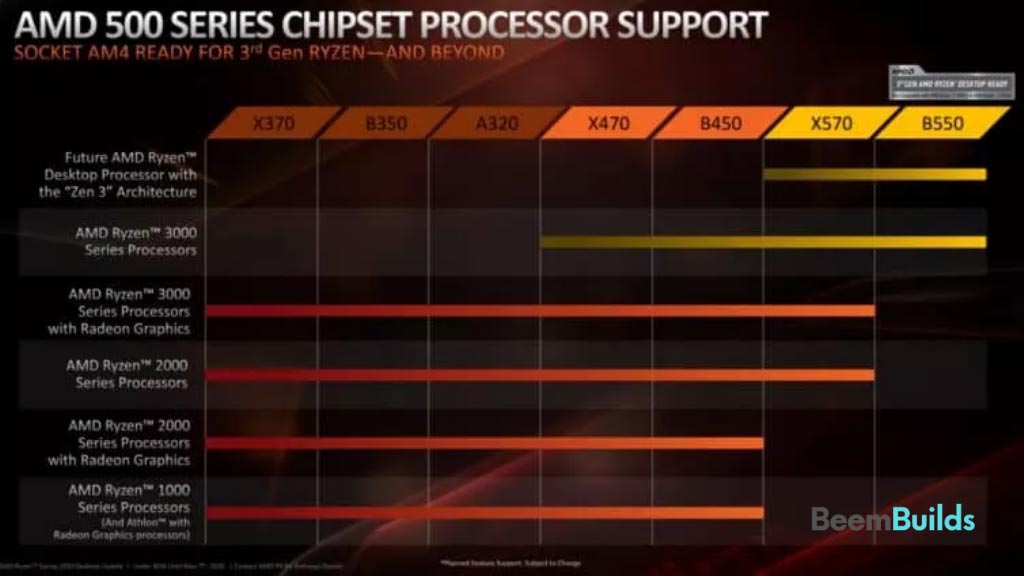 Best B550 Motherboards
Price
The B550 chipset was created primarily because of its price. Apparently, consumers were upset that they couldn't access PCIe Gen 4 without purchasing an expensive X570 motherboard. Therefore, AMD decided to offer this cheaper alternative which not only supports AMD's next-generation CPUs, but also supports PCIe Gen 4.
As a result, contrary to AMD's claims of a lower cost, the B550 has appeared on the market with a confusing price tag: It's almost the same as the X570. While the current state of the tech industry isn't helping, I still think the price of B550s is too high – damaging AMD's claims about PCIe Gen 4 affordability.
ASUS ROG STRIX X570-F Gaming Motherboard
ASRock B550 Steel Legend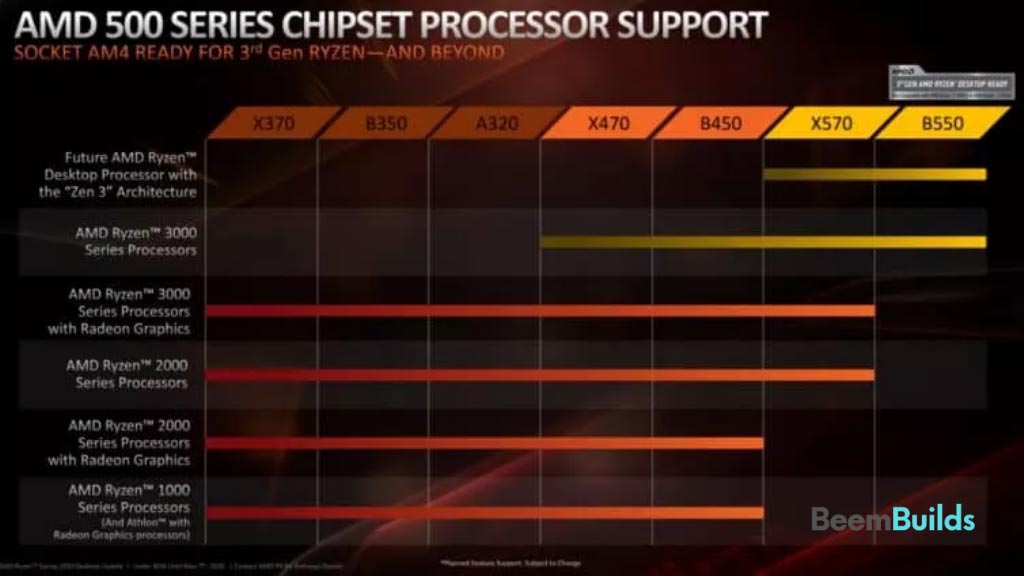 Best X570 Motherboards
These are our top picks for the best B550 motherboards available on the market today based on our knowledge of what a B550 motherboard is all about:
MSI MPG B550 GAMING EDGE WIFI Gaming Motherboard
ASUS ROG Strix B550-E Gaming
ASRock B550 Taichi
Best X570 Motherboards
Let's look at the outstanding X570 chipset. The following models are better and outright winners when compared to the B550 options.
GIGABYTE X570 AORUS Master
ASUS AM4 TUF Gaming X570-Plus
Ultimately, I guess the big question is whether you should purchase the B550 chipset. We can remove immediately all users who are unwilling to upgrade their Ryzen 2000 series (and older) CPUs. A backward compatibility with the B550 is not expected in the future.
If you do not intend to upgrade to Zen 3 in the near future (or do not intend to use PCIe gen 4) then I would not recommend the B550. Several high-performance B450s are available in the market today that are suitable for you. There is no need to spend more on features you won't use.
With that said, the B550 could be a viable option for consumers who have already set their sights on AMD's future CPUs. The VRM design of the B550 is one of the features that will make heads turn. VRMs on the new motherboards are far more advanced than on their predecessors.
For users who wish to take advantage of every last drop of performance potential, this is a huge benefit. Aside from that, the B550s will cost between $30-70 less than their X570 cousins, so they are a great option for budget PC builders.
So, here it is, our complete explanation of the fundamental differences between the B550 and the X570. It must be said, after all the hype surrounding the launch of the B550 chipset, I was a bit underwhelmed by its features.
These boards could have been made a whole lot more exciting by manufacturers. However, there's not much difference between these boards and the already-popular X570s.
AMD has finally responded to consumers' cries for cheaper PCIe Gen 4 boards. The pricing of these new boards is so similar to that of the current X570s that I'm not sure whether I would recommend one for your next PC build.
Related: