Do you want to build your own computer? When selecting a motherboard, it can be difficult to determine what type will work best for your needs. In comparison, there is only one difference between these two motherboards: their sizes. However, assuming this to be the case is not correct.
In this post, we will explain the many differences between these motherboards. A motherboard's choice is determined by the purpose for which it will be used. This type of motherboard is designed specifically for building computers.
In order to understand what these motherboards can do, let us first examine their sizes.
ATX: 305×244 mm or 12.0" x 9.6"
Micro ATX: 244 x 244mm or 9.6" x 9.6"
Mini ITX: 170 x 170mm or 6.7" x 6.7"
ATX vs Micro ATX vs Mini ITX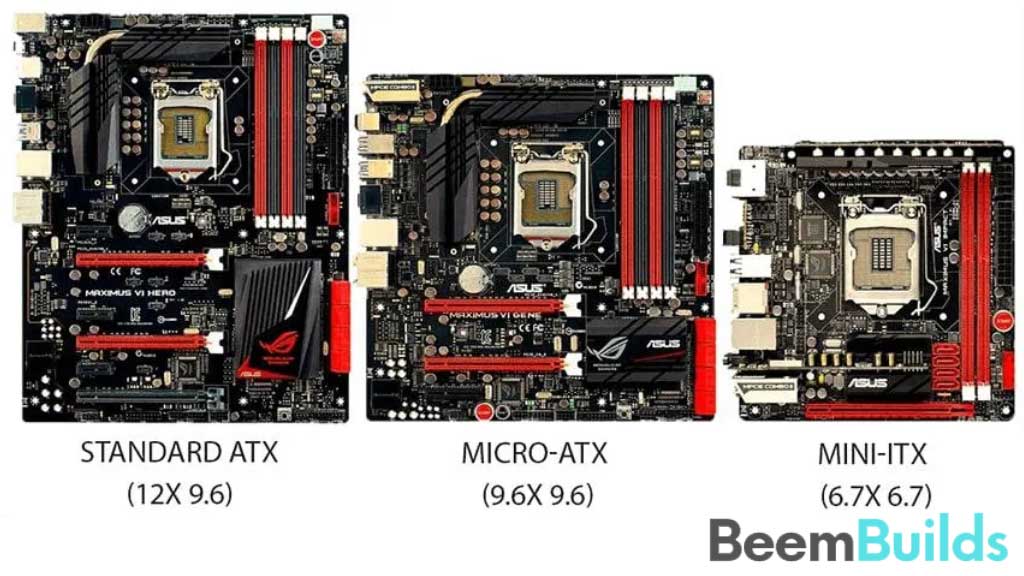 The ATX is the biggest of these sizes, followed by Micro ATX, and the Mini ITX is the smallest. ATX and Micro ATX are very similar in size and shape.
These motherboards differ only in their length. As a result of having more PCIe slots, the ATX motherboard is longer. Therefore, more PCIe cards can be installed on it. As opposed to its competitors, the Mini ATX is more compact and cheaper than its rivals.
We will start by looking at the specifications of these motherboards, after which we will discuss their pros and cons.
ATX Motherboards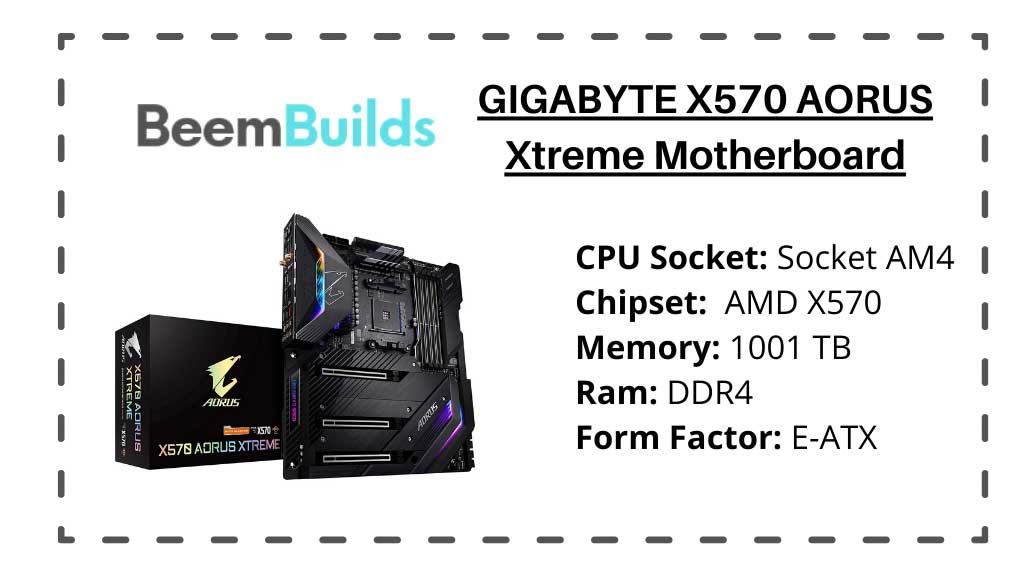 For workstations or gaming CPUs, ATX motherboards are your best options. With ATX motherboards, your PC can be expanded by four ram slots to your desires. Each of these slots can hold 32GB of memory.
As shown in various benchmarks and tests, even 8 GB and 16 GB of ram do not make any difference in terms of performance or frame rates for gaming purposes. For developers or those building these PCs for their professional work, 32 GB of memory isn't enough.
When Ram's extensive applications make their PCs slow, developers are often annoyed. This motherboard also supports multi-GPUs and other PCIe cards with its 7 PCIe slots. None of the other motherboards has this capability.
The ATX form factor offers the best performance in every aspect of a PC and is versatile enough to support a wide variety of upgrades. Generally, these motherboards are more expensive than their competitors because they provide a wide range of enhancements.
Here are ATX motherboards' pros and cons.
Pros
PCIe slots to be added

Performance at the top of the line

The maximum amount of memory is 4 GB, making it ideal if you use applications that consume a lot of memory.
Cons
The size is large

Motherboard with the highest price among its competitors.
Micro ATX Motherboards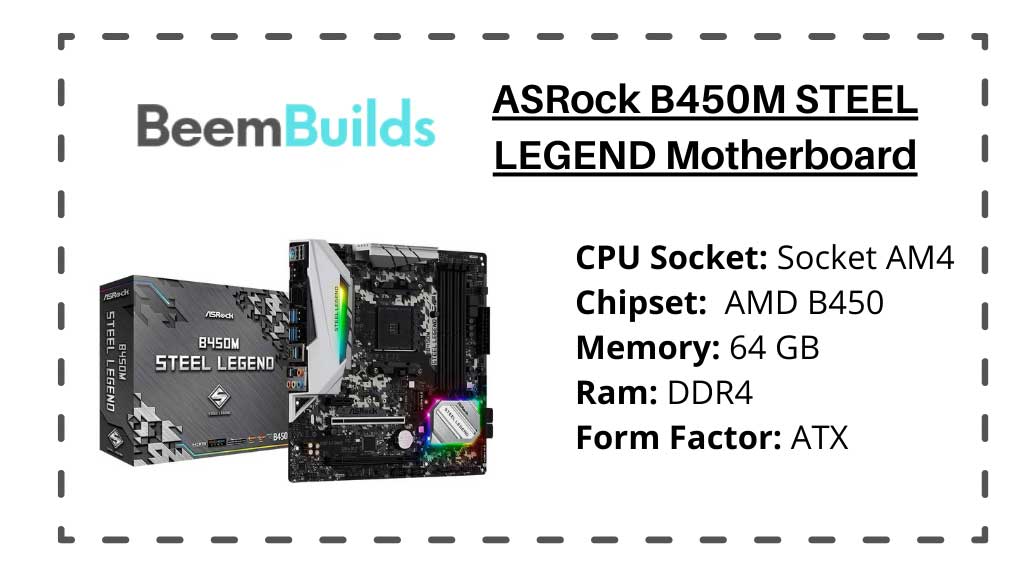 Gaming PCs built on a budget can benefit from micro ATX motherboards. Micro ATX motherboards share many of the same specifications as the ATX motherboard, but they differ in PCIe slots and their size.
There are four ram slots on the Micro ATX motherboard, which is more than enough for your memory requirements. In addition to being cheaper than both competitors, one of the most attractive features of this motherboard is its price. Since Micro Atx motherboards offer all the features necessary for gaming, they are the most popular.
  Due to its convenient size, Micro ATX motherboards can fit almost any case. The smaller size may reduce the number of onboard features, but it may also permit more customization.
There are now micro ATX motherboards that support dual GPUs, although they are just as expensive as the ATX models, so for those looking for Multi-GPU support, the ATX motherboard is the better choice. A similar set of components are available on this motherboard as well as the ATX motherboard, allowing them to be swapped out if necessary.
Check out this motherboard's PROS and CONS, so you can decide whether this motherboard is right for you or not.
Pros
Slots available for Ram

Budget gaming at its best

Among all its competitors, it is the cheapest and most popular.

Almost any case with almost any feature can be installed with the motherboard.
Cons
Multiple GPUs are not supported

There are few PCIe slots, which makes it difficult for a user to add PCIe components such as sound cards.

While the new models do support multi-GPU, they are much more expensive than typical Micro-ATX motherboards.
Mini ITX Motherboards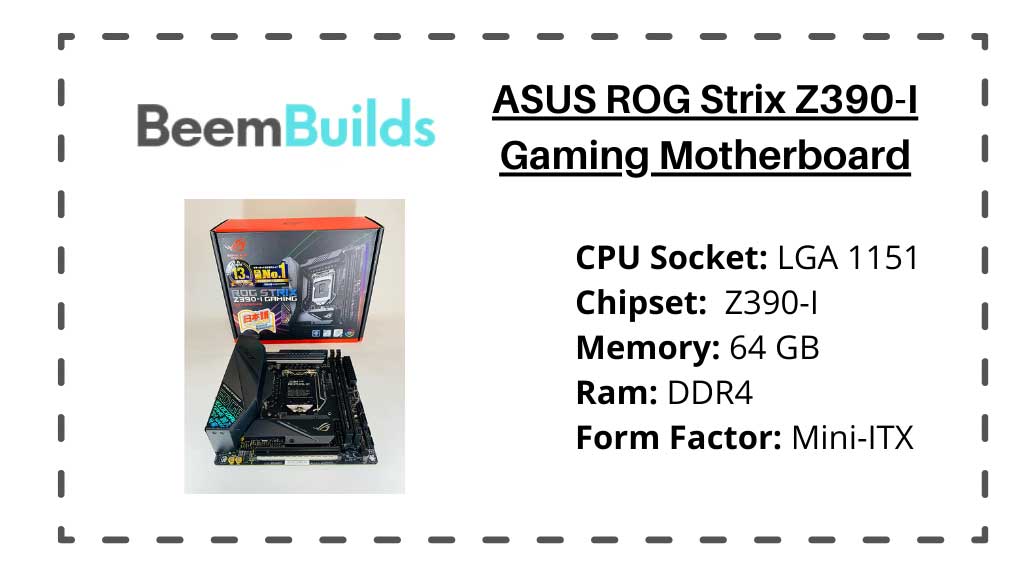 Users who want a portable computer or an easy-to-move computer typically use Mini ITX motherboards. In the Mini ITX, there are only two ram slots, so a user may only add two 16GB sticks to their motherboard to get to a maximum of 32GB.
For gaming pcs, this is more than enough, but for workstations or professional computers, this would be too little. There is only one PCIe slot available on the Mini ITX motherboard, so you can only run one GPU. While it may be ok for some gamers whose main goal is a smaller PC, keep in mind that this type of computer motherboard is not suitable for High-end Gaming.
This motherboard has a price that is higher than that of a Micro-ATX motherboard with double features, so you might be surprised. Due to its minimal size and recent addition to the motherboard types, it has such a high price tag. This motherboard is ideal for Small-factor gaming PCs. Due to the same components shared by ATX and Micro ATX, this motherboard differs from the other two.
To accurately understand this motherboard, let's examine its PROS and CONS.
Pros
Energy Savings

Size and weight are factors that contribute to portability. Smaller pcs are lighter and easier to carry.

The newest processors support ITX motherboards since they are new generation motherboards.
Cons
One PCIe slot

RAM slots are limited to two

In a typical PC case, it looks odd

Motherboards for microATX are more expensive
Also read: Best Motherboards for Video Editing
ATX VS Micro ATX VS Mini ITX
In comparison to each other, let's discuss the pros and cons of each motherboard form factor. It is best to buy an ATX motherboard if you plan to build a high-end system that will serve you for many years to come and have the money to buy pricey Motherboards. These motherboards look better, but they also have premium features like advanced overclocking, RGB lighting, etc. They are also far more affordable than micro-ATX and mini-ITX motherboards.
For those looking to build a budget rig and not be concerned with performance issues or compatibility problems, a mid-range micro-ATX motherboard is the best choice.
Micro-ATX motherboards remain a popular choice among consumers because of their low prices and compatibility with cheap cases. You must first be sure that a mini-ITX motherboard is required because finding components that work with it can be difficult. You will still have an incomplete build even if you have everything except one principal part.
Furthermore, mini-ITX systems are hard to come by. You might also need to consider liquid cooling solutions if you have a small case. It is true that mini-ITX motherboards, especially those with liquid cooling, are beautiful and cute. It would also look pretty nice in the TV lounge if you used a mini-ITX system as an HTPC system.
ATX VS Micro ATX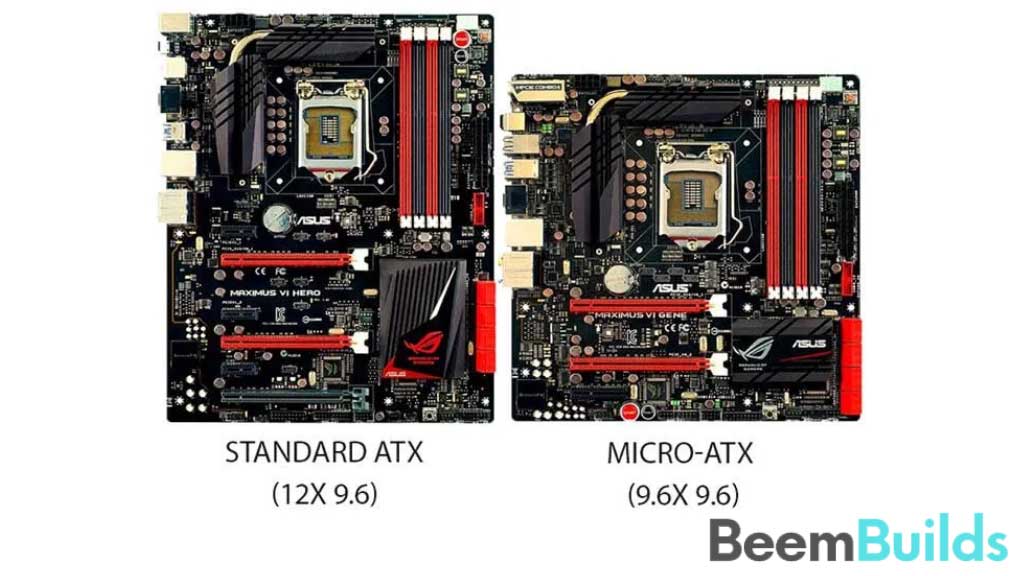 A wide range of features and excellent compatibility makes ATX motherboards a standard among the community. These motherboards are compatible with most mid-tower cases, so if you are playing mainstream games with the right cooling setup, you should consider an ATX motherboard. A Micro-ATX motherboard has a rectangular shape, whereas an ATX motherboard has a square shape. The reason for this is that each motherboard has a different number of PCIe slots.
In terms of motherboards' availability, the vast majority of high-end motherboards come with ATX form factors; there are very few motherboards from this market that come with micro-ATX forms. It is therefore better to opt for an ATX motherboard if you desire a high-end system.
There are a number of reasons ATX motherboards are typically more expensive than micro-ATX motherboards, including their larger size, more number of slots, and other things. RGB lighting and other features are often found on these motherboards. Micro-ATX motherboards, on the other hand, are geared towards those trying to build a budget rig. If you are buying an ATX motherboard, be sure to ensure that your case fits it.
We will now discuss generic features. You can still find enough slots for gaming in most micro ATX cases. Micro-ATX motherboards only come with two PCIe slots, which limits your ability to add PCIe devices such as sound cards and LAN cards. Additionally, ATX motherboards provide lots of PCIe slots, so you can integrate NVMe, Bluetooth, and other devices.
Also, read: Best Motherboard For Music
ATX VS Mini ITX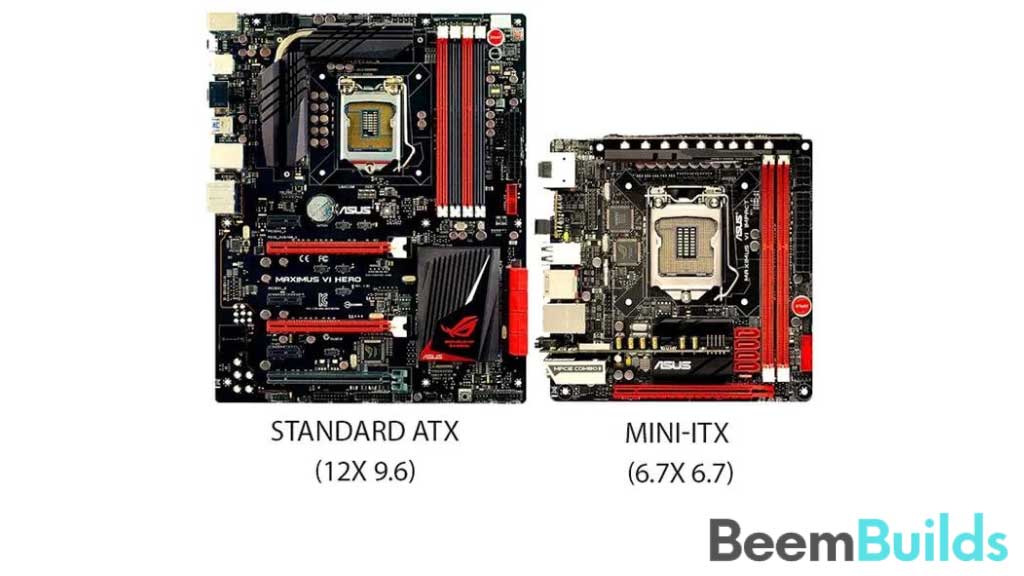 High-end rigs are usually built around ATX motherboards. These motherboards, however, often cannot meet certain requirements, and one of the biggest is their size. A mini-ITX motherboard has a much smaller size than a standard ATX motherboard, which means if you want a compact PC you should opt for a mini-ITX motherboard, because larger motherboards cannot fit into mini-ITX cases.
Due to the limited number of mini-ITX motherboards available, you might have to search quite a bit or the overall appearance might not match your expectations. At present, the majority of motherboards available on the market have ATX form factors.
For remote form factor PCs, mini-ITX motherboards are usually paired with smaller components, such as a power supply, case, or cooling system. Mini-ITX motherboards are not typical and often have fewer features such as RAM slots, PCIe slots, and SATA ports.
In contrast, ATX motherboards can support a large number of components, such as RAM sticks, graphics cards, and more. 
It is usually possible to install graphics cards specifically designed for mini-ITX cases when building a small form factor PC. You can't install mainstream graphics cards in mini-ITX cases. It is possible to use a mini-ITX motherboard in a mid-tower case, but this defeats the purpose of that motherboard.
When it comes to pricing, high-end ATX motherboards are usually more expensive, but mini-ITX motherboards are in demand as well, and because their design is unique, they tend to cost more than what should be the average price of such motherboards.
Micro ATX VS Mini ITX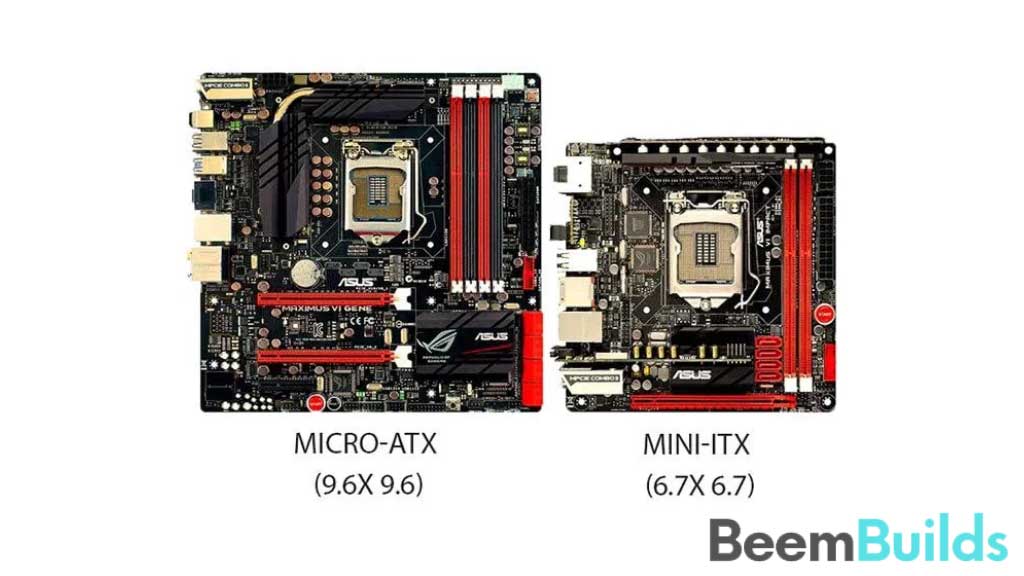 Mini ITX vs Micro ATX motherboards have very little difference in price. Although there are also some premium mini-ITX motherboards on the market, both types are aimed at budget users. They generally cost less than $100. Typically, people prefer to have a larger case, so micro-ATX motherboards are easier to find. HEDT motherboards are more expensive than common motherboards that run Threadripper or Extreme-series Intel processors.
Micro ATX cases can support mini-ITX motherboards in terms of compatibility. A micro-ATX motherboard will not fit in a mini-ITX case. Also, power supplies will not fit in mini-ITX cases. In general, mid-tower cases can accommodate most high-performance graphics cards, including those with tri-fan designs. A micro-ATX motherboard and other regular-sized components would be better suited to building an excellent gaming PC when using mini-ITX cases.
MicroATX motherboards tend to have more SATA ports than their ATX counterparts, enabling more extensive storage. It would be better to purchase a micro-ATX motherboard if you own more than one or two hard drives.
If you're looking for a fun looking board, go for a Mini-ITX motherboard. Mini-ITX cases also offer a unique aesthetic, which may be what you're looking for. Several users install mini-ITX systems with single-slot liquid-cooled graphics cards and custom liquid cooling solutions. Unless you purchase one of the more expensive mid-tower or full-tower cases, however, you will not be able to see the looks of micro-ATX systems.
A mini-ITX motherboard would have the advantage of portability, so if you are constantly on the move and frequently go on tours, one would be a perfect choice.
Also read: BEST MOTHERBOARDS FOR VR
The Pros and Cons of Each Form-Factor
What is the point of going beyond a standard ATX motherboard and case?", you may ask yourself. Wouldn't bigger be better?
To answer your question, each motherboard form factor has its time and place. Various situations will make one of the three most popular form factors more appropriate than the other.
The purpose of this section is to provide you with a better understanding of each form-factor.
Form
Pros
Cons
ATX
• Suitable for overclocking
• More aesthetic
• PCIe lane expansion
• Greater RAM capacity
• Costlier
• Incompatible with most smaller cases
Micro-ATX
• Less expensive
• Ideal for single-GPU systems
• Fits into nearly any type of case
• More RAM than mini-ITX
• Incompatible with multi-GPU configurations
• Unsuitable for overclocking extremes
• Lacks aesthetic appeal
Mini-ITX
• Best choice for smaller cases
• More aesthetic than micro-ATX
• Expensive than micro-ATX
• Not suitable for larger cases
• Not compatible with multiple GPUs
• Not recommended for extreme overclocking
• Usually only has two RAM slots
Should You Choose a Form Factor for Your Motherboard?
Next, you need to determine what motherboard you should buy for your computer. 
There are many types of PCs, and their motherboards will vary based on the type. In order to clarify which motherboard would be best for you, we shall proceed to the Categories.
Gaming Motherboard
You should consider the Micro-ATX motherboard if you are building a PC just for gaming. In addition, 
The motherboard is equipped with four RAM slots and four PCIe slots, so it is compatible with any case and can be upgraded to support all the components and upgrades that modern gaming requires. The maximum amount of memory available is 64 GB, which isn't much needed even for games.
As the cheapest motherboard of all, this is the best one for gamers on a budget. With VR support and all the latest technologies, you will need one of these motherboards if you want to experience High-End Gaming at its best.
If you need high-end gaming, you should opt for the ATX motherboard as it is the only one that supports Multi-GPU installation. Although this requires a large budget, it is the best choice. Nevertheless, Micro ATX is the best choice nowadays.
Motherboard for WorkStation
Those who are building a PC for professional purposes and for developing purposes would benefit most from an ATX motherboard. To edit and render modern video content, a great deal of RAM and GPU is required. With 7 PCIe slots and 4 ram slots on this motherboard, it is the complete solution to all your needs.
The RAM Slot supports up to 32 GB of RAM, which allows you to pair up two GPUs for enough visual memory. If you need all the PCIe slots, this is the motherboard for you; if you don't need all the PCIe slots, you should consider the Micro ATX board, as it has the same specifications as ATX, just fewer PCIe slots. Also, read Best Workstation Motherboards
Desktop computer motherboard
The Mini ITX motherboard would be the best choice if you're looking for something that fits well in your personal and everyday life. Although the MicroATX motherboard has many more features, you can choose this one, but the size of the PC would be significant.
Mini ITX PCs have slim and sleek designs, and they are very portable. A desktop computer only needs two ram slots and one PCIe slot. While other motherboards would be difficult to fit in a desktop PC, the motherboard can easily fit.
While the price of this motherboard is much higher than a Micro ATX, if you are short on budget, you can use a Micro ATX motherboard; however, keep in mind that the Micro ATX motherboard's portability requires a Tower Case.
Conclusion
Our goal is to clarify your understanding of Micro ATX vs Mini ITX vs ATX motherboards, and ensure that you can choose the right motherboard for your PC. We will continue to provide you with more information and tips regarding Tech and Computers if you like our post.
Related: