Gaming and other tasks requiring a high level of processing power will benefit from the i5 10600K. Six cores and twelve threads are available on this processor, which runs at 3.8GHz base clock and 5.0GHz boost clock. Consequently, it is neither the slowest nor the most energy-efficient processor available.
For this processor to work at its best, you need an outstanding motherboard. You need a motherboard that will be able to support all of the components in your system so that your PC can run smoothly. As well as being well-made, it needs to have the features you need, and it should have the right features to meet your needs.
EDITOR'S CHOICE
ASUS ROG Maximus XII Apex
Brand: ASUS
CPU Socket: LGA 1200
RAM: DDR4
PREMIUM PICK
MSI MEG Z490 GODLIKE
Brand: MSI
CPU Socket: LGA 1200
RAM: DDR4
BUDGET PICK
Gigabyte Z490 AORUS ELITE AC
Brand: Gigabyte
CPU Socket: LGA 1200
RAM: DDR4
It shows you which motherboards work best with i5 10600K processors. We'll also explain the features you should consider when selecting a motherboard to help you make the best choice. As a result, if you are considering buying the Best Motherboards for i5 10600K, continue reading!
Our Recommendations Of Best Motherboards for i5 10600K
GIGABYTE Z490 AORUS Xtreme
ASUS ROG Maximus XII Apex
MSI MEG Z490 GODLIKE
MSI MPG Z490 Gaming Edge WiFi
Gigabyte Z490 AORUS ELITE AC
ASUS Z490-E ROG STRIX GAMING
ASUS ROG Strix Z490-G Gaming WiFi
MSI MEG Z490I Unify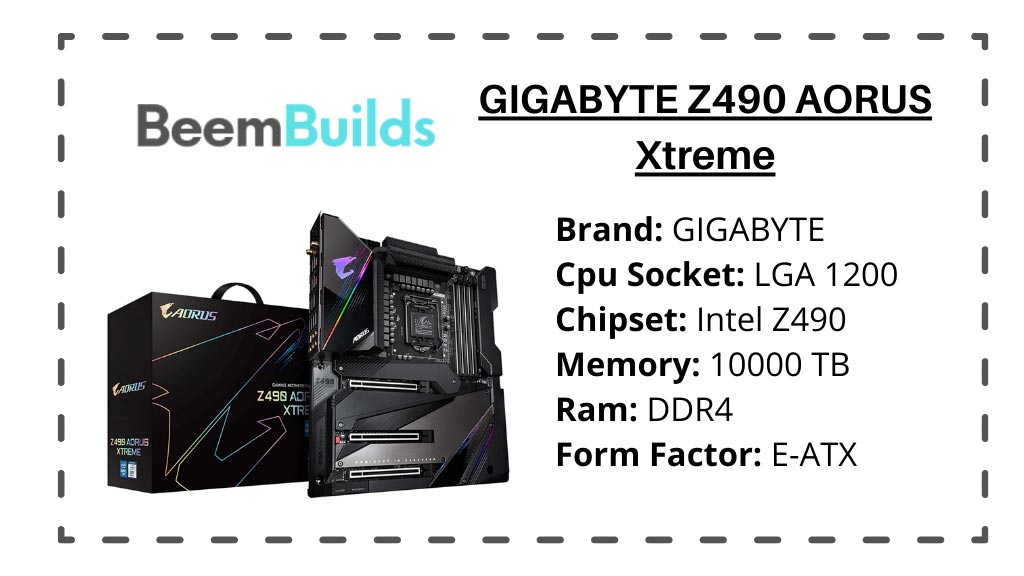 Brand: Gigabyte | Processor: Intel 10th Gen | Chipset: Intel Z490 Express | Memory: 128GB, 4 x DIMM | Memory Speed: 2133 MHz to 5000 MHz (O.C) | Socket: LGA1200 | Form Factor: E-ATX | VRM: 16+1 | Dimensions: 14.96 x 12.36 x 5.12 inches
A robust connection is provided by this motherboard. On the integrated IO shield we will be able to see Aquantia's 10Gb Ethernet chip and Intel's 2.5Gb Ethernet chip. The WiFi-6 will have two connections. Surprisingly, the iGPU output is HDMI. To support its high clock speeds, it has dual 8pin connectors.
A PCB trace with twice as much copper will allow for lower temperatures, better overclocking, a lower resistance, and ultimately higher efficiency. For cooling the VRM, direct contact heatpipes are used. This bench tester has a dual BIOS, diagnostic LEDs, BIOS switches, and reinforced card slots, making it one of the best choices. Your processor will not be hampered by the Gigabyte Z490 Aorus Xtreme board.
You may also love to read: Best LGA 1200 Motherboards
It is an excellent choice for productive work because of the heatsinks for the M.2 drives. These ensure that data fetching doesn't slow down when there is a lot of it. While the i5 10600K doesn't support PCIe 4.0, this motherboard is designed to futureproof your investment by supporting PCIe 4.0. This best motherboard for i5 10600K features two Thunderbolt ports on the rear panel for high-speed data communication.
Bottom Line
There are a lot of connections on this motherboard, so going with a larger chassis won't be a bad decision. This motherboard has it all, but there is a downside to having so much on one board: "the price." With all connections angled right-side up, going with a larger chassis should not be a problem. The budget-busting indirect costs of this motherboard, however, are well worth the performance increase during overclocking. In fact, it is the best motherboard available today for the i5 10600K.
Pros
Slots for 3 M.2 drives

Energy-efficient design

Memory shielded routers
Cons
Controllers for SATA are not available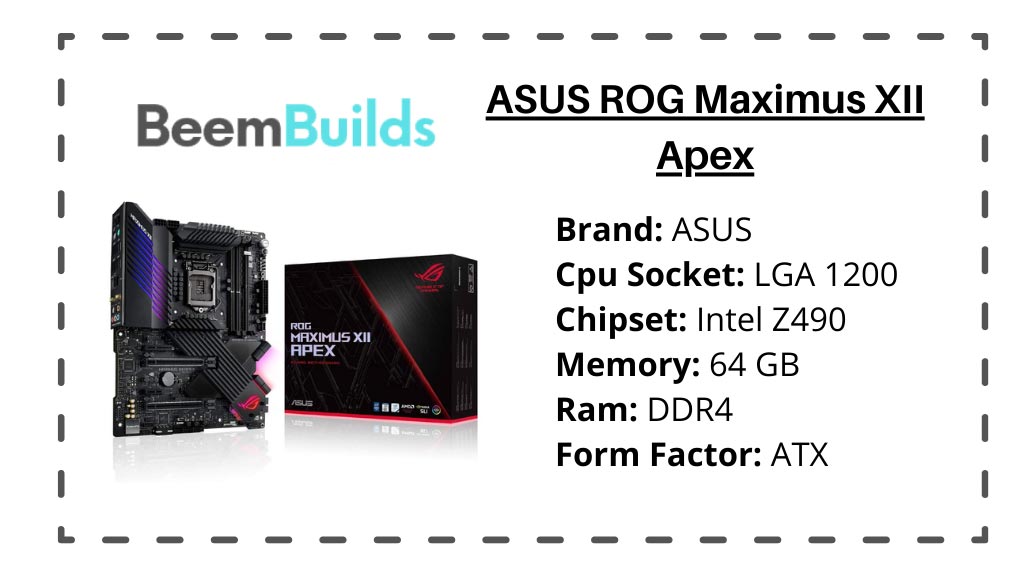 Brand: ASUS | Processor: Intel 10th Gen | Chipset: Intel Z490 | Memory: 64 GB, 2 x DIMM | Memory Speed: 2900 MHz to 4800 MHz (O.C) | Socket: LGA1200 | Form Factor: ATX | VRM: 8+2 | Dimensions: 14.50 x 12.20 x 4.25 inches
In order to maximize the performance of Intel Core processors from 10th generation, ASUS designed the ROG Maximus XII Apex motherboard. Featuring 16 individual power stages, high-quality alloy chokes, and durable capacitors, this motherboard has the power and reliability to handle intense overclocking sessions.
OptiMem III and Overclocker's Toolkit combine for record-breaking overclocking performance on the board as well. This device also has a condensation detection system to ensure your system runs smoothly even under challenging conditions.
A solid steel backplate, multiple fans and AI cooling minimize thermal and acoustic noise due to its excellent thermal design, including VRM heatsinks, C-shaped heatpipes, heatsinks for the M2 slot and the chipset. Also included is ASUS' own Aura Sync RGB lighting, RGB headers, and Gen 2 addressable headers, allowing it to be truly personalized.
You may also love to read: Best X570 Motherboards
Imagine that a monster just attacked your motherboard and left a trail of claw-like stripes on it. Your motherboard definitely resembles a beast. The i5 10600K only supports PCIe 3.0, which means it may not support PCIe 4.0. The LGA1200 socket may support PCIe 4.0 in the future, so it is a worthwhile investment.
A 2.5Gb Ethernet connection is available on the ASUS ROG Maximus XII Apex. The integrated IO provides CMOS and BIOS flashback buttons as well as two antenna connections for WiFi-6. On the back are 10 USB connectors for peripherals. With it's onboard post code display, Intel processors can quickly determine if it is the memory timing or other overclocked hardware that is causing problems.
Liquid nitrogen will be experimented on this motherboard. This motherboard has PS/2 ports, so those who prefer to overclock with Windows XP can do so. Overclockers are provided with four switches on the board to facilitate overclocking. 
Two RSVD switches preload cold boot voltages, a slow mode switch lowers the CPU multiplier to its lowest setting, and a CPU stall switch are also mounted on the board. You just need to put the motherboard in LN2 mode with a jumper.
Bottom Line
Test bench overclockers will appreciate the slanted SATA ports. Instead of the traditional side-facing SATA ports, the SATA cable goes smoothly around the motherboard. The VRM is 16 phases, however it is actually 8 phases with doublers. It is a big plus for overclockers when these VRMs deliver 1.2V 200A with only 16 Watts of heat. There would be no problem cooling the VRM on this motherboard.
Pros
Fans with multiple headers

Heatsinks for VRMs

Switches for onboard diagnostics
3. MSI MEG Z490 GODLIKE – Best Overall Motherboard for i5-10600K
Brand: MSI | Processor: Intel 10th Gen | Chipset: Intel Z490 | Memory: 128GB, 4 x DIMM | Memory Speed: 2133 MHz to 5000 MHz (O.C) | Socket: LGA1200 | Form Factor: E-ATX | VRM: 8+2 | Dimensions: 12.00 x 10.70 x 2.00 Inches
With WiFi-6 and Bluetooth 5.1, it has excellent connectivity. Plenty of headers are available for the RGB and cooling solutions. MSI's GODLIKE series offers great performance in a wide range of applications such as gaming, content creation, and productivity. No matter what you're working on, this motherboard will not let you down. By strengthening the PCI slots, they remain durable even when heavy graphic cards are installed.
MSI MEG Z490 GODLIKE motherboards feature a PS/2 port that is available for overclockers who wish to use the auto-clear CMOS and flashback BIOS features for easy recovery. The device offers two Thunderbolt ports, two 2.5/5G LAN ports, and two Thunderbolt ports for the fastest possible connectivity. There is also an integrated IO shield. For easy diagnostics, the device has an onboard LED.
You may also love to read: Best Motherboards for Ryzen 9 3950X
A slow-mo jumper is provided so that you can reduce the speed of your processor to eliminate any hardware conflicts that might occur as a result of extreme overclocking. It is possible to access the dual BIOS via an onboard switch in case one of them becomes corrupt. A power button and a reset button are available for benchmarkers.
Bottom Line
These motherboards have excellent VRMs, which can be overclocked between 1.2V 200A 15W and 600A 66W at a range of 1.2V. Their forced ventilation, however, results in higher power consumption. A VRM such as this is overkill for an i5 10600K. The majority of overclockers would not want to drive their circuits with that much current. On the other hand, bench overclockers would benefit greatly from it.
Pros
A wide range of connectivity

Support for 128GB of RAM

Low temperatures and high overclocking
Cons
There is no DDL/DTS connection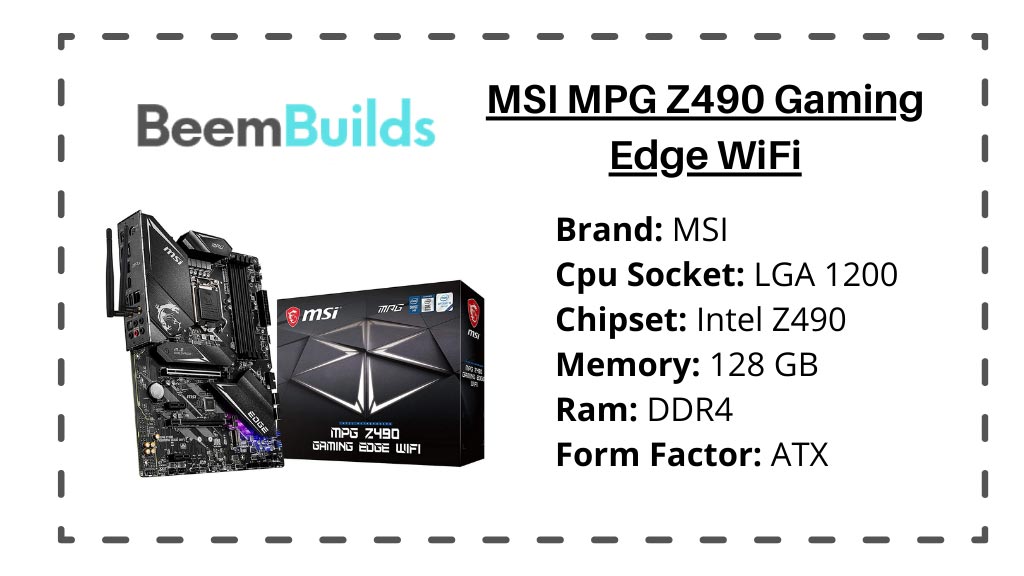 Brand: MSI | Processor: Intel 10th Gen | Chipset: Intel Z490 | Memory: 128GB, 4 x DIMM | Memory Speed: 2133 MHz to 5000 MHz (O.C) | Socket: LGA1200 | Form Factor: ATX | VRM: 12+1+1 | Dimensions: 12 x 9.6 x 2 inches
Gaming and power users looking for the best performance and features will appreciate the MSI MPG Z490 Edge motherboard. This card supports current 10th generation Intel Core, Pentium Gold, and Celeron processors, LGA 1200 sockets, DDR4 memory up to 128GB (4800MHz), and Lightning USB 20G.
ASMedia's 3241 USB 3.2 Gen 2×2 controller features not only high-speed USB transfers up to 20Gbps, but also a Rear USB Type-C port, making it a perfect choice for gamers and users looking for the best performance.
The PC has a dual-turbo M.2 slot for ultrafast SSDs, gigabit LAN and WiFi 7 (802.11ax) as well as I/O shielding for convenience and static protection. Moreover, the motherboard comes with MSI's exclusive M.2 Shield Frozr technology, which helps to keep your hard drives cool and improve performance.
If you're looking for the best motherboard for i5 10600K with the Z490 chipset and WiFi, this one is the best choice. You won't have issues with cable management with this motherboard. Your gaming rig will feel more alive with its built-in RGB strip which reflects off the chassis. The device has two USB 3.2 Gen2 ports for faster data transfer.
You may also love to read: Best Motherboards for RTX 3090
With the MSI MPG Z490 Gaming Edge WiFi, you'll have the latest WiFi-6 and Bluetooth technologies. Overclocking your CPU with this board is possible at stable 1.7V with 600A of current. A 6-layered PCB keeps everything together, while steel armor/reinforcements allow heavy cards like the RTX 3090 FE to remain in place. The BIOS is well designed with an easy-to-use GUI and is clean and comfortable to use.
With the MSI BIOS, overclocking is easy. The MPG series is designed to create aesthetically pleasing gaming rigs, and each rig can be personalized with RGB lighting and easy-to-use software. A good RAM allows you to overclock the clock speed to up to 5000MHz, and dual-channel RAM ensures high data fetching speeds across hardware.
Bottom Line
This motherboard offers all the essential features you need for gaming, productivity, and creating content. The unit has a large number of USB ports, a thunderbolt port, a display port, antenna connections, and a M.2 slot for all of your gaming needs. Playing all the latest games at 1080p with 60 frames per second and high settings with an RTX 3070, an i5 10600K, and this motherboard is quite possible.
Pros
Build of the PCB is sturdy

Lights of Mystic RGB

Technology that boosts audio quality
Cons
A PCIe 4.0 slot is not available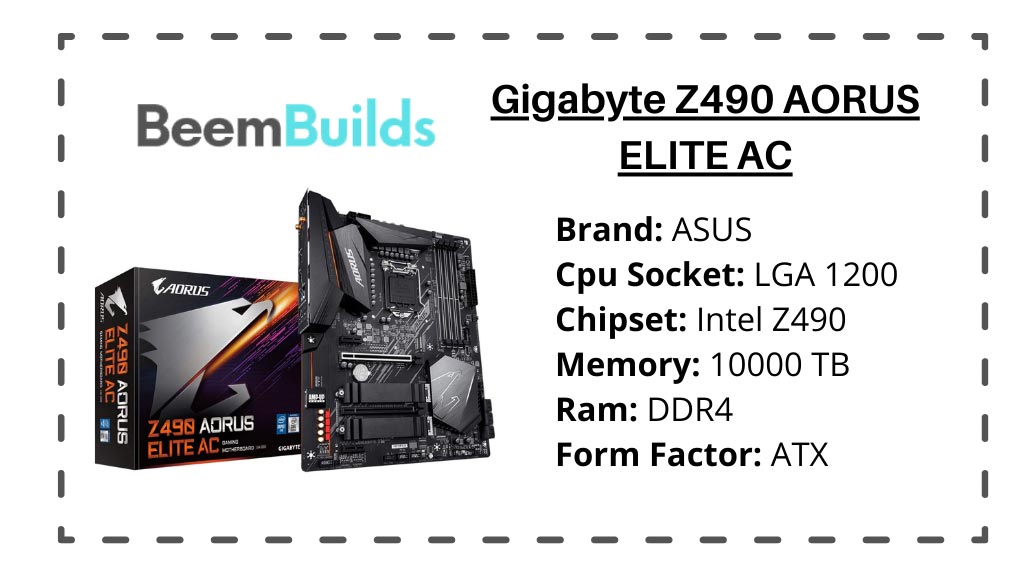 Brand: Gigabyte | Processor: Intel 10th Gen | Chipset: Intel Z490 Express | Memory: 128GB, 4 x DIMM | Memory Speed: 2133 MHz to 5000 MHz (O.C) | Socket: LGA1200 | Form Factor: ATX | VRM: 12+1 | Dimensions: 13.18 x 10.62 x 3.14 inches
The motherboard is equipped with WiFi and Bluetooth. It is easy to stick the WiFI antenna to metal surfaces thanks to the magnetic base. Clean lines make this board easy to manage, which makes PC building easy. As the AORUS logo glows in a subdued pale orange hue, it appears alive. A BIOS rev of F4 or higher is required for this motherboard to work with the RTX 2070.
AORUS ELITE AC motherboards can handle 600 Amps of current directed towards the CPU when overclocking thanks to copper traces that are two times larger on the motherboard and solid capacitors. For the VRMs, the Z490 chipset, and the M.2 drives, the motherboard has enough heatsinks for proper heat transfer. The XMP profiles of the RAM on this motherboard can be clocked to 5000MHz, the highest possible speed available on any RAM on the market.
You may also love to read: Best Motherboards for RTX 3080
With this motherboard, you can install GPUs and SSDs using the all-new PCIe 4.0 slots. It has a USB-C connection on the front panel, which is the most convenient type of USB for Android users. A pair of headers allows you to connect addressable RGB strips and two headers allow you to connect standard RGB strips. The RGB lighting makes it feel alive with more than ten options.
Bottom Line
Intel is expected to keep its LGA1200 socket for quite some time, so it's a good investment for users who want to play offline games. Intel's 10th-generation processors feature LGA1200 sockets. Due to the 14nm lithography, Intel will be challenged to maintain high power consumption, and this motherboard has good copper tracing to help. It is therefore the best motherboard for beginners who want to use an i5 10600K.
Pros
Efficient in terms of power

The RGB control is excellent

The future of PCIe 4.0
Cons
Acoustic shields are not available for noise reduction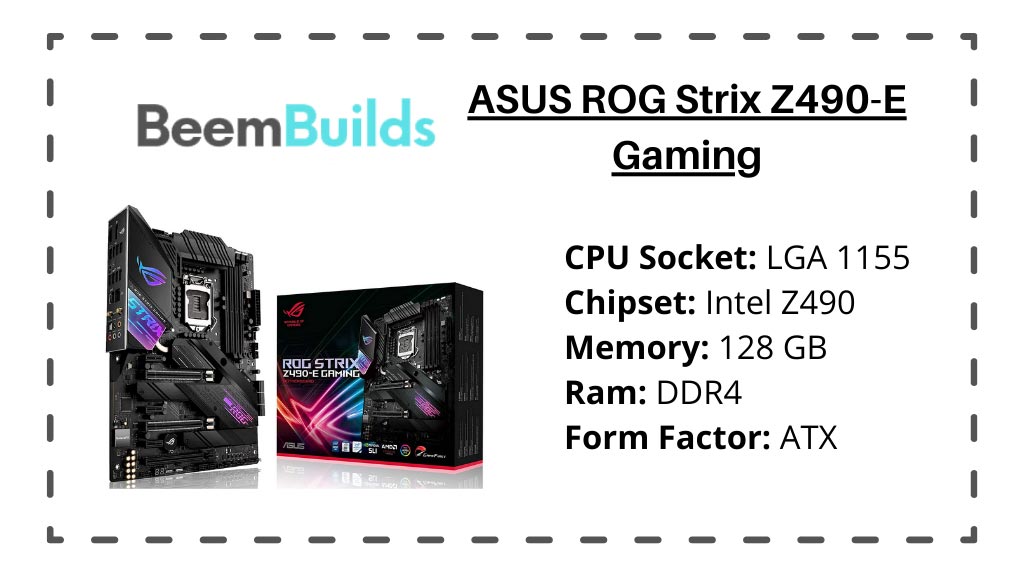 Brand: ASUS | Processor: Intel 10th Gen | Chipset: Intel Z490 | Memory: 128GB, 4 x DIMM | Memory Speed: 2133 MHz to 4800 MHz (O.C) | Socket: LGA1200 | Form Factor: ATX | VRM: 14+2 | Dimensions: 13.3 x 10.7 x 2.7 inches
Supporting the latest processor generation, the i5 10600K is built into this motherboard. A 14+2 phase VRM ensures the processor has enough voltage and amperes to maximize its performance. Any AAA title in the market needs 128GB of RAM to run smoothly. With 64 GB, you're covered for all the top titles, and you have a margin to prepare for the future.
In line with its name, ASUS' Z490-E ROG STRIX GAMING is made for gamers. This motherboard is ideal for online gamers/streamers who want their systems running 24/7. The temperature of the VRMs, M.2 drives, and chipset is controlled by cooling fins on this motherboard. To ensure your gaming experience is as noise-free and pinpointing as possible, ROG SupremeFX audio chipset is the best on the market.
You may also love to read: Best Motherboards for Ryzen 9 5950X
The ROG series of ASUS offers all the features needed for gamers to meet their latest gaming needs in one package. Overclockers will make use of the enhanced gaming capabilities of the motherboard. Bench-based overclockers will require some additional features. For gamers, this motherboard satisfies all requirements. With 4800 MHz memory, all the latest games run smoothly.
Bottom Line
You will stand out amongst your friends if you run this motherboard in a beautiful chassis. In the vicinity of the IO shield, a STRIX logo streak makes it appear both rough and operational. As this motherboard does not require a dedicated GPU for booting, and the IO panel features display ports, the iGPU can also be used for productivity.
Pros
Wireless-6

Audio Chipset Supreme

Compatible with LGA 1200 socket
Cons
Dual BIOS is not available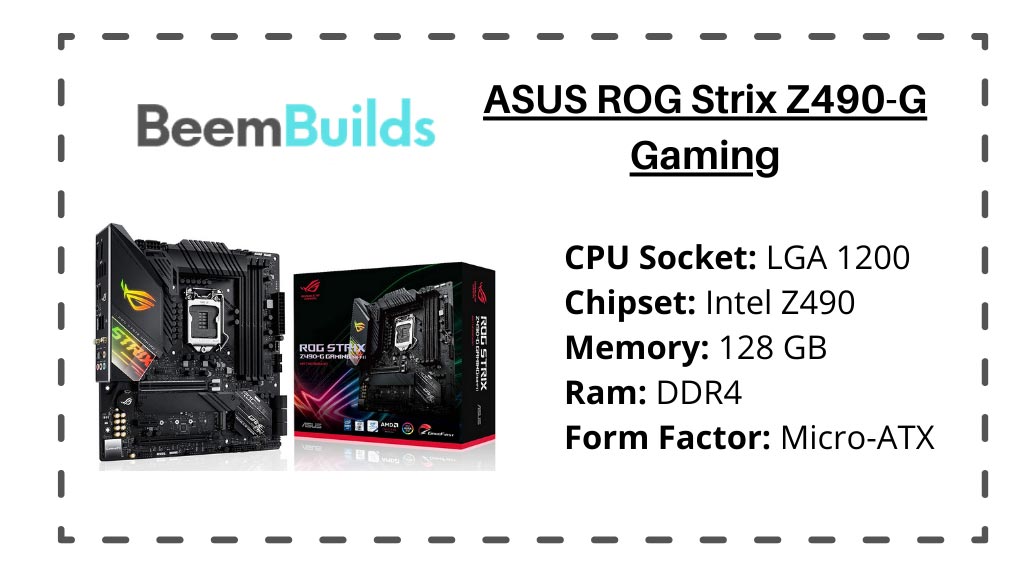 Brand: ASUS | Processor: Intel 10th Gen | Chipset: Intel Z490 | Memory: 128GB, 4 x DIMM | Memory Speed: 2133 MHz to 4800 MHz (O.C) | Socket: LGA 1200 | Form Factor: Micro ATX | VRM: 12+2 | Dimensions: 11.02 x 10.43 x 2.8 inches
With the ASUS ROG Strix Z490-G Gaming WiFi motherboard, you get a sleek, minimalist, and thin design that fits small chassis perfectly. In order to overclock like a pro, you are going to need all the gimmicks that accompany extreme overclocking. If you are a computer gamer, then this is right for you. You'll be able to run most games smoothly and smoothly with 12+2 phases. With WiFi 6, wireless networks can be crowded in densely populated areas and perform better.
It is not just cooler looking; it is also cooler running. The RGB lighting and the cooling solutions are very good. With the VRM heatsink and the M.2 heatsink packed into such a small space, long streaming sessions will be no problem. On the stainless steel plate is the ROG Strix logo that speaks of its superiority in gaming hardware. Two display outputs are available for the iGPU on the integrated IO.
You may also love to read: Best Motherboards for Ryzen 9 5900X
A small chassis and gamers who like to keep their gaming tables equipped with the least amount of hardware are ideal for this product. This best motherboard for i5 10600K is small and powerful in order to maximize performance from its low amount of hardware. No enemy will remain undetected with pinpoint precision due to the advanced sound quality. Noise is effectively reduced with the audio shielding. All major brands of headphones can be used with the dual amplifiers since the amplitude is high enough.
Bottom Line
With many years of experience in the gaming industry, Asus knows what gamers want. In addition to supporting productivity, you can also create content with this motherboard when using an i5 10600k processor. As this processor uses an integrated graphics unit, having a display port and an HDMI port allows the user to do productive work without a dedicated graphics card. The fact that 12+2 phases can be crammed into such a small form factor, and 128GB x 4 DIMM slots are so impressive is amazing. You should own it.
Pros
RAM of sufficient size

Thermal pads of high quality

An intuitive interface for AI Overclocking
Cons
10GbE Ethernet is not available
8. MSI MEG Z490I Unify – Best Mini-ITX Motherboard for i5-10600K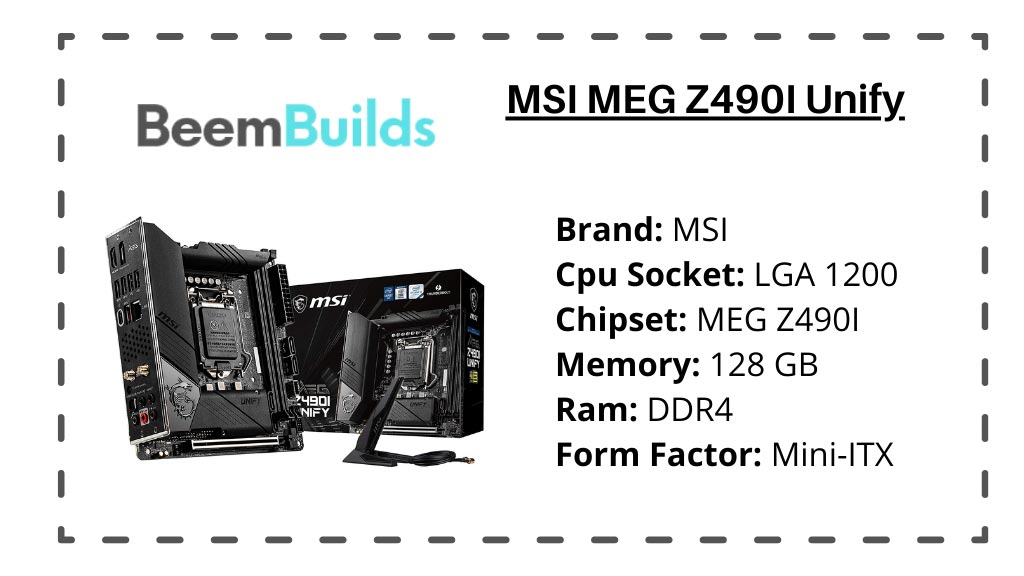 Brand: MSI | Processor: Intel 10th Gen | Chipset: Intel Z490 | Memory: 64GB, 4 x DIMM | Memory Speed: 2133MHz to 5000 MHz (O.C) | Socket: LGA 1200 | Form Factor: Mini-ITX | VRM: 8 | Dimensions: 6.7 x 6.7 x 2 inches
Performance-wise, the MEG series of MSI is meant to break records; hence, the specs are way above what one would expect for competitive gaming. These motherboards are meant to push the limits. With this motherboard, you can get the 10-layer PCB only found on flagship motherboards. For most gamers, SLI, CrossFire, and 128GB of RAM are not necessary. The motherboard offers 64GB support for the most demanding gamers.
All the features a gamer could ask for are packed into such a small package. A Thunderbolt 3 connection at the back can support 3840×2160 at 60 Hz. With its 2.5GbE LAN, MSI's MEG Z490I Unify is ideal for streamers and online gamers. iGPUs are the ideal choice for people who work from home since they are able to use DP and HDMI ports without a dedicated GPU.
You may also love to read: Best Motherboards For i9 10900K
This motherboard lacks onboard RGB and does not support programmable connections. Instead of bold and flashy hardware, think of it as a motherboard for compact and functional motherboards. The minimum amount of hardware is sufficient to do the job. It is recommended for minimalists searching for a stable system.
Bottom Line
In addition to the heat pipe heat dissipation for the VRM, the PCIe steel armor will prevent your PCIe slot from breaking with the heaviest GPU. Heatsinks and an Aluminum cover with integrated IO shields protect your connections from harm when you frequently attach and detach peripherals.
Pros
PCB with ten layers of solid material

Slots reinforced for PCIe

Designed to work with Intel 10th Generation processors
You may also love to read: Best Server Motherboards
Conclusion
All of the latest gaming titles run smoothly on the Intel i5 10600K processor. The overclocking capability allows you to achieve the best gaming performance possible. RTX 3070 graphics cards can easily guarantee 200+ frames per second on medium settings for competitive gamers.
All of the products we featured in our article that have been mentioned above can be considered to be the best motherboard for i5 10600K due to their features to help support your combination. Nevertheless, we recommend that you buy a motherboard with PCIe 4.0 support.
Even though Intel processors lag behind in this area, PCIe 3.0 does not severely slow down the all-new Nvidia 3000 series and Radeon RX 6000 series graphics cards. If you are a gamer who enjoys the look of beautiful graphics, we still recommend that you invest in a motherboard featuring superb audio and PCIe 4.0.
Frequently Asked Questions
Is the i5 10600K compatible with the best motherboard?
It is equipped with the Intel i5 10600k processor, the latest and greatest from ASUS. The PC has many features that make it an excellent choice for overclockers, including cable management and onboard diagnostics. The motherboard handled liquid nitrogen cooling well, which some users have used to boost their performance to the max.
What chipset does the i5 10600K have?
An i5 10600K is best equipped with a Z490 chipset and LGA1200 socket. This beast chipset has been successfully integrated into smaller boards and designs by motherboards like the ASUS ROG Strix Z490-G Gaming WiFi. The board is well-suited for E-ATX motherboards. All the top GPUs support PCIe 4.0, making it a core feature of the Z490 chipset.
Where can I find the best motherboard for an i5 10600K processor?
The MSI MEG Z490I Unify is the best motherboard to buy if you have an Intel i5 10600K processor. You can find the best motherboard on the market with a MSI MEG Z490I Unify. This tiny motherboard packs a powerful punch. You'll get high performance out of your hardware when it has 5000MHz O.C RAM and ten layers of PCB design. Up to 64GB will be enough for applications and games that require high RAM.
Where can I get a Core i5 10600K motherboard at the cheapest price?
The Gigabyte Z490 AORUS ELITE AC is the cheapest motherboard that supports the Core i5 10600K. The motherboard is the best bang for your buck compared to others around the same price point. Aside from the strong overclocking, WiFi, BIOS, RGB, onboard connections, and shielded memory routing, the system also has IO ports and data shielding for lossless transmission.