According to Amazon, Ryzen 5 3600 processors are the most popular. Its performance is largely due to its extensive testing with AAA titles and competitive game environments. With Ryzen 5 3600, the GPU has never bottlenecked during gaming under stress. The performance of this processor is almost identical to that of the Ryzen 5 3600X, despite not having an X at the end of the name. Overall, this is a great processor at a great price. The GPU doesn't bottleneck even when the resolution is set at 1440p. However, your motherboard might be a bottleneck. The best Ryzen 5 3600 motherboard will provide you with high-level performance. Also, read Best Motherboards for Ryzen 5 3400G
Our favorite Ryzen 5 processor has always been the 3600. Due to the fact that it is feasible for many gamers who are at the middle or upper end of the spectrum. Almost every gamer wants hardware that can accommodate the newest high-end components. PCIe 4.0 support and M.2 slots are required on motherboards with Ryzen 5 3600 processors. The overclocking capability of the product should be adequate. As well, the BIOS should offer sufficient software support to enhance the overall user experience, and the motherboard should offer an easy-to-use BIOS. It is possible that the number of VRMs, the quality of heatsinks, the number of M.2 drive slots, and the quality of the PCB will determine the outcome between two motherboards. Let's start with our buying guide to help you manage your shopping decisions:
Buying Guide:
The AMD AM4 socket was announced in 2016 and AMD has committed to using it. 
Until the 7th of May, 2020, all motherboards supported the AM4 chipset to its full extent. AMD announced on the 7th of May that it would not support Zen 3/Ryzen 5000 processors on the older motherboards. In terms of Ryzen 5 3600, the X470 and B450 support it, so any motherboard can run it.
The midrange gaming community has taken up overclocking. New buyers are attracted to the popularity and benefits. Through the VRMs, the CPU voltage is lowered to 1.3V or 1.5V by converting 12V PSU power into 1.3V – 1.5V needed by the processor. As a result of the higher number of VRM phases, the heat generated during voltage conversion is more efficiently divided among the power phases, which results in better overclocking and stability.
Memory speed can make a significant difference in gaming if you have a monitor that supports 144Hz. In order to achieve more frames per second with overclocked RAM, the mobo needs to be capable of reaching those top frequencies. The manufacturer's website provides information about each motherboard's overclocking limits, number of RAM VRMs, and amount of RAM available. If you need the extra bit of frame rate, check them before you purchase.
There are many people who face component failure issues after purchasing. In order for computing power to be possible, motherboards are made up of a variety of electronic parts.
As a result, the manufacturer needs to provide a solid plan to ensure that each component works at its highest potential; this shows the device's quality and confidence in its manufacturing process. To feel more secure, it's best to go for a longer warranty period.
Also read: Best Motherboard For Ryzen 5 2600X
Best Motherboards for Ryzen 5 3600 at a glance:
Asus ROG Crosshair VIII Formula

ASUS ROG Strix X570-E Gaming

MSI MEG X570 ACE

MSI B450 TOMAHAWK MAX

MSI MPG X570 GAMING PLUS

ASRock B450 Pro4

ASRock B450M Pro4

MSI B450I Gaming Plus AC
The Best Motherboards for Ryzen 5 3600 
Even the tiniest of specifications do not matter to you at all. The best motherboard on our list is Asus ROG Crosshair VIII Formula because it is an absolute powerhouse that doesn't take anything for granted. The design is unmistakable. This motherboard has a sleek and bold design. ABS top cover with ROG streaks and chipset cooling cutouts conceals all the clutter. You can rely on the solid steel backplate to protect your investment.
With a dedicated button on the IO shield, the BIOS on this motherboard is robust and easy to use. With WiFi-6 and BT, you can connect the latest generation of peripherals wirelessly. With the AQC-111 LAN, the device streams UHD videos and transfers data at a speed of 5Gbps. The price of this motherboard is high given its high-end features. A few people might find it annoying that the active chipset cooling is directly below the GPU on this motherboard. The RAM clock speed of some motherboards can be higher than this one.
In this product, you can possibly find the best premium motherboard for Ryzen 5 3600. Ryzen processors of the 5000 series are supported out of the box on this board. ROG has partnered with EK Water Blocks to build the cooling block that surrounds the VRM on the motherboard.
This feature is very popular among overclockers since it keeps the 14+2 VRM cool under high-frequency conditions. Every testing bench should have this feature. It offers increased connectivity, capabilities, and quality.
SPECIFICATIONS
Socket: AMD AM4 | Chipset: AMD X570 | Form Factor: ATX | Voltage Regulator: 14+2 | PCIe x16: 2 | USB Ports: 25 (max) | Warranty: 1 Year
Pros
VRMs cooled by liquid and heatsinks for M.2 slots

It has 5G LAN, WiFI-6, Bluetooth 5.0, and 25 USB ports

A Q-Code LED display appears on the onboard power/reset buttons
Cons
A video card is not available

Overclocking RAM is not the highest

GPU cooling with active chipsets
Related: Best Motherboards for Ryzen 7 3700X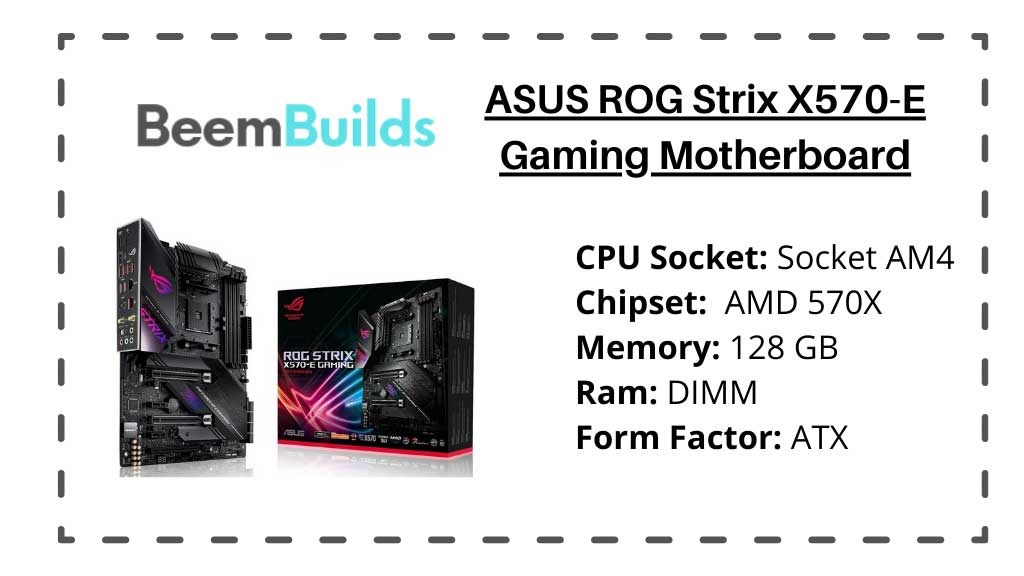 Members of the elite gaming class make up the Republic of Gamers. For gamers with a nimble finger for overclocking and high-end gaming, ASUS ROG Strix X570-E Gaming is the ideal choice. In addition to the ROG logo and streaks that appear on the heat sink, there is RGB lighting. The built quality is excellent, and the visual appeal is stunning. There isn't much to complain about in terms of the price tag. This card's PCIe 4.0 x16 slots can accommodate the latest RTX 3090 graphics cards. As two M.2 drives can be mounted with a heat sink, any potential bottlenecks will be prevented. TThis motherboard is without a doubt the best flagship motherboard for Ryzen 5 3600.
Those who only plan to use it for gaming will find it a good choice. Extreme overclockers, however, might find it lacking. In addition to the lack of voltage monitoring displays, the board also lacks power/reset buttons. This might be too much for a processor such as the Ryzen 5 3600, because it has 12+4 VRMs. You can use this as a viable solution if you plan on upgrading to the latest Ryzen 5000 series processors. It doesn't matter if you do not plan to install a large number of M.2 drives if it doesn't have three M.2 slots, but as a flagship processor, we would've expected it to have three M.2 slots.
As the best Ryzen 5 3600 motherboards, it includes onboard diagnostics postcodes. In addition to the SupremeFX S1220A audio chipset, it features pinpointing positioning in-game and clear audio. It is a great choice for users of Bluetooth peripherals and audio devices because it has the latest AX type WiFi and BT 5.0 wireless connectivity. It is almost always more stable to use the onboard WiFi and Bluetooth devices. Modern-day applications require the capability of connecting USB 3.2 Gen2 Type-C USBs and 18 other USB ports.
SPECIFICATIONS
Socket: AMD AM4 | Chipset: AMD X570 | Form Factor: ATX | Voltage Regulator: 12+4 | PCIe x16: 3 | USB Ports: 15 | Warranty: 3 Years
Pros
Compatible with the AM4 socket

Diagnosis by number

Support for multi-GPU PCIe 4.0
Cons
M.2 slots are limited to two

There is no USB controller
3. MSI MEG X570 ACE – Best Overall Motherboard for Ryzen 5 3600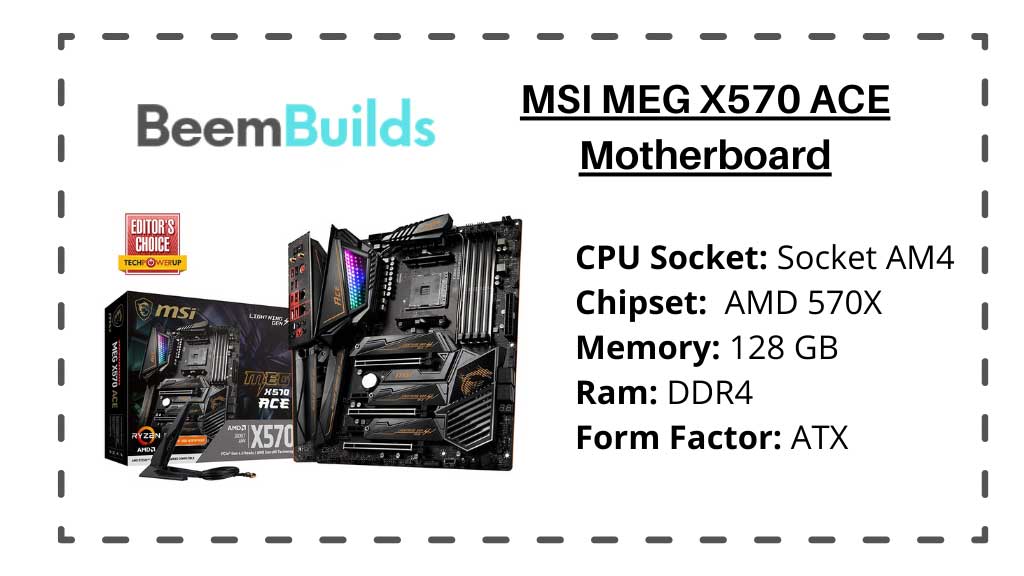 In any case, MSI MEG X570 ACE is the best overall motherboard for Ryzen 5 3600 if you want the best bang for your buck yet are willing to spend premium dollars. Designed to work with AMD's latest Ryzen 5000 series processors. Each of the three M.2 slots is heatsink-covered with vicious-looking material, and the motherboard's active chipset cooling keeps performance high. When the computer is idle, the active fan cooling stops spinning in order to keep the level of noise low. RAM has been overclocked to 5000MHz and beyond.
It has been reported that people have experienced issues with the RGB strips and ARGB headers due to non-update of the BIOS. The most common issue was resolved after a BIOS update, so upgrade your mobo before using it. This motherboard does not support Dual BIOS, nor does it feature voltage monitoring. Its heat sinking property is excellent, taking the heat generated by the VRM cooling to the chipset cooling.
It is equipped with two LAN chipsets for creating a small network at home. Most places in the world have local gaming networks that offer these features during competitive environments. Thanks to the subtle RGB lighting under the mirror, your rig will stand out from the crowd. For high-end gaming PCs, this is a must-have feature, since it supports SLI and CrossFire.
This wireless computer has both WiFi-6 and BT 5.0 to make data transfer, syncing, and connecting peripherals easy. In addition to these features and specs, it is the best motherboard for Ryzen 5 3600.
SPECIFICATIONS
Socket: AMD AM4 | Chipset: AMD X570 | Form Factor: ATX | Voltage Regulator: 12+2+1 | PCIe x16: 3 | USB Ports: 13 | Warranty: 1 Year
Pros
Gigabit LAN and 2.5G onboard

An M.2 card with 3 PCIe 4.0 slots and heatsinks

Component cooling is efficient and allows for excellent OC performance
Cons
U.2 ports are not available

Ports for SATA are limited
You may also love to read: Best Motherboard for Ryzen 7 1700x
4. MSI B450 TOMAHAWK MAX – Best Budget Motherboard for Ryzen 5 3600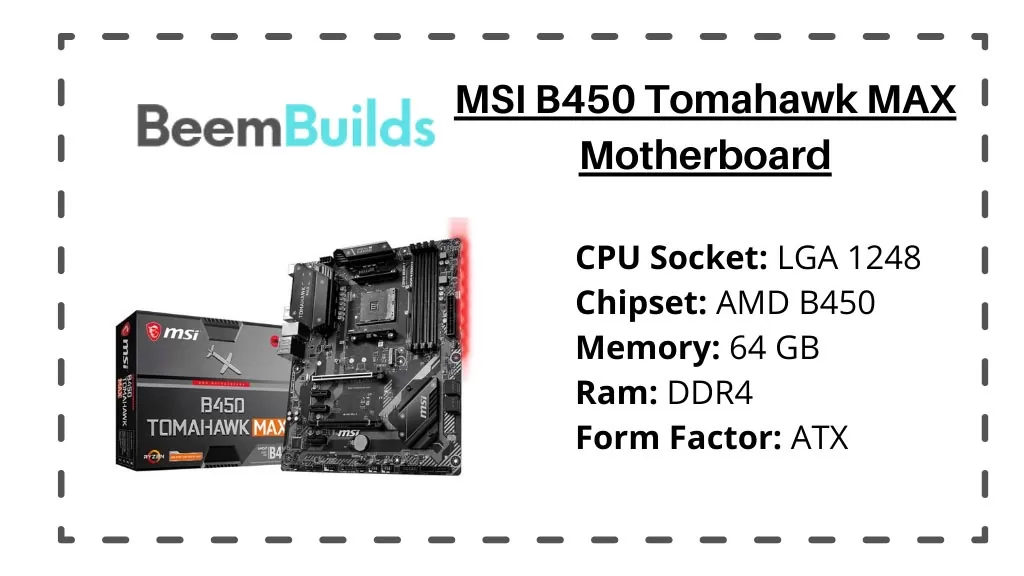 The most difficult thing to do is build an affordable gaming PC. Picking a motherboard with the right combination of features is challenging. It is important to consider both the scope of your project and the hardware you will need to connect. To simplify the entire process, MSI developed the B450 TOMAHAWK MAX. It's an excellent budget motherboard for Ryzen 5 3600. An above-mid-range gaming PC's motherboard includes all the essential connectivity.
In addition to its 11 USB ports, this gaming laptop comes with a Type-C USB 3.2 Gen2 port and is an excellent choice for gamers.
Ryzen 5 3600 is just right with the B450 chipset. It has a few minor drawbacks, however. Owners of the new RTX 3000 series may encounter a problem due to the lack of PCIe 4.0. PCIe 3.0 may slow down your GPU, but not to the same extent as a slow CPU. The fact that only one M.2 slot is provided on the motherboard might be a problem for some users. In the absence of dual M.2 slots, fast data access may be limited.
In regards to Ryzen 5 3600, it does not pose a problem to the latest generation GPUs. MSI's B450 TOMAHAWK MAX comes with a VRM set that allows RAM speeds up to 4133MHz. There is enough room for overclocking on this motherboard. The manufacturer recommends avoiding hardcore overclocking as four VRMs are just enough to reach the max clock speed of Ryzen 5 3600. For old-fashioned window users, it has a PS/2 port and a BIOS flash button on the back panel.
SPECIFICATIONS
Socket: AMD AM4 | Chipset: AMD B450 | Form Factor: ATX | Voltage Regulator: 4+2 | PCIe x16: 2 | USB Ports: 11 | Warranty: 1 Year
Pros
Gaming heatsinks with heavy plates

RGB headers were supported by MSI Mystic Light

Using Steel Armor to protect VGA cards
Cons
Wi-Fi is not available

Two M.2 slots aren't present
5. MSI MPG X570 GAMING PLUS – Best Enthusiast Motherboard for Ryzen 5 3600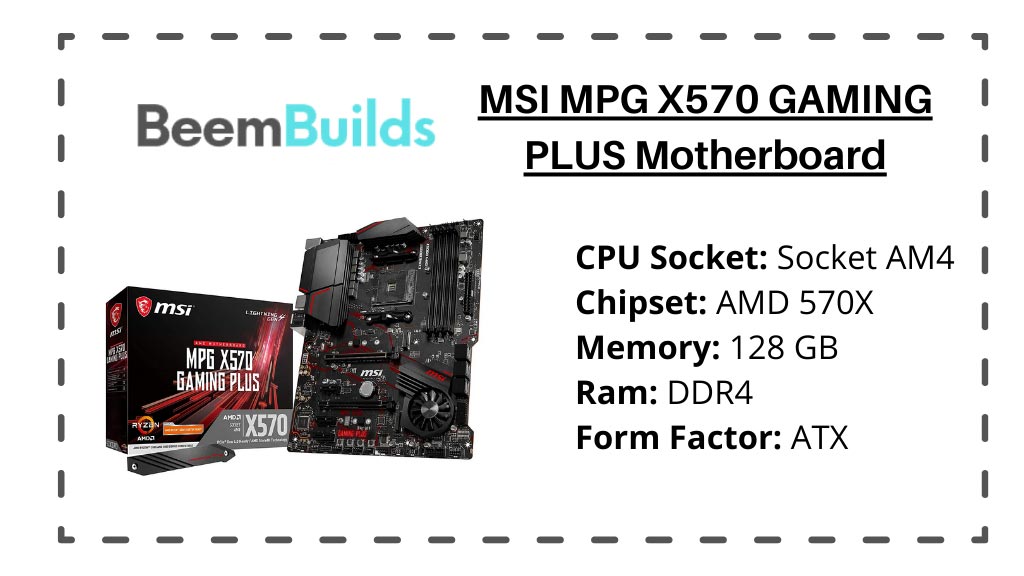 The MSI MPG X570 GAMING PLUS comes in first place when it comes to value for money. It has just enough VRM for a decent overclock of Ryzen 5 3600. The memory can also be run at 4266MHz with this motherboard. The aesthetic is clean, with red and black colors, leaving space for a high-performance air-fin cooler to handle the 65W TDP. Fast data transfers are supported via two M.2 slots. A single heat sink is sufficient to eliminate throttling right from the box when using an M.2 slot.
People new to overclocking or tweaking hardware will find the BIOS user-friendly and easy to use. In spite of its dislike by many, active cooling still holds a higher potential for preventing hardware failures. The fan speed can be altered according to the load and temperature. Keeping the GPU cool is MSI's goal with its active cooling system. However, connecting SATA devices to the motherboard required removing the GPU. 
The pump and reservoir are connected to it. For a bottleneck-free experience, overclockers and noiseless PC enthusiasts need liquid cooling. The motherboard is covered by two years of warranty. 
In the event that BSOD or bootup problems occur, the back panel contains a BIOS flash button for restoring the BIOS to its original state. This device supports the best RAMs on the market.  Large heatsinks are present on the VRM, which provide enough cooling for high-frequency overclocking.
SPECIFICATIONS
Socket: AMD AM4 | Chipset: AMD 570X | Form Factor: ATX | Voltage Regulator: 8+2 | PCIe x16: 2 | USB Ports: 16 | Warranty: 2 Years
Pros
Design of extended heatsinks

LEDs on the onboard diagnostics board with a clean BIOS

Compatible with DDR4 memory running at up to 4400+(OC) MHz
Cons
Support for SLI is not available

GPU must be removed from SATA connection
6. ASRock B450 Pro4 – Best ATX Motherboard for Ryzen 5 3600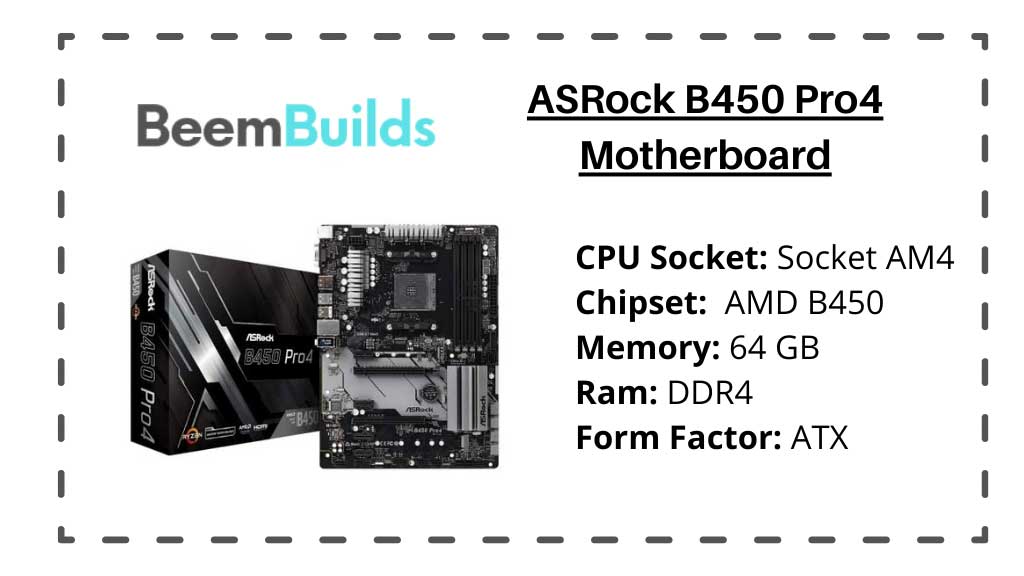 The ASRock B450 Pro4 motherboard. Its incredible price for its features is something no one can complain about. With the 8+1 power phase VRM, Ryzen 5 3600 can be overclocked to its full potential and 128GB RAM can also be clocked at 3200+ MHz. Users without a GPU can purchase this motherboard since it supports 4K on HDMI and DP 1.2 ports. Due to its multi-GPU support, it is one of the top graphics cards. There is no doubt that this is the best ATX Motherboard for Ryzen 5 3600.
This motherboard matches the Ryzen 5 3600 processor perfectly, which is rarely the case. When buying this motherboard, you should take a few things into consideration. 
When it comes to RTX 2000 series GPUs, look no further than this motherboard. PCIe 4.0 isn't present on this motherboard, so the RTX 3000 series may bottleneck. Furthermore, the audio chipset on this motherboard isn't widely known or appreciated. Keeping the game performance accurate is just enough.
You get two PCIe 3.0 x16 slots, two USB 3.1 Gen2 Type-C ports, and two M.2 drive slots for this price. A Type-C connection with a power output of 3.0A is capable of supporting most peripherals on the market. The M.2 drive can transfer data at 10Gbps as well as PCIe Gen3 x4 Ultra M.2 for 32Gb/s data transfers. Thick copper layers ensure long-lasting performance at this price point. A must-have if you're considering Ryzen 5 3600.
SPECIFICATIONS
Socket: AMD AM4 | Chipset: AMD B450 | Form Factor: ATX | Voltage Regulator: 6+3 | PCIe x16: 1 | USB Ports: 13 | Warranty: 1 Year
Pros
Support for three monitors

3200+MHz OC for 128GB RAM

Radeon GPUs with quad GPUs
Cons
There is no USB 3.2 Gen2

The audio quality is poor

You might consider this option if you do not wish to spend a penny more than you need
You may also love to read: Best Motherboards for i7 6700K
7. ASRock B450M Pro4 – Best mATX Motherboard for Ryzen 5 3600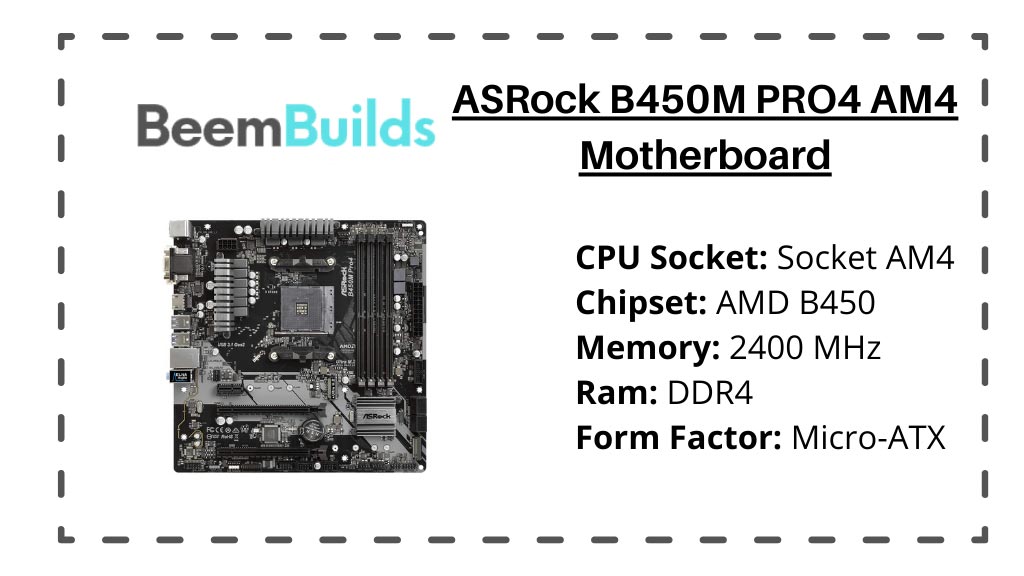 Those who are gamers might want to opt for a small rig with plenty of horsepower. ASRock gaming PCs offer the best value. ASRock B450M Pro4 is your best option if you want a powerful mid-range PC. There is support for overclocking RAM up to 3200+, and a three-monitor setup is rare at this price point. All chassis designs/colors go well with black and white.
Dual M.2 slots delivering 32Gbps transfer speeds are integrated into the micro-ATX form factor by AsRock. Additionally, files can be accessed just as fast when stored on SSD rather than HDD. The board does not have bling, and bling means RGB lightning, but it does have an ARGB header and a RGB header. The low overclocking speed of memory may cause some users concern, but benchmarks find that RAM overclocking only improves performance marginally. Using a lower power CPU or GPU has more impact on output than fewer frames per second.
The Ryzen 5 3600, however, won't require overclocking if you're a frequent overclocker. Those who wish to run older Windows versions might find this motherboard attractive if they require the PS/2 port. As well as being cheap, it has good overclocking performance. A small motherboard that supports multiple GPUs is also quite impressive. CrossFireX and Quad CrossFireX are supported. Radeon GPUs are also supported. This is the best mATX motherboard for Ryzen 5 3600.
SPECIFICATIONS
Socket: AMD AM4 | Chipset: AMD B450 | Form Factor: Micro ATX | Voltage Regulator: 6+3 | PCIe x16: 2 | USB Ports: 8 | Warranty: 3 Years
Pros
Micro-ATX with two M.2 slots

Radeon GPUs with quad GPUs

Glass fabric PCBs with high density
Cons
There is no RGB onboard

No support for PCIe 4.0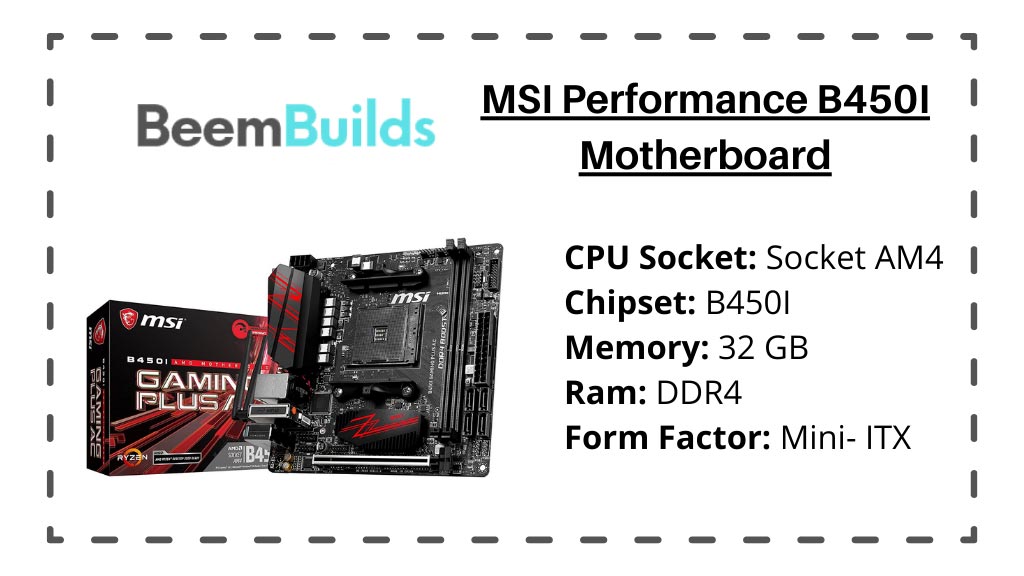 In order to fit into a small chassis, the motherboard must be powerful. That's exactly what you get with MSI's B450I Gaming Plus AC motherboard. You'll be able to stay in contact with WiFi-5 and BT 4.2 due to the support for wireless connectivity. Ryzen 5 3600 running at its maximum frequency and DDR4 RAM reaching 3466(OC) MHz are possible thanks to the 6+2 VRM. 
For a gamer, it has everything they need. Unfortunately, it has a few shortcomings. The only RAM slots allow a RAM capacity of 64GB. The only M.2 slot accommodates a hard drive. These issues are mainly caused by the motherboard's small size. Any manufacturer would find it difficult to cram all ATX motherboard features into such a tiny space. 
The decision rests with the user. This is the expectation of the mini-ITX market. WiFi-6 support is not offered by the B450 chipset. As the best mITX motherboard for Ryzen 5 3600, the mITX motherboard for Ryzen 5 3600 is a very good package overall.
On the motherboard, diagnostic LEDs facilitate troubleshooting. In addition, MSI claims that the system is capable of 24-hour gaming online or off, and its components are made of high-quality materials for long-lasting and reliable performance. Microsoft's software for Windows Installer is always on point and able to improve performance. Two of the most popular products are X-Boost and Command Center. Xboost's command center makes overclocking easy and can improve data transfer speeds from USB and M.2 drives. Besides controlling fan speeds and clock frequencies, it offers other useful features as well.
SPECIFICATIONS
Socket: AMD AM4 | Chipset: AMD B450 | Form Factor: Mini-ITX | Voltage Regulator: 6+2 | PCIe x16: 1 | USB Ports: 13 | Warranty: 1 Year
Pros
A one-click solution for VR

Designed to operate 24 hours a day

Protecting DE-POP with Audio Boost
Cons
One M.2 slot

It is not possible to connect via USB Type-C

MSI has offered users of the Ryzen 5 3600 one of the best mini-ITX motherboards at a reasonable price.
You may also love to read: Best Motherboards for Ryzen 5 5600X
Frequently Asked Questions
Is Ryzen 5 3600 compatible with the best motherboard?
As the best motherboard for Ryzen 5 3600 processors, we recommend the MSI MPG x570 Gaming Plus. GPUs and SSDs will not be slowed down by it. It will be affordable as well. It has the right mix of features and connectivity that modern-day computers need.
Are Ryzen 5 3600 processors supported by B450 Tomahawk Max?
B450 Tomahawk Max is compatible with AM4-socket processors. Asrock motherboards supporting Ryzen 5 3600 include the B450M Pro4. This processor is best suited to budget-friendly options. It will be future-compatible on the best motherboard, but it will also be overkill on the Ryzen 5 3600.
What is the compatibility of Ryzen 3600 with B450?
B450 was originally announced as not supporting Ryzen 3000 series processors, but AMD has since retracted that statement and enrolled support for older chipsets with a simple BIOS update. In conjunction with the B450 chipset, MSI's TOMAHAWK MAX B450 is a good recommendation.
What is the best motherboard for Ryzen 5 3600?
Although it is technically feasible, it does not mean that it is economically feasible. Although it is the best motherboard for the Ryzen 5 3600, the Asus ROG Crosshair VIII Formula is not the only choice. Despite its high performance and high-class features, it is not cheap. In the future, this motherboard can be upgraded by adding a processor or GPU.
Conclusion
We assume you intend to buy or already own a Ryzen 5 3600. If you are a budget-conscious user, you may prefer products that provide stability and performance. Due to these reasons, we have listed the best Motherboards for Ryzen 5 3600, such as the ROG Crosshair VIII Formula, as well as the best budget option, such as the ASRock B450 Pro4.
We thoroughly analyzed each motherboard to assist you in making a wise decision. In terms of power, Ryzen 5 3600 supports the latest game titles and will continue to be supported for a couple of years. We recommend the x570 chipset if you own an RTX 3000 series card, as it is compatible with the future and has all the connectivity support for the latest technology.
MSI MPG X570 GAMING PLUS is included to provide an economically sound solution with PCIe 4.0 support. In addition, we had some motherboards for HTPC enthusiasts that would serve as a primary gaming PC. Ultimately, the user must decide which option is best suited to their needs.
Related: