There's nothing quite like building your own gaming PC. This experience is an opportunity to perfect one's skills over time. Several factors are involved in making a perfect PC and a lot of it comes down to your budget, how big and how beautiful you want it to be, and what type of hardware you have. You may also love to read Best Unique PC Cases
Our team has compiled a list of contenders that may be worthy of containing your precious build, to help you make your decision. We have listed the 13 Best White PC Cases for 2023.
Best White PC Cases in 2023 Round-Up
Here are 13 of the best white PC cases on the market as of right now, as listed below. 
Best white PC Case overall – Phanteks Eclipse P600S Glacier White
Best corsair white pc case – Corsair iCUE 5000X RGB White
Best white PC case for the money – ASUS TUF Gaming GT501 White Edition
Best white PC case for showcasing builds – Lian Li 011D XL White
Best premium white PC case – ASUS ROG Strix Helios GX601 White Edition
Best affordable white PC case – LIAN LI LANCOOL2
Best silent white PC case – BE QUIET! PURE BASE 500DX White
Best budget white PC case – Cooler Master MasterBox TD500 Mesh White
Best open air white PC case – Thermaltake Core P3
Best mini-ITX white pc case – NZXT H210
Best cheap white pc case – Phanteks Enthoo Primo
Best mid-range white pc case – Phanteks Enthoo Evolv
Best white gaming pc case – In Win 101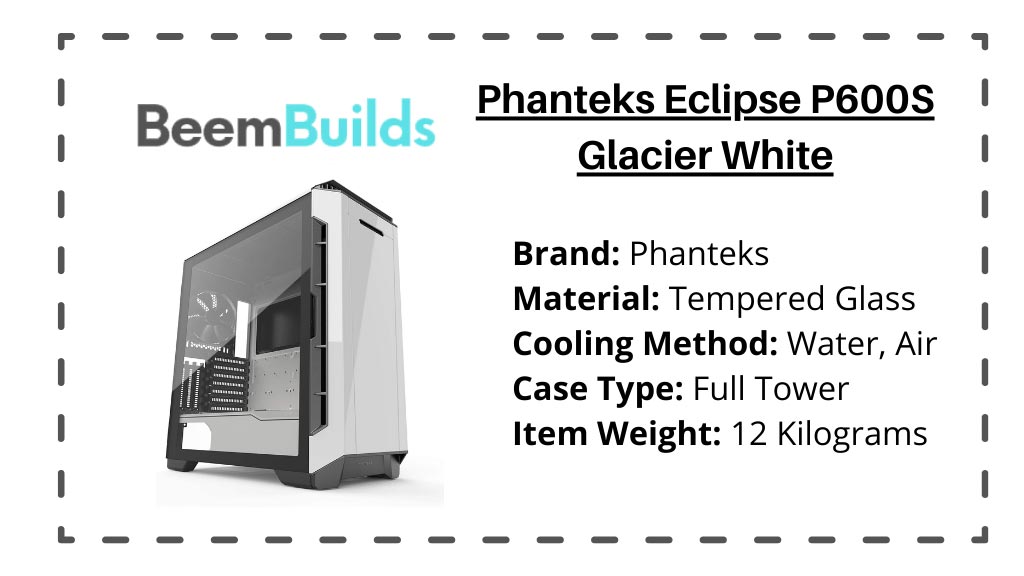 The design of white PC cases seems to fall into two categories. In the first instance, we want it to look modern and spacey, like something from the USS Enterprise (or even the actual Enterprise in a couple cases).
One option would be to have a white base with black trim, creating an intimidating effect similar to a stormtrooper. Phanteks Eclipse P600S Glacier White is undoubtedly the former.
A full-panel tempered glass window and dark gray vents accent the white panels. You can remove the front and top magnetic panels to expose mesh ventilation and increase airflow, or you can replace them to help dampen the noise from the fans. Installation and maintenance are simplified due to the modular nature of the design.
As for the case's construction, it feels high-quality inside and out, and each part is made of high-quality materials. As well as its durability, this case looks excellent and is one of the best paint jobs we have ever seen.
As you can see, this is an ATX case, often referred to as a mid-tower case, but this one is roomier than the typical mid-tower case, and therefore can handle virtually any build. 99% of builds will fit in an E-ATX case without issue, however, some extreme setups, like those with large cooling loops, may require one.
In addition, it comes with racks for four 3.5″ and three 2.5″ hard drives, as well as space for more than a dozen external drives. So if you plan to have lots of drives in your case, or already have many drives, the P600S will come in handy.
Phanteks is also known for its high-quality fans, which are installed in the Eclipse P600S, as well as its high-quality cases. The Eclipse P600S includes three 140mm fans (two in the front, one in the rear) with space for six 140mm fans total (three in front, two on top, and one at the rear) and is pre-installed with the fan hub that can fit 8 fans.
Alternatively, there is room for 7 120mm fans overall (three in front, three on top, one at the rear). A large liquid cooling system can be installed in this case as well, with room for a 420mm radiator at the front, a 360mm on top, and a single 120mm at the rear.
You may also love to read: Best Horizontal PC Cases
For powerful and high-performing rigs, the P600S is well equipped to provide adequate cooling. The high-airflow and noise dampening design of this case means your build will remain cool and quiet regardless of the environment-isn't that what we all want?
Furthermore, the front I/O panel is concealed behind a small magnetic panel similar to the noise-canceling panels covering the performance mesh. If nothing is plugged into the headphone jack or the USB-A or USB-C ports, this helps make the case look more solid and smooth. Even if you aren't, it'll be a spare piece that you'll easily lose and become loose on your desk.
Its many advantages make the Phanteks Eclipse P600S Glacier White a stellar case. Aside from the great build quality, great looks, great airflow, plenty of storage and cooling capacity, and a cable management system that makes cable management a breeze, this case has pretty much everything you could ask for in a case.
As far as we are concerned, there are no significant drawbacks, let alone one that would cause us to switch. We strongly recommend that you get one of these before they run out of stock as this is by far the best white PC case you can currently purchase. 
SPECIFICATIONS
Form Factor: Mid Tower | Motherboard Support: E-ATX, ATX, Mini-ITX, microATX | Drive Bays: 3x 2.5", 4x 3.5" | Radiator Support: 120mm, 140mm, 240mm, 280mm, 360mm, 420mm | Included Fans: 3x Phanteks 140mm fans | Dimensions: 520 x 240 x 510 mm | Weight: 29.8 lb / 13.5 kg | I/O Ports: USB 3.1 Type-C, 2x USB 3.0, HD Audio
Pros
High-quality construction

Cooling and storage space is ample

Good airflow

Despite heavy load, it is very quiet

The water cooling industry has immense support

Construction streamlined through modularity

The performance mode and the quiet mode are easily switchable

Exceptional cable management system

An affordable price
Cons
It is not possible to choose a window or side panel in the Glacier White edition

Weighs more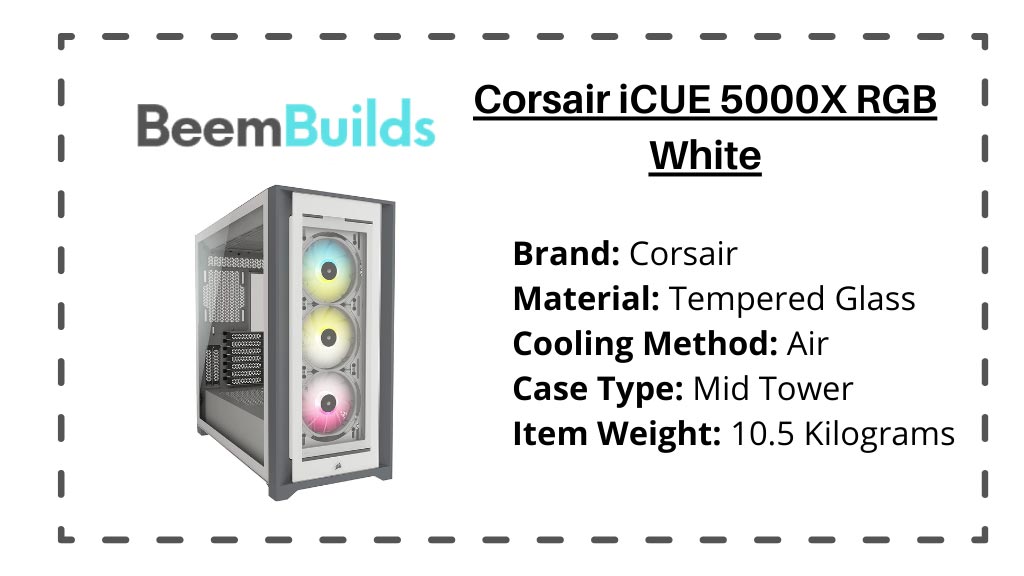 The Corsair iCUE 5000X may be good for a number of reasons. Featuring clean lines and tempered glass side panels, it's an ATX case that you can imagine how it would look displaying a custom build, especially with some RGB to play with. With three RGB fans already installed, this case seems like a great choice from the moment you open the box.
Aside from its dimensions, the 5000X is quite big for an ATX case. It measures 20.5x 9.6 x 20.5 inches. There is a power button and a reset button on the front panel, as well as two USB ports and one USB-C port, as well as a headset jack.
We have built this case to let you know about and showcase the powerful components you have used in your build. It's not impossible that the tempered glass side panel and the dedicated space for 10 120mm or 4 140mm fans play a big role in that.
Three of them are built-in, and they have Corsair's proprietary vortex shapes, which improve cooling. Most casual or intermediate users will be satisfied with that alone, but the additional cooling capacity will allow them to cope with the heat from overclocking or other high-powered builds.
You can also mount three radiators on the mounting areas for the fans if you're intending on building a liquid-cooled computer. In addition, the front and top of the board have 360mm spaces, and the back has 120mm space for the rear fan.
Another aspect of this case that helps you showcase your build is how well it manages cables. In the corsair iCUE, there are channels with a depth of 25mm that will accommodate all major wires for your build, which you can easily accent with clips and straps so your cables become part of the design rather than merely a clutter. You can also cover and easily hide them if that's not your style.
You may also love to read: Best RGB PC Cases
With the GPU being able to be installed vertically, this case is ideal for keeping your new 3090 cool while keeping it on display.
As they are part of the corner column, the legs are typically more sturdy, though they are also narrow, which could add a little complexity to the stability process. As far as towers go, it doesn't come with a handle, but that is not a big deal. However, its smaller size might make it more appealing to people who want something portable.
As an overall choice for those looking to build a white-themed rig, the Corsair iCue 5000X is an outstanding option. This unit is well suited for high-end performance builds because it has plenty of space, ample connectivity, and plenty of cooling potential. While these cases might cost a bit more, they offer exceptional performance, quality, and design.
SPECIFICATIONS
Form Factor: Mid Tower | Motherboard Support: ATX, Mini-ITX, microATX | Drive Bays: 4x 2.5", 2x 3.5" | Radiator Support: 120mm, 140mm, 240mm, 280mm, 360mm | Included Fans: 3x Corsair 120mm SP RGB ELITE | Dimensions: 520 x 245 x 520 mm | Weight: 13.8 kg / 30.5 lb | I/O Ports: USB 3.1 Type-C, 2x USB 3.0, Audio
Pros
Thousands of tons of cooling potential

Showcase your builds with ease

Exceptional build quality

An elegant white design

USB ports are plentiful

RGB fans already installed
Cons
Costs go up

If you install the GPU vertically, you won't use the space effectively
A white steel construction and black steel trim serve to emphasize the imposing appearance of ASUS TUF Gaming GT501 White Edition. A unique angular design allows the front plate to look strong while allowing just enough airflow to cool the fan. With smoked glass side panels and vertically mounted GPU support, you can showcase your components. This is a powerful, beautiful, and high-quality case and can hold the parts necessary to support it.
The case measures 25.2 x 25.8 x 13.3 inches, and has a large capacity that can accommodate large EATX builds, along with the additional components that can accommodate them.
 Besides having standoffs for all smaller motherboards (ATX, mATX, and mini-ITX), it is also such a large package that anything below ATX is going to be a poor use of space.
Among the four preinstalled fans on the case, four are 120mm fans. The three front fans are 120mm Aura Sync RGB fans, while the back fan is a 140mm PWM (Pulse Width Modulated) fan that allows varying speeds for better cooling performance.
ASUS gaming motherboards can automatically sync with all of them, but other brands can also be controlled. It is possible to install seven 120mm fans total, so three more can be added.
It is also possible to replace them with five 140mm fans. Liquid cooling can be achieved by installing two 360mm radiators on the front and top, with a third 140mm radiator against the motherboard. Despite only having two USB ports, a microphone, and a headphone jack on the front panel, it's adequate for most people's needs.
If you are not using all ASUS parts, cable management can be a bit fiddly. However, if you do, the cables are neatly organized. It's important to feed the cables correctly and angle them if you're not.
Portable is a relative term when it comes to this case. It is sturdy and stable enough due to the steel alloy construction and the wide rubberized legs, which make it easy to move and place.
The ergonomic woven handles support a weight of up to 30kg (roughly 66 pounds) for a convenient carry. In contrast, it weighs 23 pounds and stands at two feet tall. This makes it less portable. If necessary, it can be taken along with you.
You may also love to read: Best Alternatives to the Dancase A4-SFX & Louqe Ghost S1
As another outstanding white case option, the ASUS TUF Gaming GT501 White Edition is also a good choice. Performance and durability are the two main selling points, but we find the design quite appealing as well. Thus, if you're looking for a budget-friendly, high-performing case with high quality and good looks, we recommend this best white pc case.
SPECIFICATIONS
Form Factor: Mid Tower | Motherboard Support: EATX (12″ x 10,9″), ATX, Micro-ATX, Mini-ITX | Drive Bays: 3x 2.5", 4x 2.5"/3.5" | Radiator Support: 120mm, 140mm, 240mm, 280mm, 360mm | Included Fans: 3x 120mm Aura Sync RGB, 1x 140mm PWM | Dimensions: 552 x 251 x 545 mm | Weight: 10.5 kg / 23 lbs | I/O Ports: 2x USB 3.1 Gen 1, Mic, Headphone
Pros
A durable and high-quality construction

The battle station can be powerful and portable

Ample cooling capacity

A good price for what you get

Aesthetically pleasing

Easily built in, spacious
Cons
The smoked glass panel can sometimes obscure the data when it comes to true showcasing

Design is hampered by handles
4. Lian Li 011D XL White – Best white PC case for showcasing builds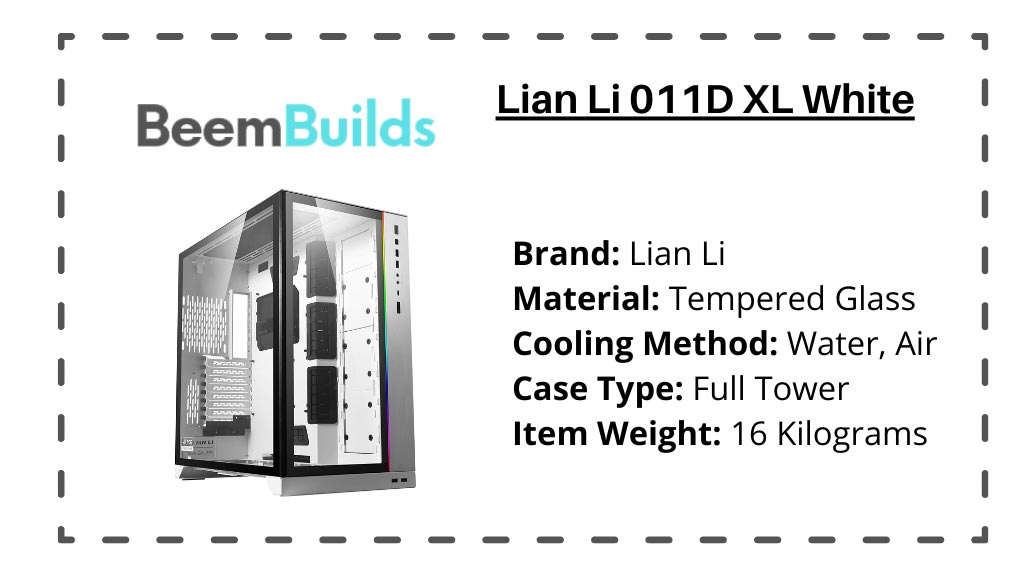 In building your PC, you've carefully considered both aesthetics and performance. If you bring the beast home, what you need is a terrarium, not a case. This Lian Li 011 Dynamic XL is just what you need.
Both sides and the front of this tablet are covered in tempered glass. A thin strips of RGB light separate the front glass panel from the slim aluminum plate that holds the USB slots and power button. Views from all angles are possible, allowing you to fully utilize the appearance of other components you may have selected as well as the RGB lighting you may have installed.
There are three main motherboard sizes that can be used in this case – from mATX to E-ATX. The aluminum and glass components make it fairly heavy. It weighs a little under 26 pounds altogether. 
In addition to adding stability to the case, the legs also run the width of the bottom. If portability is a priority, this is not the best option. It has sharp corners as well, so it's not ultra portable.
An air-cooled machine won't be able to install fans along the front of the enclosure, limiting cross ventilation and requiring more work from the fans. There is still room in the chassis for up to ten 120 mm fans, unfortunately none of them come preinstalled.
You will need to install fans at the top and bottom to ensure air flows straight across the interior. If you prefer, you can use liquid cooling with support for up to three 360mm radiators. Unlike many similar boards, this one has a full-size radiator.
As visibility increases, cable management becomes more important. There are five portals outside the main compartment of the 011 Dynamic that lead to a space with rubber flaps that hold cables in place. This approach to cable management is an out-of-sight, out-of-mind approach. It seems to work fairly well.
You may also love to read: Best Smallest ATX Cases
Two USB-C ports and top and bottom USB slots are on the front panel for easy access. Moreover, you can hot-swap HDDs, so you don't need to shut down or open the case to change storage – that's a fantastic feature you'll use often.
The Lian Li 011 Dynamic XL White case is a good option if you're going to fully assemble your build. High-quality construction, space, and versatility are among the features of the product. In addition, you can use this case for custom water cooling systems because it is cooler than most other cases. Show off your goodies with this case.
SPECIFICATIONS
Form Factor: Full Tower | Motherboard Support: EATX, ATX, Micro-ATX, Mini-ITX | Drive Bays: 10x 2.5" or 6x 2.5" + 4x 3.5"  | Radiator Support: 120mm, 240mm, 280mm, 360mm | Dimensions: 471 x 285 x 513 mm | Weight: 11.6 kg / 25.6 lbs | I/O Ports: 4x USB 3.0, 1x USB 3.1 Type-C, 1x HD Audio
Pros
Showcases builds well

Cooling system of the highest quality

Constructed of aluminum

Ample interior space

Connectivity is adequate

Easily adaptable

Builds quickly and easily
Cons
No fans installed

Costs are higher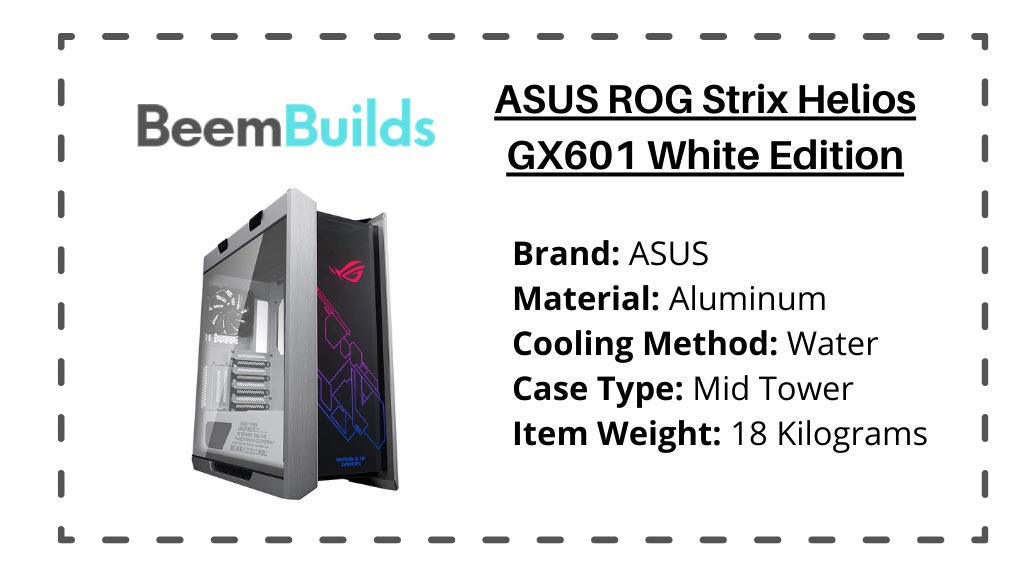 EATX case builders may find it tricky to find cases that are big enough to hold all their components without being overly bulky. In addition to that, the ASUS ROG Strix Helios GX601 is the best white pc case that offers a clean, sleek appearance while packing a large, powerful case.
The exterior of the house is covered in three panels of tempered glass, and the trim is silver-white. Especially RGB components with elements look good on this display. A built-in RGB light on the front panel allows you to make the most of your logos and designs. In terms of looks, it resembles more than a Wi-Fi router, so if you can't forget that you might want to deduct a few points.
An EATX case should be about the same size as you'd expect. 27.5 x 28.6 x 15 inches are the overall dimensions. Although it looks a bit slimmer because of its extra height and design features, it will take up more space as a result. It weighs almost 40 pounds, thanks to three tempered glass panels.
Although the extra weight won't be an issue normally, like the GT501 above, the GX601 provides fabric handles across the top, similar to those on the GT501. These might give a more organic look or they might seem haphazard and distracting depending on your preferences. They can hold up to 110 pounds, so as long as you feel comfortable carrying it around, they can easily handle the weight.
Tempered glass panels are not always conducive to cooling because they minimize airflow. Air can easily flow across your PC thanks to the frame Helios GX601 that extends to the front panel. Heat can also escape easily through the mesh top.
You may also love to read: Best RAM for Ryzen 5 5600x
In addition, there are four 140mm fans pre-installed in the case, three on the front panel and one in the back panel. The case can hold a total of six 140mm fans or seven 120mm fans if you add more fans or replace the existing ones with RGB-capable ones. The case does not have radiator mounts, so you will have to make custom modifications to liquid-cool the system.
A covered channel with GPU mount clips is included in this case, so cable management is largely out of sight and out of mind. Those of you who want to show off your cables will find that the back panel over this channel is translucent, allowing you to display your cable work if you've selected striking colors, but will allow the white connectors to be easily ignored.
On the I/O panel, you will find the usual USB and USB-C ports as well as access to the fans and RGB display, which is nice if you plan to use your RGB display.
This striking ASUS ROG Strix Helios GX601 case provides enough space for just about anything you could possibly need. It features lots of connectivity, good cooling potential, and, most importantly, is visually pleasing. Whether you're looking for a white PC case or something a little different, this is the case to go with. Pricey, but worth every penny.
SPECIFICATIONS
Form factor: Mid-tower | Motherboard Support: E-ATX, ATX, Micro-ATX, Mini-ITX | Drive Bays: 2x 2.5"/3.5", 4x 2.5" | Radiator Support: 120mm, 140mm, 240mm, 280mm, 360mm, 420mm | Included Fans: 4x 140mm fans | Dimensions: 565 x 250 x 591 mm | Weight: 39.7lb / 18kg | I/O Ports: 1x USB 3.1 Type-C, 1x HD audio/Mic, 4x USB 3.1
Pros
Constructed with durable tempered glass

A motherboard and three GPUs can fit in this case

Cooling capacity is ample

Featuring four 140mm fans 

Integrated RGB display with addressability

USB ports are plentiful
Cons
Mounts for radiators are not provided

Heavy in weight

An extremely high price
6. LIAN LI LANCOOL2 – Best affordable white PC case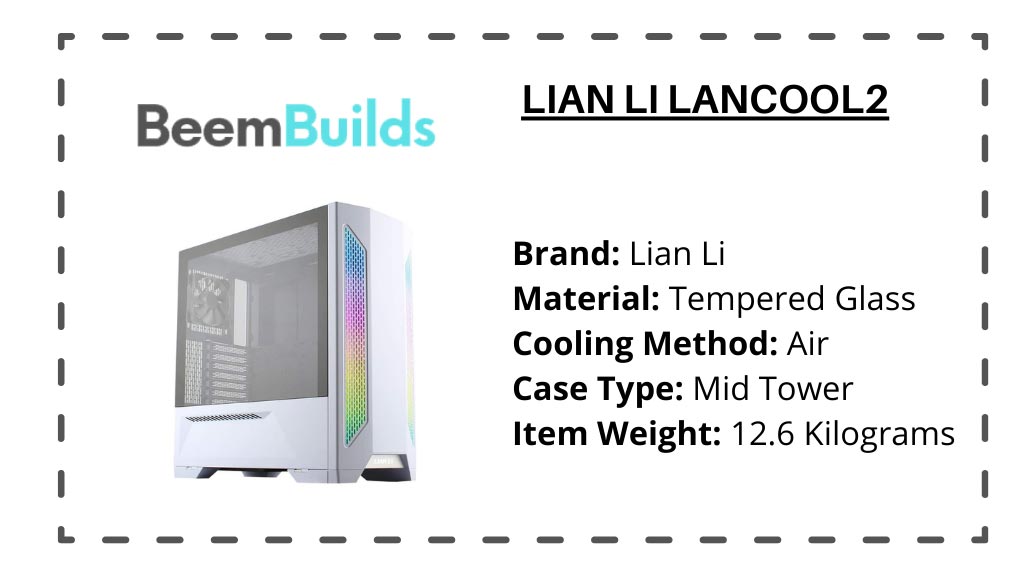 If you've ever played Portal, you might recognize the white edition of the Lancool 2. White mesh panels on the rounded front reflect a pastel glow from the RGB lights. A well-engineered utilitarian design is created by the folding of the side panels and the folding of the bottom metal panels. Despite its simplicity, this case is hard to forget because the brain cannot decide whether it's friendly or dangerous.
Although it's designed for support of up to E-ATX boards, it's still a compact case. The dimensions of this device are 478 x 229 x 494 millimeters. You'd have to use a relatively large GPU to take advantage of this space, and you'd have to use a bunch of cooling if you do.
EATX can theoretically be accommodated by rearranging some internal components, but it is unlikely to offer the best performance from EATX in this case. 
While the hinges provide a unique visual effect, some minor structural problems can occur as a result. Due to the case being steel, the frame shouldn't make any problems and you shouldn't have any issues with your build.
A total of eight 120mm fans can be installed on the LANCOOL 2, with three already pre-installed. There could be some problems with the airflow or the RGB, though, since these aren't very high-quality fans. Replace or augment them if you want your build to be as effective as possible.
The front of your PC can be cooled with a 360mm radiator, and the top with another 240mm radiator if you prefer liquid cooling. You won't be able to install as much in this case as in most others, but your options are likely to be limited by space, not cooling.
You may also love to read: Best CPU Coolers for Ryzen 5 3600
Managing cables in small cases like this can be challenging. In many cases, there isn't enough space to hide your cables in compartments or channels, but you can use shorter connectors. A removable clip on the Lancool 2 doubles as a cable channel, though if you opt for the EATX board (which we do not recommend for this case), you'll have to remove it entirely. The motherboard mounting bracket has a couple of compartments behind it, but their positioning and size are less than ideal.
Besides the RGB control through the I/O display, it has two USB ports, one USB-C port, and a headset jack.
Based on all of these factors, the LIAN LI LANCOOL 2 is the perfect case for midrange builds. You will be able to build a decent system if you pick mid-range parts and do not double up. If you are searching for a high quality, affordable white PC case, this case fits all the requirements. It is snow-white, well designed, well constructed, and affordable.
SPECIFICATIONS
Form Factor: Mid Tower | Motherboard Support: EATX, ATX, Micro-ATX, Mini-ITX | Drive Bays: 4x 2.5", 3x 2.5"/3.5" | Radiator Support: 120mm, 140mm, 240mm, 280mm, 360mm | Included Fans: 3x 120mm | Dimensions: 478 x 229 x 494 mm | Weight: N/A | I/O Ports: 2x USB 3.0, 1x USB 3.1 Type-C, Audio, Led Controls
Pros
Affordably priced

Constructed to the highest standards

Accessible side panels with hinges

Cooling capacity is sufficient

Designed entirely in white

Contains three 120mm fans
Cons
For the sake of making it EATX-compliant, some space and cable management have been lost

Low-quality fans are pre-installed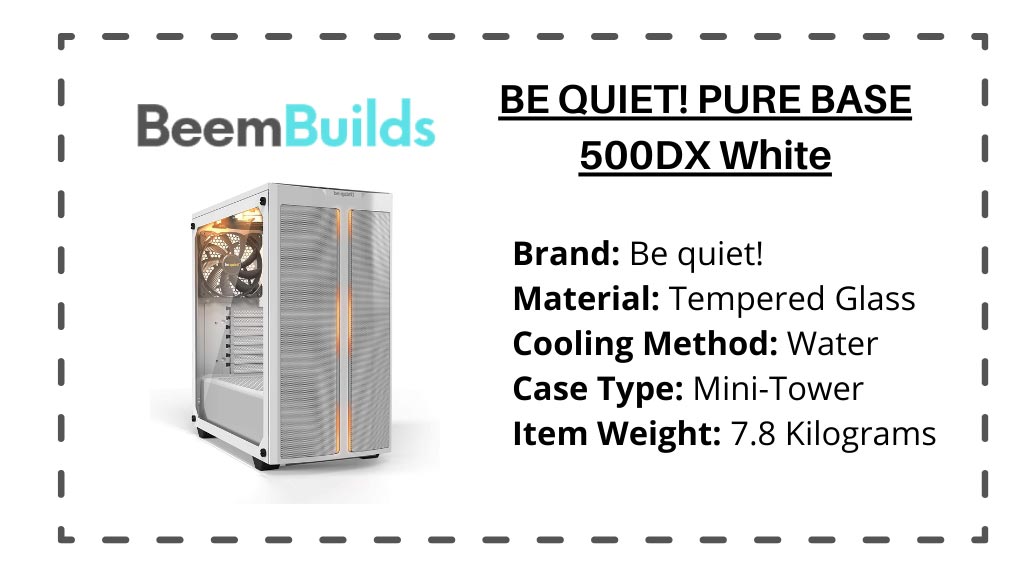 There is a lot to like about the Pure Base 500DX, especially when it comes to a budget mid-tower. Steel and tempered glass give it weight and durability, and the simple design does not look cheap.
Although the mesh front panel looks good out of the box, it has the potential to be damaged and broken over time, as it is made of plastic. This tower stands out from the pack because of its RGB lighting on the front and interior.
The ATX tower measures 20×11,5×19.75 inches, which is quite a bit bigger than most ATX towers. Components and airflow will be plenty. It is also compact and can be accommodated in a variety of spaces.
Keep quiet! Known for its ultra-quiet fans and power supplies, their products run at very low decibel levels. Their expertise is used to great effect in this case, which includes three 140mm Pure Wings 2 fans that run whisper-quiet even at maximum speed.
Its Pure Base 500DX has fans on its front, back, and top, as opposed to many cases with preinstalled fans.
 Due to their non-RGB nature, I have to replace the fans in the case entirely if I want to supplement the RGBs in the case. A few motherboards use a four-pin configuration, while many others use three-pin connectors.
For a total of five fans upfront, you can install two additional 140mm fans if you need more cooling power. Liquid cooling will require you to swap out the front fans for up to 360mm radiators, while the top fans will need to be swapped with fans that have 240mm or 280mm radiators.
You may also love to read: Best Low Profile CPU Coolers
Stay quiet! PSUs and fans are all manufactured by them, and they have given an extra attention to concealing the PSU and managing cables. At the bottom of the case, the power supply is protected by a shroud, and behind the motherboard, a large compartment houses the cables. The cable compartment can also be easily removed.
In addition to the headphone jack and mic jack, there is only one USB port and one USB-C port on the I/O panel. On the I/O panel, there is a switch that allows the RGB to be addressed, so customizing will be easier.
This is an overall great case for mid-range builds and an excellent choice for builder-friendly white cases. Even if you do not upgrade, the extra space and cooling give you scope to extend your build's performance. This best white pc case is a good choice if you value low price, white color theme, and silence.
SPECIFICATIONS
Form Factor: Mid Tower | Motherboard Support: ATX, Micro-ATX, Mini-ITX | Drive Bays: 5x 2.5", 2x 2.5"/3.5" | Radiator Support: 120mm, 140mm, 240mm, 280mm, 360mm | Included Fans: 3x 140mm Pure Wings 2 | Dimensions: 450 x 232 x 443 mm | Weight: 8.5 kg / 18.7 lbs | I/O Ports: 1x USB 3.2 Gen 1, 1x USB 3.2 Gen 2 Type-C
Pros
Constructed with quality materials

Price point that is affordable

Fans come pre-installed with super quiet motors

Clear tempered glass to display

The design is all-white and attractive
Cons
Plastic mesh covers the front panel

I/O panel does not have a reset button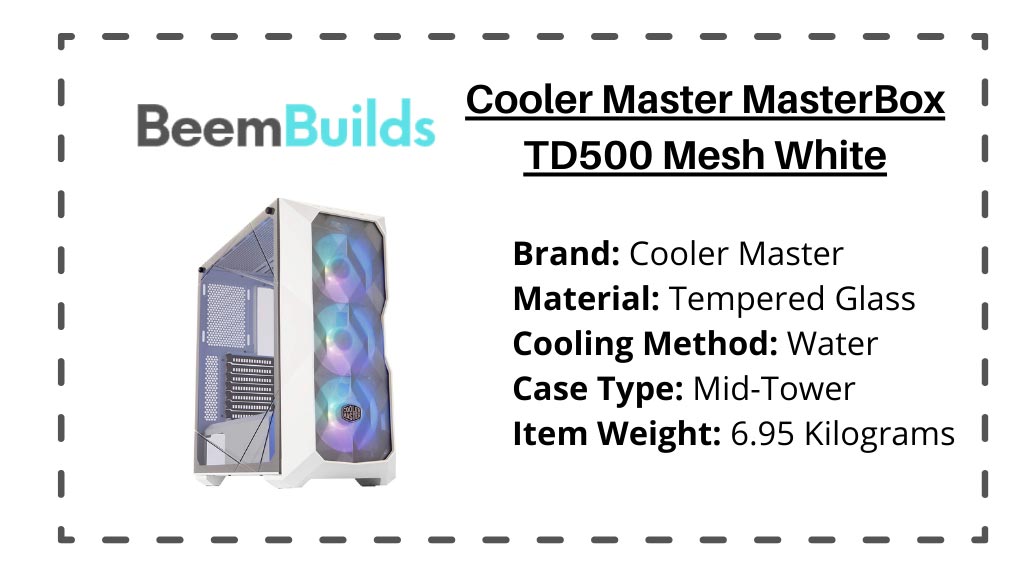 Cooler Master appears to have built the MasterBox TD500 by first asking how much air can be forced through a tower and then working backwards from that question.
Aside from providing excellent airflow and filtering, the polygonal mesh is absolutely gorgeous. Despite its unattractiveness, the mesh top provides a noticeable advantage to airflow and cooling.
Furthermore, by combining the mesh and tempered crystal glass panel with the white steel case, a lightweight, open appearance is created. If you are not placing it directly on your desk, then you will have to use more weight to stabilize it as the legs are tapered with rubberized feet.
A mid-tower case is typically much bigger, but the TD500 is a smaller ATX case at 19.4 x 8.5 x 18.5 inches in size. It's not uncommon for you to run into problems with space and ventilation if you decide to run two GPUs or overclock your CPU in a smaller case like this. The MasterBox has no such problems.
It would be a waste not to mount fans or radiators considering how much ventilation is available. Three front fans, three top fans, and one rear fan are supported.
The three front mounting holes are pre-installed with RGB addressable fans. It is a smaller case, so there are no 140mm fans compatible with it (unofficially, you can slide two 140mm fans onto the top, but the recommendation isn't to). Both the front and top radiators have 360mm diameters, so it can be used for liquid cooling as well.
Aside from cable management, this case is above average in just about every other regard. The motherboard is enclosed, and cables are fed through three wide ports behind the motherboard. Compared to other comparable cases, this is pretty basic, and a lot of them will have clips, channels, removable covers, etc.
You may also love to read: Best CPU Coolers For i7 8700k
This is, in and of itself, only a small complaint, but if you're a cable management fan, you might be disappointed.
It has all the basic ports and buttons: power, reset, two USB 3.0 ports, a headphone jack, and a microphone jack. It does not have a USB Type-C port.
This is one of the few mid-tower cases that will fit a high-performance gaming rig, but there are not many cases like it. This white case doesn't come with much to complain about, and it'll allow you to showcase your build in an impressive way, and regardless of the direction you take.
SPECIFICATIONS
Form Factor: Mid Tower | Motherboard Support: EATX (12″ x 10,7″), ATX, SSI CEB, Micro-ATX, Mini-ITX | Drive Bays: 4x 2.5", 2x 2.5"/3.5" Combo | Radiator Support: 120mm, 140mm, 240mm, 280mm, 360mm | Included Fans: 3x 120mm ARGB Fans | Dimensions: 493 x 217 x 469 mm | Weight: 7 kg / 15.3 lbs | I/O Ports: 2x USB 3.0, Mic, Headphone, ARGB Controller
Pros
A good case for the price

A cooling system with unparalleled ventilation

Panels and components for an open design showcase

360mm radiators can be installed

Building of high quality

Styled in all-white
Cons
Inelegant cable management

140mm fans cannot be installed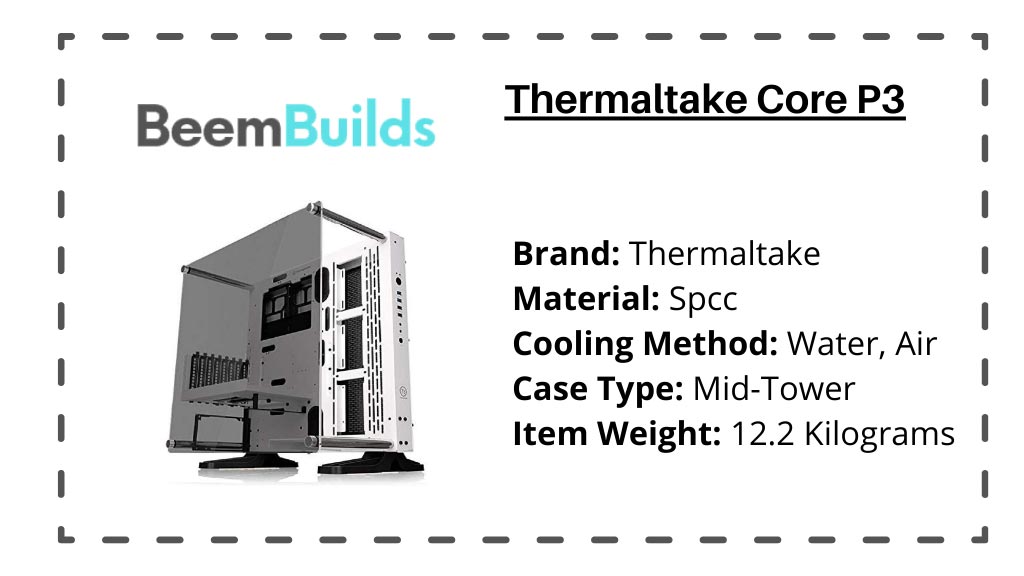 The Thermaltake Core P3 doesn't lack for anything to love. There aren't many cases on the list that are as customizable and as hefty to hold as this one is. A case like this is brilliant for anyone looking for a PC case that won't crack under pressure and offers a lot of design flexibility.
With a tempered glass front panel that measures 5mm thick, the P3 displays its interior build right away. Keeping up with the most intense gaming builds requires the support of the latest PC hardware and liquid cooling.
It's fully up to you how your PC comes together thanks to the dual GPU and dual PSU design. In addition to modular panels, racks, and brackets, we offer pre-designed mounting arrays that you can use to configure your system precisely to your needs. Also, the case allows placement of the stand in three different ways. If that's what best suits your setup, you can have your case vertically or horizontally positioned.
Especially at its budget price point of below $150, you can't find a better case than the P3 that really maximizes your flexibility. This case is ideal for installing large pieces of hardware (literally).
Two 3.5″/2.5″ drive trays are included on the back panel and located neatly inside the back panel, allowing you to avoid ugly cable management.
Several 120 mm and 140 mm fans are built into the P3, as well as a 420 mm radiator for keeping your system cool. It's your choice. You have a variety of I/O options including two USB 3.0 ports, two USB 2.0 ports, and one HD audio port.
How does its design appeal to me? Open frame designs like the P3 look great and provide extra cooling, so you shouldn't have a problem with overheating with this system. If this still doesn't seem enough customization, you'll have the option to adjust the 16.8 Million RGB Fans to your liking. The way this case is packaged makes it appear as if it is the end-all.
You may also love to read: Best Ram for i7 11700k
The P3 is an excellent choice for any gamer looking to build a powerful PC due to its endless customization options, strong tempered glass, and hefty build. Although the case is very hefty, its dimensions aren't that large to be a hindrance when it comes to fitting your setup. 20.2″ x 13.1″ x 18.5″. When it comes to a durable, easy-to-cool case that's endlessly customisable, the Thermaltake Core P3 is your best bet.
SPECIFICATIONS
Form Factor: Mid Tower | Motherboard Support: Mini ITX, Micro ATX, ATX | Drive Bays: 2x 2.5" or 2x 3.5" | Radiator Support: 120mm, 140mm, 240mm, 280mm, 360mm, 420mm | Included Fans: N/A | Dimensions: 512 x 333 x 470 mm | Weight: 10.3 kg / 22.7 lbs | I/O Ports: 2x USB 3.0, 2x USB 2.0, HD Audio
Pros
Exceptionally versatile

Builds with water cooling are excellent

Constructing with quality

A great way to showcase

Connectivity is abundant

A reasonable price
Cons
Not compatible with USB Type-C

Not suitable for air cooling

No fans are included
10. NZXT H210 – Best mini-ITX white pc case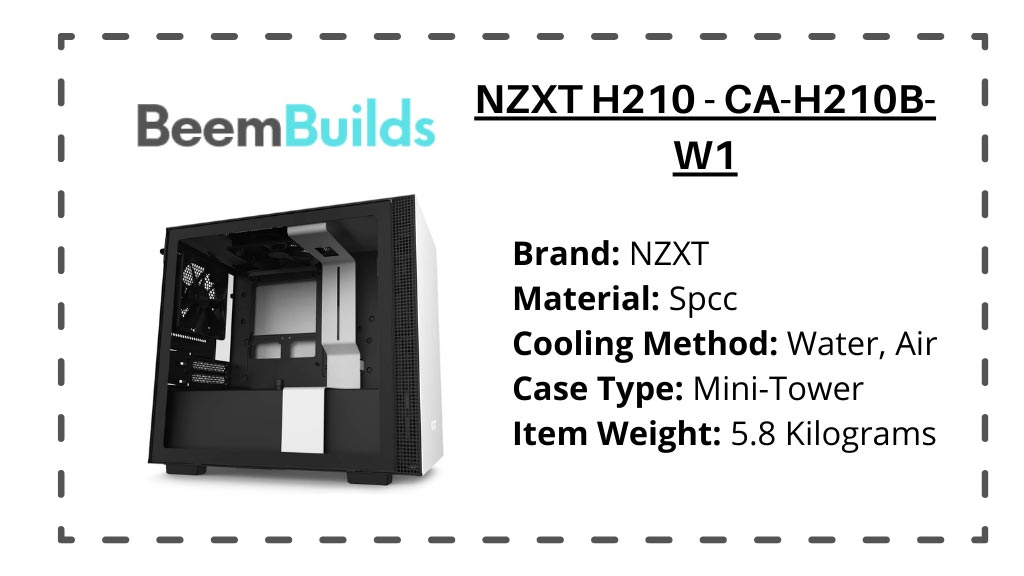 The NZXT H210 could be the right choice if you're looking for a compact case with plenty of customization options. The NZXT H-series Midi is a great case for budget users who are looking for a smaller model but have been eying this brand.
Despite its modest design, this is yet another case that offers a sleek, understated look for those seeking a monochrome PC. Featuring a black (or white) surface with the NZXT logo, the front looks great. Its I/O ports are discretely hidden on the top of the case, which includes a power button, one USB 3.1 Gen2 Type-C, one USB 3.1 Gen1 Type-A port, as well as a headset audio port. You can get more than enough ports with the H210 if you're not looking for tons.
Defining your unique build will be easy thanks to the tempered glass side panel. Although it's not as easy to open as the 101, it's still relatively easy.
Among the many things you'll like about the H210 is the section of red steel that sits on the top of the case, which is filled with ventilation all the way to the bottom. Additionally, this subtle bit of color is very attractive to look at while simultaneously serving as a vent.
In spite of the interior being shrunken to H200 proportions, it's still large enough to comfortably fit a mini-ITX-only motherboard as well as a simple water cooling system. So there will be no tradeoff between cooling hardware and making room for… well… hardware.
Adding some color to its cable bar, NZXT adds a removable reservoir mount that can be used with its removable reservoir (or not, it's up to you). This case may seem small, but with so many customization options, its size won't really matter.
You may also love to read: Best Server Motherboards
The power supply is located at the bottom of the case. A small plastic bracket can be used to mount your 2.5″ SSD and maximize the available space. You can keep your build looking neat without having to deal with cables too much when you install the back panel, which has convenient cable management packs. Two 2.5″ SSD mounts are also available on the back, allowing you to choose how much space you want to save.
Despite its smaller size, the H210's dimensions are quite spacious, so don't be intimidated by its size. NZXT understands the importance of compact interiors while still maintaining quality. Moreover, you're dealing with a case that will remain stubborn no matter what you do. You can easily house your hardwire with the H210, despite its low price tag. It is made from some pretty solid materials.
SPECIFICATIONS
Form Factor: Mini ITX Tower | Motherboard Support: Mini ITX | Drive Bays: 3+1x 2.5", 1x 3.5" | Radiator Support: Up to 280mm | Included Fans: 2x Aer F120mm fans | Dimensions: 349 x 210 x 372 mm | Weight: 5.9 kg / 13 lbs | I/O Ports: 1x USB 3.1 Gen 1 Type-A, 1x USB 3.1 Gen 2 Type-C, Headset Audio Jack
Pros
Designed to be compact and lightweight

Included is a USB Type-C port

A great cooling system

Two 120mm fans are included

Quality construction

Organize cables conveniently
Cons
Space is limited

360mm radiators are not supported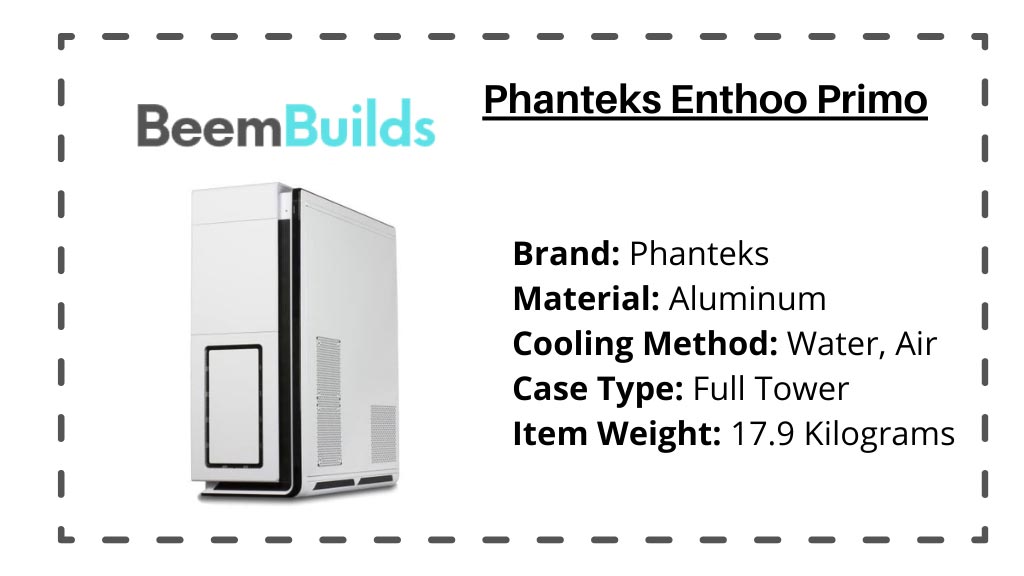 Take a look at the Phanteks Enthoo Series Primo if a higher price point does not deter you from buying a great case. In contrast to some of the other choices on this list, this is a full tower. Ifspecific features are important, bigger is betterer.
Enjoy the modern design of the interior, which features two tempered glass panels. The case doesn't let you remove the glass like most of the others we'll look at, but it allows for a great deal of customization. A number of high-quality fans are included in the interior, some of which can be upgraded.
A closed panel around the HDDs makes the case more rigid and reliable. Up to six HDDs can be fitted in the case. SSD brackets can also be attached in three different spots using removable brackets. A top and front cover that is easily removed makes installation of cooling components simple. Also included are dust filters that are easily removed.
Although the case looks formidable, it is made to allow you to customize your interior without compromising your options. In addition, it's well-planned, so cable management is fairly effortless and out of the way.
The laptop's top features two USB 3.0 ports, two USB 2.0 ports, a microphone, and 3.5mm audio jack. It also includes a LED switch that can be used to control up to two power supplies. The Primo series from Enthoo, despite its higher price, is an excellent option because of its variety of options.
You may also love to read: Best LGA 1200 Motherboards
With its serious price tag, this case will be able to meet your needs for your gaming PC. Although it has a large size of 23.62″ x 9.84″ x 25.59″, the flexibility that the size provides should not be a deal breaker. Let me stress that the aluminium faceplates and steel chassis of this gorgeous case will last for a long time, so you won't have to worry about buying a new one anytime soon.
SPECIFICATIONS
Form Factor: Full Tower | Motherboard Support: ATX, EATX, mATX, SSI EEB | Drive Bays: 12x 2.5", 6x 2.5"/3.5" Combo | Radiator Support: 120mm, 140mm, 240mm, 280mm, 360mm, 420mm, 480mm | Included Fans: 5x 140mm fans | Dimensions: 650 x 250 x 600 mm | Weight: 17.9 kg / 39.4 lbs | I/O Ports: 2x USB 3.0, 2x USB 2.0, Mic, Headphone
Pros
Quite spacious

Includes five 140mm fans

480mm radiator space

A well-built product

Massive storage capacity

Elegant white design
Cons
No portability, heavy

Pricey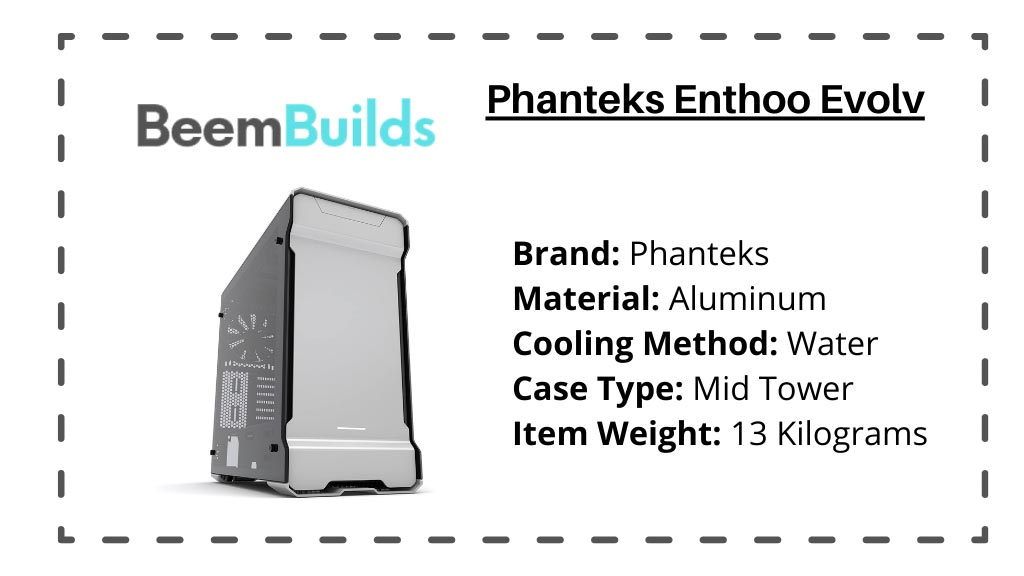 Phanteks Enthoo Evolv might be the perfect case if you're looking for a budget-conscious, smaller case. It makes up for what this heavy case lacks in a unique exterior design with a lot of customization options.
In addition to the usual tempered glass panels, it is made almost entirely of metal (powder-coated steel), so you won't want to break it too soon. An RGB switch is located on the external front panel, along with two USB 3.0 ports and headphone and mic ports.
In spite of the compact size, the interior of this car has many options, which is great if you have a complicated build to fit into it. You get a mix of cooling options including fans and water cooling, along with a fully enclosed PSU and HDDs. It's always nice when a case offers both options so that you can be assured that your hardware is in good hands.
Its unique bracket system makes this case unique. A radiator can be mounted on top, and the bracket can serve as a reservoir, pump, and SSD/HDD, so you won't have to worry about conflict between the memory and radiator.
While this case may not be as spacious as a larger one on this list (in fact, the Evolv measures 15.6″ x 14.8″ x 9.1″), it is a great option if you require a portable PC that is more compact. You can also play in flashy style by using Phanteks RGB LED strips and RGB motherboards on the Evolv.
With its modest size and modest design, this case is exactly what it appears to be – a solid, modest choice for easy transportation and simpler builds. For around $100, the Phanteks Enthoo Evolv makes a great case for those seeking a modest accessory.
SPECIFICATIONS
Form Factor: Micro Tower | Motherboard Support: uATX, mITX | Dimensions: 450 x 230 x 400 mm | Weight: 5,7 kg / 12.6 lbs | I/O Ports: (2) USB 3.0, Mic, Headphone
Pros
Quite a bit

Lightweight and portable

An interesting design

Constructed to last

Color compatibility with RGB
Cons
There is a limited amount of space

Type-C USB cable not compatible
13. In Win 101 – Best white gaming pc case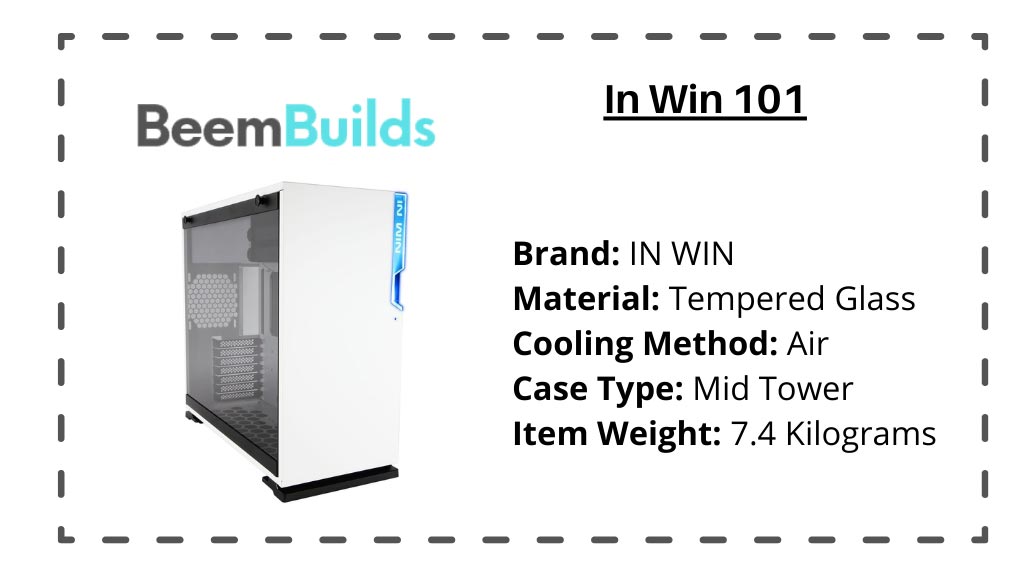 The sleek In Win 101 is a great option for a reasonable price. As a budget option, it provides a solid alternative to a more beefed-up, higher-end case when you prefer to keep your hardware in a case that is open on the front and back.
What's so special about the 101? If you want to keep your PC small, then this case is great for you. Its top PSU chamber, which has a cool air intake from the bottom, can support up to six fans at the same time, ensuring cool hardware.
 Whatever case you choose, you must make sure it can play your games without overheating as a key factor in your selection process.
A special GPU holder provides extra support and prevents vibration damage or sagging if you've had problems with your GPU's stability in the past.
Also, this budget case allows for two 2.5-inch drive bays, making it another excellent option for customization. I think the overall dimensions for the motherboard, the CPU, and graphics card on the inside are decent at 16.7″ x 8.3″ x 18.6″.
It is important to observe the internal dimensions of a gaming case before deciding whether you want to buy it or not. When buying the 101 or any other case, you need to know what the dimensions of your hardware are. You won't be able to fit a triple-fan GPU in the case if you plan to use a large GPU, however, since the PSU is located at the top of the case, there are still plenty of GPU cooling options.
You may also love to read: Best Graphics Card for 1080p 144Hz
Keeping your expensive hardware dust free is also easy to do by removing the dust filter and cleaning it. Externally, it features two USB 3.0 ports, as well as a HDMI port. While there are options with more, I am definitely not complaining about the price of this case.
The 101 is excellent for displaying your PC's tasty parts, when you want to show off your PC's internals. There is a tempered glass panel on one of the sides, so when that baby is finished, you can proudly show it off.
PSUs can also provide a means to hide ugly cables and wiring. With pop pins, not normal screws, the glass is easily removed, so you can easily adjust your hardware. The logo of the case appears on the front of the case with some stylish LED lights lining the bezels, and the power button is cleverly hidden.
This PC's case will light up when it's turned on, so you'll love it. I just love that it's sleek, unobtrusive, and the I/O are positioned at the top so that it can be easily stored under desks. The layout and design of Win really stand out.
 If you're looking for a case that you'll use for many years on a lower budget, the 101 won't let you down. It's as simple as its name implies.
SPECIFICATIONS
Form Factor: Mid Tower | Motherboard Support: Mini ITX, Micro ATX, ATX | Dimensions: 425 x 210 x 473 mm | Weight: 7.35kg / 16.2 lbs | I/O Ports: USB 3.0 (2), HD Audio
Pros
Great Price

Fine Design

Compact, Lightweight

Tempered Glass Side Panel

Easy to Access
Cons
Smaller interior

No USB Type-C port
Shopping Tips of Best White PC Cases
We have become accustomed to using personal computers on a daily basis. They are indispensable for business, entertainment, and many more purposes.
These are useful for students and businessmen alike. Today, life wouldn't be complete without a computer. Especially for gamers, their pcs are very dear to them.
The perfect pc will not only work well, but also look beautiful. Nobody can afford to have a minor problem with their computer.
A PC's functionality can be enhanced by addressing a number of technical issues. The importance of PC cases cannot be denied in terms of aesthetics.
Even if you don't consider it important, the best PC case can make all the difference.
People rarely give a computer case much thought when they visit a store. But they should.
You can save yourself from future problems and gain added benefits if you do a little research before purchasing a white gaming case.
You may also love to read: Best Graphics Cards for Skyrim
If upgrading your PC is a fun task for you, then picking out a PC case will be just as much fun.
Considerations like cooling performance, reservoirs, etc. need to be taken into account when choosing the best white PC cases. As far as choosing the wrong PC case is concerned, unless you choose the wrong size, there is never a wrong choice.
However, there is always room for improvement. Therefore, if you're going to spend money on a PC case, make sure you make a wise choice. Choosing the perfect computer case involves some considerations.
Size
A computer case needs to be big enough for the motherboard and GPU you have. Imagine you have a full ATX motherboard and three PCI expansion slots, but you don't have a large enough PC case. PC cases of average size or smaller will disappoint you.
It is not possible to buy any case you see in the market because of the large number of motherboards available in different formats.
You should consider the size of the motherboard when picking up the right PC case, along with checking dimensions, specifications, and other components.
Mini-towers, mid-towers, and full towers are the most common sizes of PC cases.
If you do not require much modification, a mini tower case might be suitable for home use. Mid tower and full tower are also good choices if you have a gaming craze. This will depend on the type of additions or modifications that you want.
Cooling
A better cooling system is necessary for your computer to work properly. Otherwise, it will heat up within a short period of time and cause problems.
You do not need a lot of resources if you only use your PCs at home for watching YouTube videos. If you use your PCs for watching YouTube videos, it is best to have one intake and one exhaust fan.
The latest action games cannot be played on your PC, however. You need a case with an additional intake fan for such a PC.
Cases with additional exhaust fans on the rear or top of the case are even better.
A larger PC case is better when it comes to cooling down, and does not heat up as quickly as a small one does.
You should choose a PC case that will easily fit your custom cooling system if you have already bought one.
Noise
Does anyone like noise?No one, including me, can't work when it's loud.
We are privileged that our computers don't make much noise unlike older computers that were bigger and made a lot of noise. Making sure your PC case reduces noise can make a big difference to your computer.
For example, if there are many fans on a case, the noise will be greater; if there are fewer fans, the noise will also be greater.
As a result, you need to choose features that don't induce noise.
You may also love to read: Best GeForce RTX 3090 Graphics Cards
Airflow
A pc case catches your eye in a store, and you want it. Although it looks good and is perfect for your PC, does it have better airflow?
You're screwed if it doesn't. Similarly, there are some computer cases that look amazing but are not completely flawless.
Gaming pcs are notorious for producing heat continuously since they push the hardware to the limits.
The best cooling is not achieved through the use of only cooling systems. Overheating can be prevented by removing the heat generated inside.
In the absence of good airflow, your pc will overheat if the case does not have it. To avoid this, select a case with good airflow.
You may need to install additional fans in your PC case if it is large enough.
If you face any problems in the future, you should be able to solve them if there is some room for improvement.
Conclusion
The best white PC cases come in a wide range of styles, whether you're looking for something to match your gaming keyboard or something unique and stylish. These cases span the range from silent mid-towers to small shoebox cases, so we believe that you will find something on this list that meets your needs.
Obviously, you care about aesthetics a lot if you're specifically shopping for a white PC case. Remember, a case is more than its looks; a white PC case needs to perform well in terms of cooling and component compatibility.
You may also love to read: Best GPU For AMD FX 8350
Frequently Asked Questions
Is aesthetics important or not?
As far as aesthetics are concerned, that's totally up to you. The aesthetics of a case do not affect its functionality, so people tend not to care about it. Personal preference plays a major role in deciding between glass and aggressive cases. As long as your PC case is both practical as well as aesthetically pleasing, it does not matter to me. You can decide how you want your case to look and feel in the end, but never compromise on its functionality.
What is more important, quality or price?
Purchasing a PC case is similar to buying a car. It is necessary to pay the requested amount for a quality product. Getting a cheap PC case is a common mistake. 
It's not ideal when you spend a lot of money purchasing desired computer parts, so buying a case just because you wanted to save a few bucks doesn't seem to be an excellent solution. That would be foolish. Pc cases cannot be compromised for aesthetic reasons, but you cannot ignore their quality. The price of the PC case will not be as high if it is just functional and looks fine, but not an aesthetic case.
Is it possible to customize a PC Case?
You may be interested in the EVGA DG-77 if you're looking for a customizable PC case. You can add components to it, making it a very versatile case.
What are the easiest computer cases to clean?
We recommend Phatenks P4OOS if you need an easy-to-clean case. The case comes with easily removable dust filters, so you can easily clean it.
How easy is it to manage cables in which PC case?
There are two cases that we have available for you: Winning 101 or Crystal Series 680X. Both cases are stylish and efficient and come with amazing build quality. Considering that Crystal is a high end PC case, it is better to go for Win 101 if you aren't looking to spend a lot.
Is there a good PC Case to choose in 2023?
It is important to identify the primary features of the product first. It is possible to choose Costal Crystal series if you are looking for a great PC case. For style, we recommend Win 101. In general, decide the primary features you need, and then select a product that meets your needs well. Choose a product that doesn't make too much noise, such as the Phatenks P4OOS.