Are you looking for Best Unique PC Cases? You can not only get the exact computer you want (if you have the budget) but also make a statement about what kind of gamer you are. You can make it difficult if you place your carefully picked PC inside an unlit, rectangular box. Check our top picks :
In order to find the most Best unique PC cases for 2023, we combed through the Internet. Here, you'll be able to find any type of case you are looking for.
15 Most Best Unique PC Cases in 2023 Round-Up
Check out the following table to get an idea of the top 15 most unique computer cases on the market today.
Quick Shopping Tips for the Best Unique PC Cases:
It's crucial to have a nice computer case for efficient operation, and our tips can help you choose one that's right for you.
Support for Motherboards: It is imperative that you choose a chassis that is right for the size of your motherboard. If you plan on using a motherboard, be sure that the chassis you select is compatible with it.
Compatibility with Radiator: You'll need some room for the radiator in your cool PC case if you want to implement an AIO cooling system. Confirm that your PC case can accommodate the radiator size.
Clearance of GPUs: It is not a good idea to purchase a computer case without a GPU. Despite their massive size, the newest GPUs on the market require a significant amount of cooling space within the chassis.
Clearance of CPUs: For gamers and content creators, it is necessary to use an air-based cooler to reduce hardware requirements. Typically, these units reach substantial heights when they are mounted to the motherboard. A high-performance CPU should have sufficient clearance for high-performance cooling.
Panel on the front: You should pay attention to the front panel when making your decision. It should have the newest generation of USB, as well as important buttons, indicators, and ports for the most technologically advanced peripheral connection.
Best Unique PC Cases at a glance:
Antec Torque
Cougar Blazer Essence
FSP T-Wings CMT710
InWin D-Frame
Thermaltake Core P90
Thermaltake AH T600
Cougar Conquer
Thermaltake Level 20
JONSBO MechWarrior MOD3
Antec Striker
Cooler Master MasterFrame 700
Vetroo K2
Azza CSAZ-804V
Cougar Conquer 2
SilverStone Lucid LD03
Antec Torque makes it impossible to resist making blast-off noises when looking at it. A part of the angled design of the steel and tempered glass case makes it look like it could take off at any moment. Its undeniable flair, however, is somewhat offset by its large size and the extra (if minor) challenge of mounting everything at an angle.
At the same time, the ATX case is large and cramped. It is 25.4 inches (644mm) high and 24.4 inches (621mm) long because of its angled wings and construction. With a relatively slim 11.2 inches (285mm) wide design, it avoids the trap of some open style, spaceship case designs.
Aside from the aluminum body, tempered glass panels are located on either side, resulting in a reasonably strong case that should last you for a very long time. It weighs just 20.6 pounds (9.3 kilograms), but otherwise not a product that's especially portable. Some gaps in the upper frame, however, are useful for handling short-term moves, or for repositioning. In addition, it's more shielded than other open-design cases, so you'll still be able to display your build. You may also love to read: Best Horizontal PC Cases
Torque is an open case, so it's extremely well ventilated, but the designers didn't become complacent for this reason. There's a preinstalled fan and room for up to six more (six altogether): three in front and three on top. The same configuration provides room for two 360mm radiators in addition to liquid cooling. A red Torque chassis is available overlaid with black brushed metal plates, and a white Torque chassis is available overlaid with black. The choice between both variants comes down to a matter of personal preference.
Although it lacks RGB components, it's designed to show off any RGB fans you install or any other RGB components you choose to install. Aside from the two USB ports and two audio connectors, the I/O panel also offers a USB C port. Considering everything, the Antec Torque makes a great impression. This is certainly a unique case. As for the design, there's no reason not to get it since it has an excellent build quality, top-notch performance, and striking design. Aside from its price tag, the Antec Torque represents good value for money, especially when compared to other exotic cases.
SPECIFICATIONS
Form factor: Mid-tower | Motherboard Support: E-ATX, ATX, Micro-ATX, mini-ITX | Dimensions: 285 x 621 x 644 mm | Weight: 20.7 lb / 9.4 kg | Radiator Support: Up to 360 mm | I/O Ports: USB 3.0 (2), USB Type-C (1), HD Audio (1)
It looks like a conventional PC tower from the side, almost like a Cougar Blazer Essence. But in detail, it's nothing like that. The case looks like a high-speed radiator, so it's unmistakably built for maximum cooling. Other than the design, the case isn't much else – but the photos don't really convey what the case is like. The Blazer Essence is a mid-tower, which is why it is compatible with ATX motherboards. Its simple construction sets it apart from the two other Cougar offerings on this list. This model is much more compact, which makes it ideal for people with limited workspace.
There are 18.6 inches (472mm) of height, 9.3 inches (236mm) of width, and 20.8 inches (528mm) of length to be exact. You can keep it out of the way thanks to the compact size, which is ideal for those who are more concerned with cooling capacity than appearance. In addition to the tempered glass on both sides of the case, the motherboard mount blocks one of the panels. This means the frame will be able to cool more efficiently since it won't hold as much heat. The rest of the frame is aluminum, which makes it quite lightweight. Read More: Best RGB PC Cases
Although it weighs only 23 pounds (10.5kg), its open construction and lack of handle make it less mobile than some other cases. Liquids and air are used in this design for cooling, and ventilation helps enhance this process. With two 240mm radiators and only four 120mm fans, the cooling through ventilation is more important than actual cooling components, but that should be more than adequate for the vast majority of gamers.
Depending on how much you overclock your components or if you aim for maximum performance, this may not be enough. It is also important to remember that the open construction makes it harder to keep dust and dirt from entering your PC. The case is excellent, but it has a couple of drawbacks you need to be aware of before making a decision.
A custom paint job is the only way to change the color scheme of the case, which is only available in black and orange by default. There are also no RGB components, but again, LED strips and other RGB components can be used to make up for that. Finally, this case has average connectivity. Fortunately, the I/O panel has two USB 3.0 ports and HD Audio and is accessible from the top of the case. USB Type-C ports are not present.
In many respects, this is an excellent case despite a few minor drawbacks. Despite its simplicity, it is still one of the most memorable cases to date. The case is also well built, has excellent ventilation, and is at a reasonable price. You can't go wrong with the Cougar Blazer Essence if you need something more traditional looking, but still unique.
SPECIFICATIONS
Form factor: Mid-tower | Motherboard Support: ATX, Micro-ATX, mini-ITX | Dimensions: 236 x 472 x 528 mm | Weight: 23.1 lb / 10.5 kg | Radiator Support: Up to 240 mm | I/O Ports: USB 3.0 (2), HD Audio (1)
If you built a Lego ship as a child, have you ever wished your ship could hold a PC? A CMT710 from FSP T-Wings makes that possible. Of all the cases we looked at, this is the one that can house a powerful build the best. There are only a handful of cases that can house dual-system builds, including the FSP CMT710. You can mount up to two EATX motherboards and as many GPUs as you want in the larger right-hand chassis.
It's possible to build a mini-ITX rig in the opposite chassis. With the backup system, you can stream, browse the web, play music, or do anything else while dedicating the full power of your main build to gaming. Despite all its extra capacity, it is still remarkably compact. With its dimensions of 20.9 inches (530mm) long, 25 inches (634mm) wide, and 17.9 inches (455mm) tall, I am very satisfied with it. The car is also extraordinarily light, weighing only 26 pounds (11.8kg), but it's going to be a lot heavier when fully loaded.
Similarly, we have no complaints about the quality of construction. With tempered glass panels on each side, the case is made mostly of aluminum, making it a relatively durable case in general. Additionally, you can show off both builds since there is nothing covering the glass panels. You should probably opt for liquid cooling when it comes to cooling. Due to the open case design, even the biggest builds will be cooled by the dual 360mm radiators in each chamber. Also Read: Best Alternatives to the Dancase A4-SFX & Louqe Ghost S1
Further, this case is available in gold or red, with a few support columns along the side and two wings along the side. The device has an addressable RGB ridge running down its middle, so it can be customized. Otherwise, it is mostly black. Finally, the case is very well connected–the I/O panels can support a dual chassis build. At the back are just two USB ports and the power button. In addition to the RGB strip's programming controls, you'll find two USB ports, one USB-C port, and a jack for headphones and a microphone.
Ultimately, the FSP T-Wings CMT710 is an impressive and unique PC case targeted at gamers and enthusiasts. The X470 does deliver – it has two separate build spaces, a custom loop, excellent thermals, a high level of connectivity, and a really cool and unique design topped with RGB illumination. Only one big drawback is the cost, as you might expect. But it is likely that money won't be a problem if you go for a dual build. Despite being costly, this case shows off your build, keeps it cool, and looks great on its own.
SPECIFICATIONS
Form factor: Full-tower | Motherboard Support: E-ATX, ATX, Micro-ATX, mini-ITX | Dimensions: 455 x 530 x 634 mm | Weight: 26 lb / 11.8 kg | Radiator Support: Up to 360 mm | I/O Ports: USB 3.0 (2), USB Type-C (1), HD Audio (1)
A mechanic's shop might see the InWin D-Frame rolling around on the floor. With the welded aluminum frame and what InWin calls a "signature motorcycle look," this case is as unique and stylish as it gets. Even with ample room for cable management, the cables will remain prominently visible. But that's part of the aesthetic, so it's to be expected.
Another option to consider is the mini-ITX version (see on Amazon), which is quite a bit cheaper. It is still a mid-tower case that allows for the use of motherboards up to ATX. Even though it is a mid-tower, due to its curved design, it is considerably larger than the average mid-tower. Despite its size, the case stands only 12 inches (305mm) wide, 19 inches (482mm) tall, and 26 inches (668mm) long. As long as there is clearance above and behind, it won't take up a lot of space.
Three different functions are performed by the case's welded aluminum frame. It creates a highly breathable structure that effectively cools the system. Furthermore, the case is very durable, so you can use it for quite some time. Furthermore, the crossbars act as handles, making this one of the few options on our Best Unique PC Cases list that might be suitable for transport, in spite of the open design, which might require some kind of cover or case. Despite the thick tempered glass panels on either side, the device is still quite heavy, weighing 40.1 pounds (18.2 kg).
D-Frame's natural ventilation is more important than its installed cooling system, as it is common with open cases. This system features natural air cooling and four 120mm fans that can be used to supplement it. 240mm radiators can fit on the front, while 360mm radiators can fit on the bottom. Although the case does not have an RGB element, it is available in four different colors – red, blue, orange, and white – allowing you plenty of customization options. If you would prefer it as a mini version, it is also available in lime green and black.
There are only two USB ports, as well as the expected audio jacks, on the I/O panel. The InWin D-Frame is one of the rarest PC cases available today, so you probably came here to see unique cases. The automotive/industrial look of this one might not be to everyone's taste, but every person will appreciate its incredibly durable construction. Furthermore, it provides unparalleled ventilation and mobility for a slightly higher price than average.
SPECIFICATIONS
Form factor: Mid-tower | Motherboard Support: ATX, Micro-ATX | Dimensions: 305 x 482 x 668 mm | Weight: 40.1 lb / 18.2 kg | Radiator Support: Up to 120 mm | I/O Ports: USB 3.0 (2), HD Audio (1)
You may also love to read: AMD Ryzen 7 2700X VS Ryzen 7 3700X
Thermaltake's Core P90 is one of several open cases sold by the company. The design of this device is an example of minimalism because it consists of a chassis as well as two tempered glass panels to shield (to use a loose term) the internal components. However, when fully assembled with the right RGB setup, it does look like the corner of a cyberpunk skyscraper.
Thermaltake's Core series has an ATX model called P90. Additionally, I would recommend checking out the EATX and Mini-ITX models if you were considering this one but were looking for a larger or smaller build. I will only cover the ATX model in this review. We use the term square loosely here since the angle and open spaces are what define the case itself's size. The case measures 18.5 inches (470mm) in area. Almost two feet high (615mm) is most of the space, which is mostly vertical.
In order to change things up, however, you can turn the height into length by lying on its side. You can also wall-mount it, but we wouldn't recommend it to anyone who isn't an experienced builder because this is already a difficult undertaking. Obviously, the main part of the case you can see is the two tempered glass panels running along the length of the case. Other than the glass and steel, the case is of high quality. You may also love to read: Best Smallest ATX Cases
Keeping your components cool requires a fair amount of natural ventilation, but force-feeding air across your components will be near impossible because of the way your case is constructed. Therefore, liquid cooling will be necessary in this case. If you have a custom loop or a back radiator, you can install it up to 480mm behind the CPU (or bottom, depending on your configuration), which is probably your best option since the case is designed this way.
Despite the fact that this case doesn't have RGB components, its high transparency ensures that whatever you put inside it will light up the entire room. P90 is available only in black, but some Core models come in red and white as well. Lastly, this case offers a number of connectors for easy connectivity: two USB 3.0 ports, two USB 2.0 ports, and a microphone jack. USB Type-C is not available, however.
Take a look at most of the other cases here, and the P90 doesn't seem so special. The case's uniqueness lies in its ability to be mounted vertically or horizontally as well as positioned horizontally, which makes it an ideal showcase. By using this case, you will be able to make your gaming room a focal point.
SPECIFICATIONS
Form factor: Mid-tower | Motherboard Support: ATX, Micro-ATX, mini-ITX | Dimensions: 470 x 470 x 615 mm | Weight: 37.9 lb / 17.2 kg | Radiator Support: Up to 480 mm | I/O Ports: USB 3.0 (2), USB 2.0 (2), HD Audio (1)
It's easy to understand why Thermaltake calls the AH T600 a "helicopter-inspired" case with its angled front and back glass panels. As you can see from the front, it has a really cool, even militaristic-looking design, though from the sides, it loses some of that effect unless you open the side panels with the hinged mechanism. Due to the AH-T600's unique, full-tower design, it's one of our few choices that will provide near unlimited power.
It is safe to assume that full towers will be large, but this one is enormous even by those standards. There are 30 inches (763mm) of height, 13.3 inches (337mm) of width, and 24.7 inches (628mm) of length. In addition to being able to mount GPUs horizontally or vertically, multiple GPUs can also be accommodated. Moreover, the case is available in three different colors: white, black, and pink, which makes it somewhat unique in its own right, since not many brands offer pink cases. A M-ATX version is also available if you're on a budget or need an even smaller case.
Despite the heavy weight of 52 pounds (20.66kg), the overall construction feels robust. Steel and toughened glass are used in the construction, which feels durable. Even putting this in perspective will be difficult. Forget portability. A well-ventilated front and top of the case further reduce cooling system stress and power consumption. The AH-T600, however, doesn't skimp on cooling space in comparison to other open cases.
For air cooling, you will either be able to fit ten 120mm fans or seven 140mm fans (which don't come preinstalled). This case is well suited for liquid cooling, and it will make the most out of the build you can put in it. Large radiators can be installed at the top (360mm), front (480mm), and side (360mm) or you can even install a large liquid cooling system.
You can see there aren't any RGB components installed in the image below, but any RGB components added will display on the front and side glass panels. Several USB ports are available, including one USB Type-C port, and the audio connectors are also standard.
Thermaltake's AH T600 offers a unique design, excellent performance, and ample space. This case will either win you over or alienate you. It does not have any major drawbacks, so you shouldn't be afraid to buy it if you like it. Ultimately, the biggest drawback would be the price tag, but despite that, considering the overall performance, it is well worth it.
SPECIFICATIONS
Form factor: Full Tower | Motherboard Support: E-ATX, ATX, Micro-ATX, mini-ITX | Dimensions: 337 x 628 x 763 mm | Weight: 45.5 lb / 20.6 kg | Radiator Support: Up to 480 mm | I/O Ports: USB 3.0 (2), USB 2.0 (1), USB Type-C (1), HD Audio (1)
You may also love to read: Best Thermal Paste for PS3
This case is simpler than the Conquer 2 (though technically, it's the other way around). However, there is still a lot of potential in the Cougar Conquer. The design keeps the sleek spaceship look, but streamlines it so that you will be able to replace the wings with larger tempered glass panels that will highlight your build, but you will have to minimize cable management since there is less space to hide it.
As an ATX tower, the Conquer's dimensions are closer to what you would expect. With a height of 23 inches (580mm), a length of 27 inches (685mm), and a width of 10 inches (255mm), this unit is both tall and long. You'll have a bit more space with this design, and the lack of outcroppings will make measurements for installation easier.
Despite the extra panels and complexity, the aluminum and tempered glass construction maintains an impressively light weight, just a bit more than 30 pounds (14kg). On the side panels there are a few loops that can be used as handles, but they dig into the hands after a while. Despite being a unique case, it is still one of the few to be considered portable.
The Conquer is arguably the best cooler and performer on the market. Although the case doesn't quite have the open design of the Conquer 2, it is well ventilated. There are three 120mm RGB fans included, and two more can be added. You have the option of going for a liquid-cooled build; it has the room for a custom cooling system, as well as the ability to install two radiators: a 360mm radiator at the top, and a 240mm radiator at the front. Read More: Best 8 240Hz Monitors for Competitive Gamers
The case is only available in black, and it does not have RGB elements (aside from its included fans). If you want to customize it, you'll need to install other fans and components. Last but not least, it still comes with a decent amount of connectivity, including two USB ports, a headphone jack, and a microphone jack. Unfortunately, it does not have a USB Type-C port, which can be a problem for some users.
Cougar Conquer is a great case because it balances great design with great build quality. Compared to the newer Conquer 2, this is definitely the better model. Besides being lighter, more durable, and allowing for better interior viewing, it has a superior cooling system. It is also significantly cheaper than its larger counterpart.
SPECIFICATIONS
Form factor: Mid-tower | Motherboard Support: ATX, Micro-ATX, mini-ITX | Dimensions: 255 x 580 x 685 mm | Weight: 30.9 lb / 14 kg | Radiator Support: Up to 360 mm | I/O Ports: USB 3.0 (2), HD Audio (1)
If you think the Thermaltake Level 20 is crowded and slapped together, you might feel the same. "Unique" can be subjective, and we think the modular design and individually cooled compartments may appeal to you or not. It's definitely not going to be at the top of everyone's list, but it's a perfectly functional case nonetheless. Our top ranked E-ATX case has the biggest array of hard drives of any entry so far. This one has a compartmentalized construction, making it slim, as it only measures 11 inches (280mm) wide, but it is tall and almost as long, measuring 28.8 inches (732mm). In a space that large, there will naturally be a lot of empty space between the compartments.
This case is constructed of aluminum and tempered glass, and it is fully modular. Due to its narrow feet, the case feels a little unsteady for a case this tall. It's also extremely heavy: it weighs over 70 pounds (32kg). Furthermore, one of the display compartments is chosen to be the power supply sleeve as well. When preventing components from overheating, it can be used both with liquid cooling and with air cooling. The front of the case has room for up to eight 120mm fans or one 480mm radiator, the motherboard compartment has room for one 360mm fan along with one 140mm fan at the back, so staying at the right temperature will be a cinch.
Besides these features, the case has three high-performance Thermaltake Riing Plus 14 RGB fans. I think three fans are a good addition, but for the price, three is at the very least what the case should include. The case should include three fans. In fact, it offers probably the best connectivity out of any case on this list. Located on the laptop's I/O panel is an I/O panel with four USB ports, a USB-C port, a button for programming RGB elements, and two connectors for audio output.
A unique design distinguishes this Thermaltake Level 20 PC case from any other. Furthermore, it is very high in quality, extremely quiet even when fully loaded, and very easy to install. On the other hand, it is the most difficult and expensive case listed here. All in all, if you're looking for something unique and do not mind spending a large amount of money, this is a great choice that will last for many years.
SPECIFICATIONS
Form factor: Full Tower | Motherboard Support: E-ATX, ATX, Micro-ATX, mini-ITX | Dimensions: 280 x 688 x 732 mm | Weight: 70.5 lb / 32 kg | Radiator Support: Up to 480 mm | I/O Ports: USB 3.0 (4), USB Type-C (1), HD Audio (1)
You may also love to read: Best GTX 1070 Ti Graphics Cards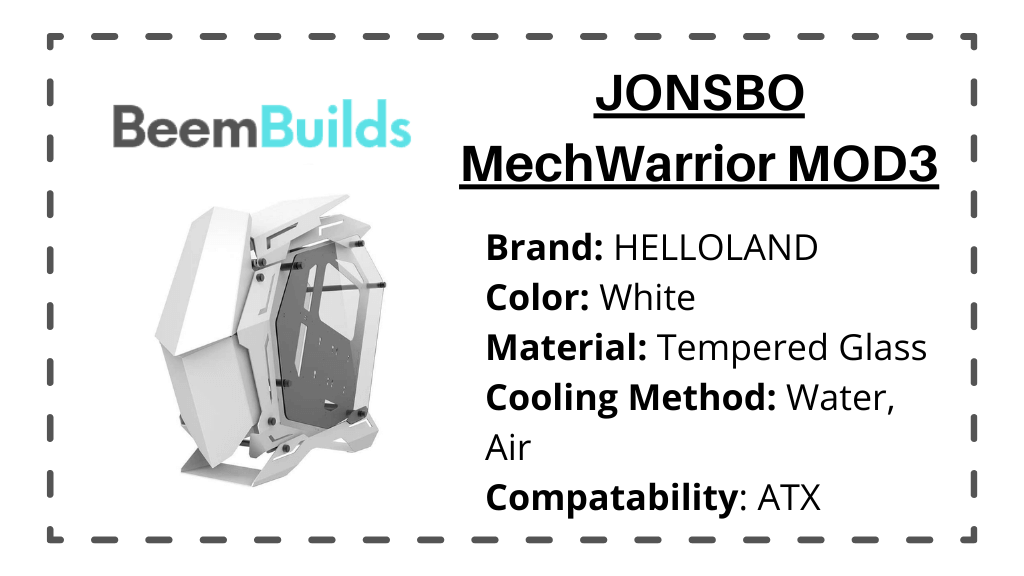 In terms of power and appearance, the MechWarrior Mod3 case has a lot to live up to. The case is certainly impressive and looks like it's built for battle, and it has plenty of interior space, but it might not provide as much cooling as you expect, even with an open design. This is, however, one of only a handful of entries on our list that can accommodate an EATX motherboard, so you will be able to build a very powerful system.
This results in quite large exterior dimensions. Although some of the height is due to the angled fins on the top, the case stands 24.4 inches tall (620mm). There is a length of 25.5 inches (647mm) and a width of 9.1 inches (232mm). Cable management is easy thanks to the large interior space. Aluminum construction means it isn't as heavy as it might otherwise be for a case of this size, and it weighs just over 17 pounds (8kg). Due to its high center of gravity and narrow feet, it is not immediately comfortable for such a tall case, but it is very stable nonetheless. Also Read: NZXT S340 VS S340 Elite
Overclockers and others who want to put the most powerful components into this case might be disappointed in the cooling. Two 360mm radiators or six 120mm fans can be installed. It's weird that a case this big can't accommodate larger radiators, but that should be enough for most builds. Mod-3 is available in white, black, and silver-grey colors when it comes to customization. As a consequence, there are no RGB elements in the I/O panel, making the inclusion of the ARGB control button a welcome addition.
One for headphones and one for microphones are the only audio jacks on the I/O panel, which is also a little disappointing. In summary, the MechWarrior Mod3 is an excellent PC case which offers plenty of features to gamers and enthusiasts. With plenty of space and displaying potential, this design has a very likable, aggressive look. In addition to Cougar, ThermalTake, and Antec, there are other options that achieve the same look at a much better price, and which aren't as bulky.
SPECIFICATIONS
Form factor: Mid-tower | Motherboard Support: E-ATX, ATX, Micro-ATX, mini-ITX | Dimensions: 232 x 647 x 620 mm | Weight: 17.6 lb / 8 kg | Radiator Support: Up to 360 mm | I/O Ports: USB 3.0 (2), HD Audio (1)
The cases that maintain the cube's basic shape while making it look memorable are well worth considering. On that basis, the Antec Striker is quite impressive. As is often the case with things that provide maximum performance, open cases like this one are beautiful in their own way. It's built primarily for ITX motherboards, but can accommodate an ATX motherboard, as long as you're careful with your components. This ITX case is incredibly compact. Only 16.5 inches (420mm) long, and 16.1 inches (410mm) tall, this item is quite small.
Additionally, it only measures 9.1 inches (230mm) wide, which could restrict GPU size in some cases — but with the Striker, you can proudly show off your hard-won 30 series card. As with most of Antec's other products, Striker is completely made of aluminum and tempered glass. Together, these features make this a quality, yet relatively lightweight case, weighing only 16.5 pounds (7.5kg). Moreover, it is one of the rare mini-towers that can support decent liquid cooling. A minimum ATX or ITX build should be more than enough with just two 240mm radiators each.
With its four 120mm fans and extreme ventilation, the air cooling capacity will be more than adequate if you're not putting a lot of power into it. Sadly, there isn't much room for customization in this case. In spite of its open, mostly glass case, it does not feature any built-in elements. Another downside is that it's only available in white, which isn't your typical default color, but it looks good nonetheless.
In addition to two USB ports, a USB-C port, a microphone jack, and headphones jacks, this case comes with most of what one would expect from a compact case. Antec Striker is an excellent mini-tower if you're looking for something unique. This case features a lot of ventilation and plenty of room for building liquid-cooled systems. The design is brilliant (for some), and will instantly become the focus of all attention in your gaming room.
SPECIFICATIONS
Form factor: Mini Tower | Motherboard Support: Mini-ITX | Dimensions: 230 x 410 x 420 mm | Weight: 16.5 lb / 7.5 kg | Radiator Support: Up to 240 mm | I/O Ports: USB 3.0 (2), USB Type-C (1), HD Audio (1)
You may also love to read: GTX 980 Ti VS GTX 1070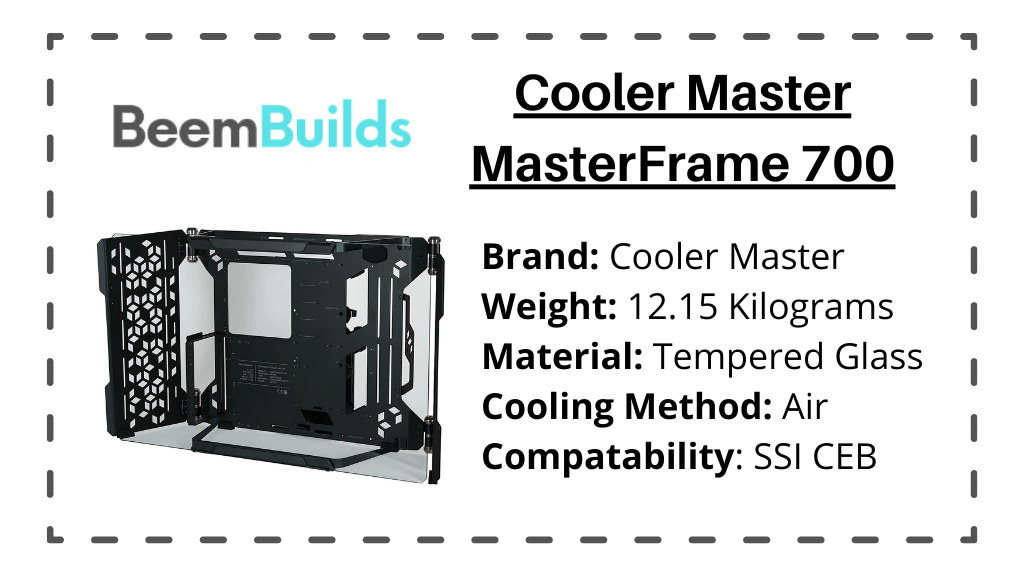 Here is a case that is truly unique. In the MasterFrame 700 case, Cooler Master offers a wide variety of components. The most minimalist of their cases due to its open design and hinged radiator mounts. A tempered glass panel covers the entire build, making it the ultimate build display. With the sides folded down, your build can become a test bench in no time. In addition to holding any motherboard form factor, including the largest one, the XL-ATX, this case is the undisputed champion of showcase builds. The form factor of the case isn't the most common, but it's clearly designed to make any build work so you can really stretch your stuff.
This case has wide radiator wings, but it is still relatively compact. In terms of width, it measures 27.6 inches (702mm), while it is 16.1 inches (410mm) tall and 12.1 inches (306mm) thick. In addition to the tempered glass window in the center, the entire case is made out of steel, making it extremely durable, so you do not have to worry about it wearing out repeatedly by rearranging and manipulating. Aside from being VESA compatible, the case can also be wall-mounted for ultimate display.
You would probably expect Cooler Master to use more than an open construction to provide cooling if you were familiar with them. On either side, the hinged wings can hold up to 360mm radiators, while the top of the case can hold up to 420mm radiators. Furthermore, it's appropriate for air cooling, but it's difficult to get direct airflow across the core components, so if you're not using liquid cooling, you should stay away from this case. It is also possible to create custom water-cooling loops. Also Read: AMD Ryzen 7 2700X VS Ryzen 7 3700X
It comes in only black and has no RGB elements, as it is an extremely minimal showcase. A wall-mounted case is going to be difficult to access the I/O panel, as well. A USB Type-C port, two USB ports, and audio jacks are available on the panel. Although the CoolerMaster MasterFrame 700 is truly a unique case on its own, it is hard to imagine someone who wouldn't benefit from its versatility. It's high quality, and it can fit any built and showcase it, but for half the price, you can buy a case similar to this.
For those who have experience with test benches and are proud of the PC they have built or who want to show off a custom liquid cooling system, this case may be the perfect choice. Neither the space nor the cooling will be compromised and nothing will distract from your components.
SPECIFICATIONS
Form factor: Full Tower | Motherboard Support: SSI EEB, SSI CEB, XL-ATX, E-ATX, ATX, Micro-ATX, mini-ITX | Dimensions: 702 x 306 x 410 mm | Weight: 26.2 lb / 11.9 kg | Radiator Support: Up to 420 mm | I/O Ports: USB 3.1 (2), USB Type-C (1), HD Audio (1)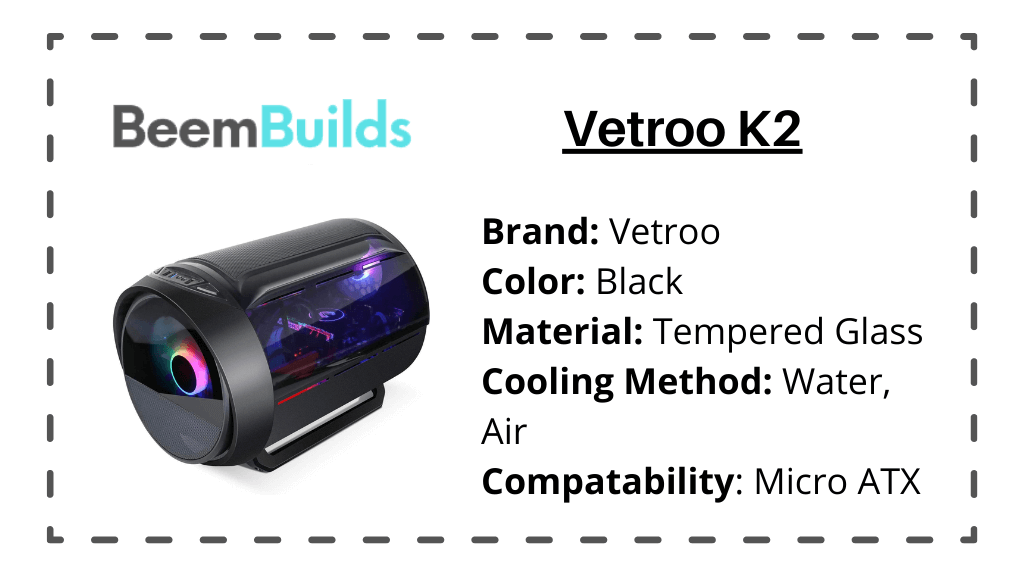 You can do a lot with small builds, like the Vetroo K2. As a result of its cylindrical shape, one thinks of a jet engine, and it functions somewhat like one too with the correct fans. You are able to use the RGB components to their fullest potential due to the tempered glass window, but it is not the best showcase.
Saving space is easy with the K2, because at most it can accommodate two mATX or two miniITX motherboards, and your whole system will be cooled by one preinstalled fan–talk about saving money and space. Specifically, its dimensions are 14 inches (356mm) high, 12 inches (305mm) wide, and 17.7 inches (450mm) deep. The case occupies less space than most mini-tower cases despite its unique shape.
Moreover, only one narrow window is made of tempered glass, which reduces the ability to display components, but allows you to still see into the computer. Additionally, the K2 has externally accessible storage drawers for hard drives, which gives you greater control over your storage. Additionally, it's lightweight, weighing just 14.6 pounds.
To maximize cooling, the case comes pre-installed with a 200mm fan in the front, which uses the tube design on the inside. If you need more cooling power, you can install two 120mm fans or a 240mm radiator in the mesh compartment at the top. However, most builds are fine with just one fan. This board includes two USB ports, a USB-C port, and the standard audio jacks, as well as a RGB fan that can be programmed from the I/O panel.
Considering its unique shape, the Vetroo K2 is a great little case for gamers that have a small gaming room where space is limited. Overall, there are not many things that stand out about this case, but if you want a fun project build, this will meet your needs. Keeping in mind, you will most definitely experience overheating problems with more powerful gaming builds.
SPECIFICATIONS
Form factor: Mid-tower | Motherboard Support: Micro-ATX, mini-ITX | Dimensions: 450 x 315 x 350 mm | Weight: 14.6 lb / 6.6 kg | Radiator Support: Up to 240 mm | I/O Ports: USB 3.0 (1), USB 2.0 (2), HD Audio (1)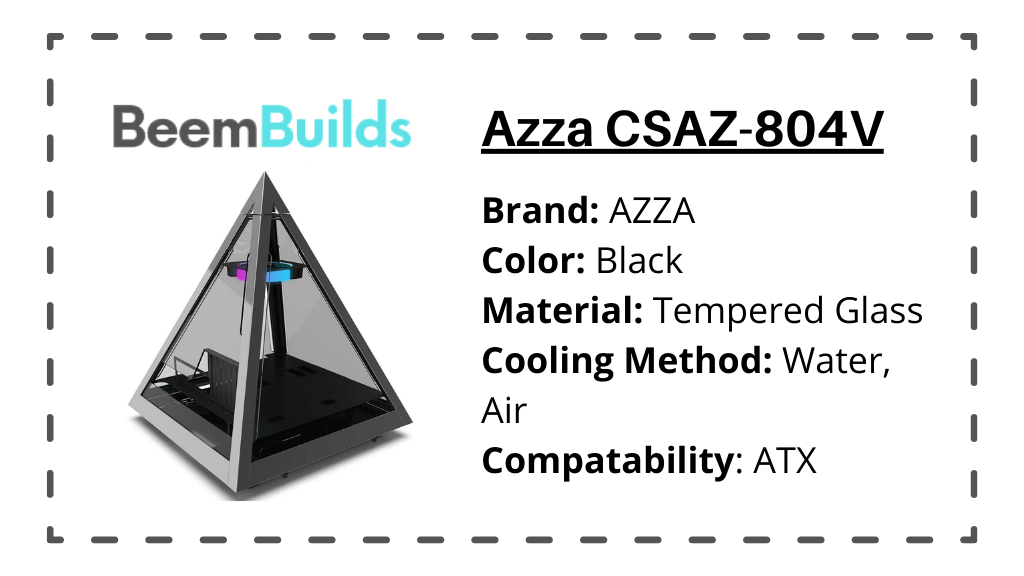 If you want to design a case that is truly outside of the box, you should design something that isn't a box in any meaningful sense. Azza's CSAZ-804V is a pyramid-shaped PC built from the bottom up, placing your motherboard flat against it and building it from there – how unique! With glass panels covering all sides and a compartment beneath for cable management, this computer boasts a neat, tidy interior, despite its relatively small size.
With regard to motherboard compatibility, this case was designed primarily for mid-builds, meaning motherboards up to ATX. A Mini-ITX or Micro-ATX option could also be used in this case, but it would seem a little vacant. It's probably best to stay away from dual GPU builds if your GPUs are larger. The base is 19.3 inches (490mm) square, and the apex is 23.1 inches (589mm) high, so even with its unique shape, it doesn't take up much more space on your desk than a conventional tower.
Aluminium frames support the tempered glass windows, making them lighter and theoretically easier to install than wood frames. Because the panels lift off in one piece, it is one of the least portable cases no matter what its weight is. There are now small gaps around the tempered glass windows. This improves ventilation, but otherwise cooling doesn't work well in this case. This motherboard comes with one RGB fan pre-installed on the front panel and has room for one 360mm radiator on the bottom (see image above), but that's all.
If liquid cooling is not your thing, at least three 120mm fans can be mounted in the radiator slot. However, this is not the case's intended use. I/O panels come equipped with standard audio jacks as well as two USB ports and a USB Type-C port for connectivity. As far as RGB components are concerned, the only pre-installed fan is RGB, and the case comes only in black. It is also advisable to install other RGB components in your case to maximize its performance.
Overall, this pyramid-shaped case is a fantastic choice if you want to stand out from the crowd. Besides being a quality case, it also allows you to display your components beautifully. However, it isn't very practical and also quite pricey compared to a typical case. However, since the construction is relatively simple, it is cheaper than other options.
SPECIFICATIONS
Form factor: ATX Pyramid Enclosure | Motherboard Support: Up to ATX | Dimensions: 589 x 490 x 490 mm | Weight: 31.1 lb / 14.1 kg | Radiator Support: Up to 360 mm | I/O Ports: USB 3.0 (2), USB Type-C (1), HD Audio (1)
Read More: GTX 970 SLI Vs GTX 1070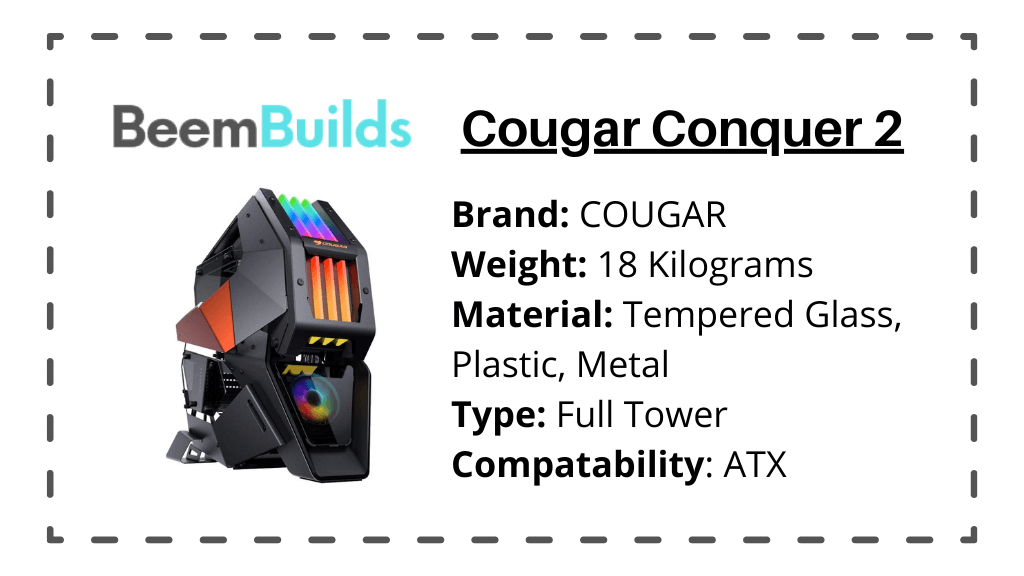 Cougar Conquer 2 takes us into what may as well be described as spaceship territory. Why shouldn't your PC look like it's about to go to the moon, given its tremendous computing power? Its steel case, tempered glass, and broad array of RGB elements make a strong impression from the very beginning. The case does have a few "wings," which will prevent you from seeing the inside of the PC. You won't be able to showcase powerful components or custom liquid cooling if you don't care about cable management.
Another full-tower case from SSI, the Conquer 2, is capable of supporting SSI CEB motherboards. SSI's ATX boards are slightly larger than SSI's CEB motherboards. This case is quite large for a board that won't fit in an EATX enclosure: 24,881mm (631mm) tall, 29,3mm (744mm) long, and 14,5mm (368mm) wide. In fact, most of that can be removed to allow for easier access to the panels on the sides. Moreover, the case features a removable sub-chassis that makes it easy for you to slide out the PC's components and replace or clean them. You may also love to read: Best LGA 775 CPUs
Even if it had a handle, the case would still be too heavy to be portable, particularly since it weighs just under 40 pounds. This one won't be moving any time soon, despite its impression of speed. Let's discuss performance. As far as open cases go, the Conquer 2 is not quite as open as you might expect, but it still provides decent ventilation, which improves your cooling system's performance.
On top of that, there is one RGB fan pre-installed, and up to five additional 120mm fans can be installed: three on the top and two on the front. The top of the case offers enough room for a 360mm radiator and the front offers enough space for a 240mm radiator if you plan on liquid cooling. The I/O panel can customize many RGB elements, allowing for more in-depth programming when the interface is connected to the motherboard. It has a headphone jack, a USB-C port, a USB port, and a microphone jack, which is pretty standard nowadays.
Considering the first time we've seen a case this unique, the Cougar Conquer 2 tries to do a lot to stand out. The case stands out because of its practicality and performance, even though the design seems to be the main aspect. There is no denying that the design isn't for everyone, and that the price tag is pretty hefty as well, but if you're interested in a cool, easy-to-assemble PC case with good airflow, it will be more than satisfactory for your needs.
SPECIFICATIONS
Form factor: Full Tower | Motherboard Support: SSI CEB, ATX, Micro-ATX, mini-ITX | Dimensions: 368 x 631 x 744 mm | Weight: 39.6 lb / 18 kg | Radiator Support: Up to 360 mm | I/O Ports: USB 3.0 (2), USB Type-C (1), HD Audio (1)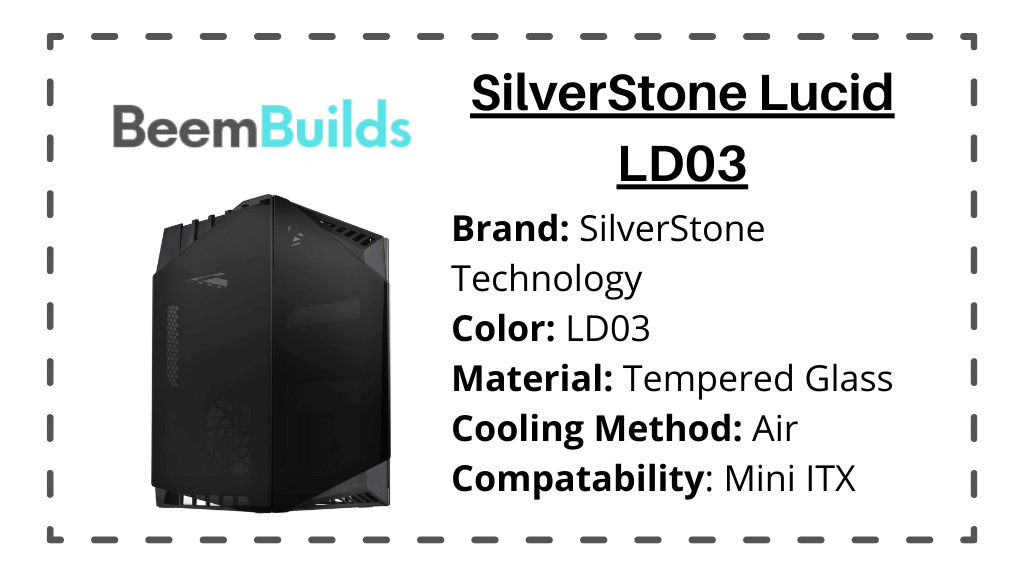 Last on our list is the SilverStone Lucid LD03. We consider this case to be one of the best on the market. The mini-tower is the perfect case for project builds. Customize and customize this smoked glass obelisk to suit your tastes. Users may find it appealing since it is not as outlandish as some of our other entries, but still features a pretty uncommon, eye-catching design that is sure to make an impression.
Due to the case's size and compatibility, it can only support a small mini-ITX motherboard, resulting in some power limitations. In addition, it stands 16.3 inches (414mm) tall and isn't exactly square. It measures 10.43 inches (265mm) by 9.1 inches (230mm). The case is sturdy and the customization features are fun. Additionally, three sides of the display unit are covered in tempered glass, and the frame is made of steel. Despite the steel frame, the display unit is still quite light, weighing a hair under 12 pounds (5.3kg).
With vents on all sides and a steel mesh top, this case offers good ventilation for performance. Most mini-ITX builds can be kept cool by just using their CPU and GPU coolers, as long as they're in a well-ventilated case. Unfortunately, this case doesn't have a lot of capacity for case cooling. There are two 120mm case fans and two 120mm radiators in addition to the two 120mm radiators, which is less than sufficient but should suffice for most mini-ITX builds.
The I/O panel now sits at the top, which may present a problem in pillar-shaped cases with higher heights. Both headphones and a mic can be plugged in as well as two USB ports. It comes only in black and does not have RGB components because it has an all-glass exterior. This compact PC case by SilverStone is very well-built and has a sleek, modern appearance. This is an ideal Best Unique PC Cases for people looking to build a miniITX build in a compact, stylish case that isn't overbearing. A little high in price for a case of this size is the only real drawback.
SPECIFICATIONS
Form factor: Mini Tower | Motherboard Support: Mini-DTX, Mini-ITX | Dimensions: 265 x 414 x 230 mm | Weight: 11.8 lb / 5.3 kg | Radiator Support: Up to 120 mm | I/O Ports: USB 3.0 (2), HD Audio (1)
Conclusion
A pretty subjective process is made even more subjective by picking the "right" case. A case like this is perfect for someone who wants something flashy, unique, and memorable but is not sure they will be able to build or customize one themselves. Your gaming station's aesthetic is just a matter of personal taste.
To get the right CPU, GPU, and Best Unique PC Cases for all of them, you're going to have to work backward from the CPU and GPU you desire. Even though you won't build a computer from scratch very often, one or two of these choices is worth considering.
FAQs
How do you choose the most stylish PC case?
When it comes to coolest PC cases, the Cougar Conquer takes the top spot. Open-air chassis designs are not only beautiful, but they also operate cool. This case is constructed from sheet metal and trusses. It also stands out because of the two tones of the colors.
Which PC cases have the most visual appeal?
In our opinion, open bench PC cases are the most attractive. It is the only PC case with an affordable price and a fantastic design. 420mm liquid cooling can be accommodated, so it has room for large gear.
Which computer case is the most expensive?
Ideally, you should invest in the most expensive cases, such as the Corsair Crystal Series 680X RGB, because they offer the most customization options. There is plenty of room inside the chassis so that you can experiment with various aesthetics and install the most gear possible. Despite the low cost, old low-quality casings offer a good quality of material.